The biggest ComixLaunch ever! In this session, you'll hear fifty outstanding creators who have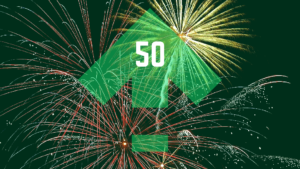 collectively raised millions of dollars on Kickstarter share their #1 crowdfunding tip. Get access to proven strategies from Greg Pak, Jason Brubaker, John Lee Dumas, Amy Chu, and many, many more. Plus, Tyler is joined by co-host Jeremy Melloul to cover highlights from the first 50 sessions of ComixLaunch, including the top 5 most downloaded shows. Then they'll look forward to what's in store for the next 50 sessions, including a big announcement. Oh, and there's a big ComixLaunch Supershow Bundle Giveaway for listeners to enter as well. This one is HUGE!
---
Today's Sponsor
KrakenPrint
Need a reliable printer for your next comic book or graphic novel print run? Then you need to unleash the Kraken. Head to ComixLaunch.com/Kraken for 5% off your entire first order.
---
Session Table Setting
If this is your first time listening to the show, welcome.  You're in for a treat!  This is our 50th Session, and we're calling it a SuperShow for good reason. This is master class where you can pick the brains of some of the best minds in crowdfunding.  I've been to conventions where there were Kickstarter panels before, but there's never been a 50 creator Kickstarter panel!  We've assembled a diverse range of creators who have collectively raised many, millions of dollars in crowdfunding and asked them all to share their #1 crowdfunding Tip with you.
How Today's Show is Going to Work
Quick ComixLaunch 50 Recap with Jeremy Melloul
50 Tips from 50 Outstanding Creators
ComixLauncher: ComixLaunch SuperShow Contest Enter to Win the ComixLaunch SuperShow Book Bundle + 30 Minute Skype Call to Help Plan your first or Next Kickstarter
What's coming up in the next 50 Episodes of ComixLaunch… and beyond!
---
50 Episodes of ComixLaunch Recap
ComixLaunch by the Numbers (as of 6-19-2016)
How many sessions?
50 sessions
Plus a 000 Session (establishing the show)
Two Bonus Sessions
One special Announcement about the ComixLaunch Workshop
How many minutes of audio?
2,216 minutes
Nearly 37 hours of mindset, strategies and tactics for making KS work for you.
How many guests?
26 amazing guests
Young creators just getting started like 16-year old Tessa Beatrice (Session 047) who's Fury's Forge Kickstarter was successfully funded… first KS before she's even left high school…
To industry veterans like Greg Pak (043)… and everyone in between.
We've also brought on people outside of the Comics Space like Catheryn Lavery of the Self-Journal (Session 038 on Scaling up Your Crowdfunding) … because we know Comics Doesn't have a monopoly on great crowdfunding ideas.
And we haven't just talked to creators… we've also talked to people who can help creators.
Sam Amborn and Jacob Way of Kraken Print (Session 034) on Comic Book Printing
CPA on Fire Josh Bauerle to answer vexing Kickstarter and Taxes tips (Session 024)
We brought on marketing expert James Ferguson to talk Facebook Advertising strategies (Session 28)
And we talked to Tommy Hall of BackerKit all about how that software can help make fulfillment easier (Session 041)
How many downloads?
16,060
Top 5 Most Downloaded Episodes
#5 – ComixLaunch Session 002 Is Kickstarter a Finite or Renewable Resource?
#4 – ComixLaunch Session 003 Kickstarter SWOT Analysis: Assessing Your Project's Strengths, Weakness, Opportunities and Threats BEFORE you Launch
#3 – ComixLaunch Session 001 Sharpening Your Axe: Why Mindset Trumps Strategy & Tactics on Kickstarter… and in Life
#2 – ComixLaunch Session 004 Why is Kickstarter So Effective? 9 Mental Triggers At Work on Kickstarter
#1 – ComixLaunch Session 026 – Kickstarter as a Publishing Launching Pad with Russell Nohelty
How many blog posts?
4 Epic Blog Posts
https://www.comixlaunch.com/blog/
6 Figure Comic Book Kickstarter Series
There have been almost 6,700 launched comic projects on Kickstarter. Of those, only half are successful. And of the successful projects, only 1.5% raise six figures or more. These campaigns are the vanguard for comics…
Jeremy talked to:
Jake Parker of Skyheart
Alex Woolfson of The Young Protectors
Tim Buckley of CTRL+ALT+DEL
Dave Rapoza and Dan Warren of Steve Lichman
Head over to ComixLaunch.com/blog and read them all!
And last but not least, courses have become a big part of ComixLaunch.
Our flagship course, The ComixLaunch Course, ran its pilot version starting in January with eight creators, and ran through March.
However, as one of the participants Forest Helvie wanted to call out, the fact that we've been providing coaching and feedback while the
Kickstarter campaigns are running in the Private FB group is tremendously valuable.
So far, we've had four launches
Kristi McDowell – Gamer Girl & Vixen
Second KS, $11,430 on a $9,850 goal
Josh Janes – Lost Dogs MC
First KS, $3,500 on a $2,350 goal
Michelle Palmer – Meraki
First KS, $5,764 on a $5K goal
LIVE
Jim Whiting
Second KS, is $24 away from hitting his on a $2,000 goal.
LIVE with 14 days to go…
So, our students are about to be 4 for 4!
Tremendously proud of all of the students in the course, and excited for the launches still to come.
We're now taking what we've learned from the CL Course, revising, improving, and polishing for a relaunch in the Fall.
ComixLaunch.com/Course to get on the interest list
There's a saying "Most people under-estimate what you can achieve in 1 year and under-estimate what they can achieve in five or ten years."
I think that's totally true… but in the case of ComixLaunch, I think we've definitely come very far in a year.
---
50 Kickstarter Tips from 50 Creators
Download an E-Book that includes all 50 Tips so that you can consume at your leisure.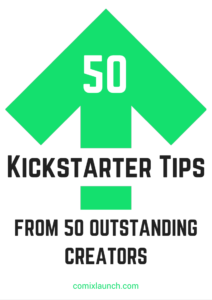 Creators Featured:
Adam McLaughlin
Amy Chu
Andrew Pawley
Anthony Christou
Brian John Mitchell
Bryn G Jones
Carmelo Chimera
Daniel Brodie
DeWayne Feenstra
Dirk Manning
Enrica Jang
Felipe Cagno
George O'Conner
Greg Pak
James Haick
Jamie Gambell
Jan Duursema
Jason Brubaker
Jennie Wood
Jeremy Melloul
Jim Whiting
Joe Mulvey
Joe Schmalke
Joey Groah
John Lee Dumas
John Lees
Jon Parrish
Josh Dahl
Joshua Janes
Jules Rivera
Justin Piatt
Kevin Joseph
Kevin Watkins
Kristi McDowell
Lucio Zago
Madeline Holly-Rosing
Martin Dunn
Max Dowdle
Michelle Palmer
Ray Chou
Richard Clark
Russell Brettholtz
Russell Nohelty
Ryan K Lindsay
Shane Smith
Tessa Beatrice
Tom Spellman
Vincenzo Ferriero
Wes Locher

Tyler

James
Tyler's Bonus Tip 51
Hey, Tyler James, from ComixTribe and ComixLaunch here… you didn't think I wasn't going to get in on this advice giving session, did you?
I lived in New Orleans for a couple of years, where the concept of always giving a little something extra or a lagniappe, was a big part of the culture down there… and its something that stuck.
So I promised you 50 tips, and I'm giving you one extra…
Don't launch alone.
You've just been given tips from 50 amazing Kickstarter creators who have collectively raised millions of dollars in funding to bring incredible creative projects to life on Kickstarter.
But all of them will tell you that they didn't do it entirely themselves.  Their success on Kickstarter was certainly a product of a lot of a whole lot of time, hard work, ink, sweat and tears on their part. But it was also made possible by a support network of family, friends, peers, teachers, coaches, role models, and raving fans.
So don't launch your Kickstarter alone.
Strength in numbers is not a cliche, it's a universal truth… especially when it comes to crowdfunding and building a career.  We created The ComixLaunch Course so that creators could plan, launch, execute, and fulfill their Kickstarter projects alongside a supportive community of like-minded peers… and ask anyone in the course… it definitely makes it easier.
But even if you never take the course, there's nothing stopping you from reaching out to a friend or a peer who might be planning a crowdfunding campaign in the near future and agreeing to keep each other accountable as you go through the crowdfunding process. There will be ups and downs, strikes and gutterballs… you're going to want someone there to pick you up when you fall, and to celebrate with when you triumph.
There will be ups and downs, strikes and gutterballs… you're going to want someone there to pick you up when you fall, and to celebrate with when you triumph.
Don't Launch Alone.
---
Sponsor Mid-Roll
In a moment, I'm going to give you today's ComixLauncher, but first, we need to thank our sponsor…
Last year, ComixTribe spent nearly $85,000 on printing.
While we rely on a number of printers to get our books to market, one printer I can strongly recommend is KrakenPrint…
Our friends Jacob Way and Sam Amborn at Kraken Print offer:
Competitive pricing.
Great customer service, especially for your first offset print run.
Monthly storage if you do not want to store hundreds or thousands of books at home.
Distribution options, including breaking down orders and shipping direct to Diamond or comic stores at their specially negotiated discounted rates on shipping.
And NOW they even offer Kickstarter fulfillment!
Kraken will pick, pack, and ship out orders for your backers.
If you want to unleash the Kraken, go to comixlaunch.com/kraken, mention the ComixLaunch podcast, and they're going to knock 5% off your first print run…and they're going to hook us up with a 5% credit.
It's a classic win/win/win/win – You get a great price on printing, your backers get a beautiful offset printed book, you help the podcast out, and Kraken gets your business.
That's comixlaunch.com/kraken for 5% off your entire first print run.
---
ComixLauncher
It's time for today's ComixLauncher – ComixLaunch
A ComixLauncher is a short, actionable activity you can do immediately after listening to the show. They're all activities I've done myself, and will get you one step closer to a successful ComixLaunch. They'll transform this Podcast from a passive, lean back activity centered around Tyler James, into an active, lean-forward activity centered around YOU and your projects.
ComixLauncher 050 – ComixLaunch 50 SuperShow Giveaway
I've put together a huge bundle of some of my favorite books I've read in the past year, as well as some of my favorite reads of all time, including:
The Dip: A Little Book That Teaches You When to Quit (and When to Stick) by Seth Godin
Will it Fly: How to Test Your Next Business Idea So You Don't Waste Your Time and Money by Pat Flynn
The One Thing: The Surprisingly Simple Truth Behind Extraordinary Results by Gary Keller & Jay Papasan
A Crowdfunder's Strategy Guide: Build a Better Business by Building Community Paperback by Jamey Stegmaier
As well as books by past CL guests such as
Unnatural Talent: Creating, Printing and Selling Your Comic in the Digital Age by Jason Brubaker
Kickstarter for the Independent Creator: A Practical and Informative Guide To Crowdfunding by MHR
All great books, incredibly value packed.
I'll pick six winners, who will get one of those books mentioned.
I'll also pick one grandprize winner
So, the winner of the gets those and they also get a 30 minute skype KS strategy session with me where we'll talk about your project and get your questions asked.
I don't do one-on-one coaching… so this is the offer.
Will announce the winner in ComixLaunch Session 55.
To enter to win, go to comixlaunch.com/supershowbundle
It's absolutely FREE to enter… And every entry has an equal chance of winning, powered by RaffleCopter…
But there are some ways you can boost your odds by sharing the show and spreading the message.
a Rafflecopter giveaway

More details are there…
ComixLaunch.com/supershowbundle
Books and conversations… two things that have had a massive impact on my life and my career… hope you'll enter!
---
Wrap Up
Look ahead to the Next 50
Courses
New Primer Course this summer
ComixLaunch Course in the Fall
ComixLaunch.com/course if interested in any of these.
The Blog
Complete the 6 Figure Series
Ebook from the Series
The Podcast
Guests
Creators
Support
Lawyer – Kickstarter, Comics, and Legal questions
If you have them — ComixLaunch.com/voicemail
Hollywood Literary Manager
Beyond Kickstarter… navigating the world outside of Kickstarter
Multi-Part Training Episodes
Go even deeper on topics to maximize value for the listeners
A listener, Cetriya, submitted a voicemail suggesting Fulfillment as a topic, which inspired 049 on DIY Fulfillment.
If you have a specific topic you'd like for us to cover in more depth, please leave us a VM at ComixLaunch.com/voicemail.
One of the first Multi-part series, very excited to dive into, will be on Patreon.
While this is a Kickstarter focused podcast… it's also a podcast about building careers and taking them to the next level… and Patreon is a tool that can do just that.
I'm excited to bring on creators who are having success on Patreon, and really dive deep into the differences between KS & Patreon… and when it makes sense to use one, or the other, or both.
And that also brings me to the final announcement of this supershow…
To truly talk about Patreon with knowledge and authority… I'm going to have to not only support other projects on Patreon, but become a Patreon creator myself.
---
Club ComixLaunch on Patreon
And so we will soon be opening Club ComixLaunch on Patreon.

Club ComixLaunch will be an opportunity for ComixLaunch listeners to support the show, and an opportunity for us to provide extra value to all of you.
Each month, we'll be releasing a Club ComixLaunch bonus Kickstarter resource…
A guide
A checklist
A cheatsheet
A bonus training
A video
A template
…that will help you launch.
As the Club grows, we hope to be unlocking additional extras…
Monthly Kickstarter Page Critiques
Club Exclusives Chats and Q&As
Maybe even a Club ComixLaunch exclusive Facebook group or forum
Why are we doing this?
1) To support the Show
There are real costs associated with running this podcast…
Website Hosting – $140 per year
Libsyn Media Hosting – $240 per year (and grows as the show grows)
Podcast editing – $2,400 per year
Keeping The ComixLaunch Podcast going is about a $225 a month expense, and that's before anything is spent on marketing to expand the shows reach.
I love making this show, and it's not in any danger of going away… but I'm trying to model for all of you how you can create things you love, things your passionate about, things that bring true value into the world…
And at the same time do it in a sustainable way.
Club ComixLaunch on Patreon will help sustain and improve this show for the next 50 episodes and beyond.
2) To Better Manage Sponsors
I've been getting more and more requests for podcast sponsorships lately, which is awesome… but also becomes difficult to manage.
So, we'll be moving our ComixLaunch sponsorships to Club ComixLaunch… so that creators or businesses who want to sponsor an episode of the show can do so through Patreon… and also interact with the Club.
3) Recognizing that there is Transformation in the Transaction
I know some of you have received tremendous value from this show, and would love to give back in some way… but also know that you're probably unlikely to have the time or the resources to invest in The ComixLaunch Course.
Club ComixLaunch memberships will start at just $1 a month… and for many of you, that'll be all it will take to upgrade creating and launching a successful Kickstarter from something you'll do someday maybe… to something you'll absolutely do this year.
It's a way to put a bit more skin in the game, and get access to even more resources that will help your projects get funded.
4) And finally, it'll let us provide Even More Value to the ComixLaunch Community
There are things we'd love to do with more resources…
Club ComixLaunch will help us do them.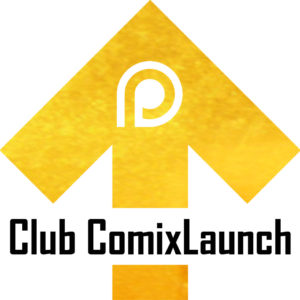 ComixLaunch.com/club to be a part of our Club ComixLaunch Patreon Launch plans and get some cool bonuses.
---
Closing
This concludes the ComixLaunch 50 SuperShow!
Quote
Chinese Proverb – "Be not afraid of growing slowly, be afraid of standing still."
One is greater than zero… keep moving forward one action at a time… and before you know it, you'll have 50 panels drawn, 50 scripts written, 50 books on the shelves, 50 talented creators sharing advice with you, or 50 podcasts under your belt.
It's pretty damn cool how that all works.
Thanks for Listening.
Remember to enter the SuperShow Giveaway at ComixLaunch.com/supershowbundle
---
Have You Subscribed, Rated, or Reviewed ComixLaunch Yet?
If you've enjoyed this Session of ComixLaunch, I need you to do me a favor… actually, I need three favors. Please Subscribe, Rate and Review ComixLaunch on iTunes.
They're the rocket fuel this show is running on, and the sooner you do it, the more powerful your action will be. Don't wait to give us some love!
>>> CLICK HERE TO LEAVE A REVIEW ON iTUNES <<<
Provide a rating, 1-5 stars and leave an honest review.
This can be done in less than 2 minutes and could make HUGE difference to the show.
Podcast: Play in new window | Download | Embed
Subscribe: Apple Podcasts | RSS