Hot on the heels of the C is for Cthulhu Team's biggest launch ever,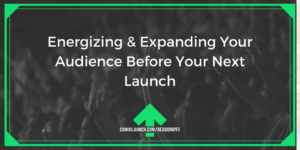 Tyler breaks down the three pieces of pre-launch content strategy the team crafted to energize current fans and attract more just like them, powering a $21,000.00+ launch day.
---
Highlights of this Session Include:
Inside the $21K+ launch day for Sweet Dreams Cthulhu, including the secret to launching bigger.
The three pieces of pre-launch content that lead to our best launch day ever.
How to work backwards to break down a massive goal into an attainable plan.
Plus: Better questions to ask when planning and executing your launch.
---
Today's Session is brought to you by
StickerMule custom stickers and more. Go to ComixLaunch.com/stickermule and get a $10 credit on your next order.
---
3 Pieces of Pre-Launch Content that We created as a part of our pre-launch.
1) The Watch Magnet
2) The Lead Magnet
3) The Viral Contest
---
ComixLauncher
It's time for today's ComixLauncher.
A ComixLauncher is a short, actionable activity you can do immediately after listening to the show. They're all activities I've done myself, and will get you one step closer to a successful ComixLaunch. They'll transform this Podcast from a passive, lean back activity centered around Tyler James, into an active, lean-forward activity centered around YOU and your projects.
ComixLauncher [093]
Ask yourself:
Does my currently level of commitment my goal match what's actually required to make it happen?
Do I even know?
---
In the month of May, I have some great things coming up…
including a new free strategy guide, an all-new 5 day challenge, and we will also be opening the doors once again to the ComixLaunch Course Summer Session.
If you'd like to get on the advanced review list for The ComixLaunch Course, please go to ComixLaunch.com/course
And keep an eye on your inbox for good stuff coming from me.
---
Quote
"There is no such thing as a happy ending to an unhappy journey."
– Abraham Hicks
---
Have You Subscribed, Rated, or Reviewed ComixLaunch Yet?
If you've enjoyed this Session of ComixLaunch, I need you to do me a favor… actually, I need three favors. Please Subscribe, Rate and Review ComixLaunch on iTunes.
They're the rocket fuel this show is running on, and the sooner you do it, the more powerful your action will be. Don't wait to give us some love!
>>> CLICK HERE TO LEAVE A REVIEW ON iTUNES <<<
Provide a rating, 1-5 stars and leave an honest review.
This can be done in less than 2 minutes and could make HUGE difference to the show.
Podcast: Play in new window | Download | Embed
Subscribe: Apple Podcasts | RSS