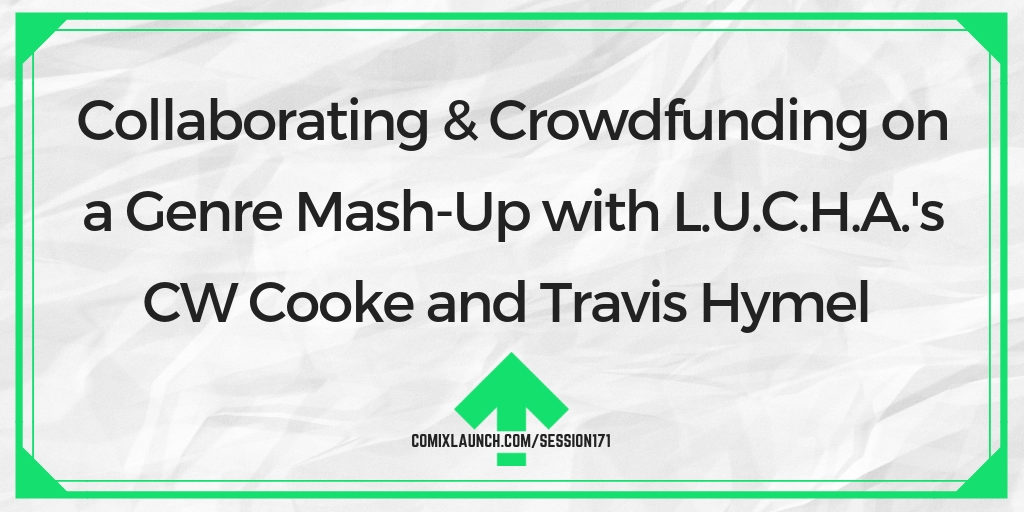 How do you get everyone on your creative team rowing in the same direction when it comes to promoting a big Kickstarter launch? And what does it take to build a strong collaborative relationship to create something truly unique? Those topics and more are up for discussion when L.U.C.H.A. writer C.W. Cooke and artist Travis Hymel stop by the ComixLaunch Podcast.
---
Highlights of this Session Include:
Tips for a productive collaborative relationship with your creative partners before, during and after a Kickstarter launch.
A frank discussion about roles of writers and artists when it comes time to promote a crowdfunding launch.
Tips for mashing genres to create something truly innovative.
Plus: How to get access to a new training featuring 13 Days of Proven Kickstarter Dead Zone Busting Strategies
---
Sponsor
ComixLaunch listeners, are you ready to take your crowdfunding game to the next level?
If so, I'd love for you to join me and your fellow creators inside Club ComixLaunch on Patreon.
---
Today's Featured Guests
Comic book writer CW Cooke. CW has been writing comics for over a decade, with credits at Big Dog Ink, Devel's Due, Image, Action Lab and more. His first Kickstarter funded super hero prison drama, Solitary, is currently in development for film and television. His current project L.U.C.H.A, a wrestling sci-fi thriller, is funding on Kickstarter.
Travis Hymel is a Colorado based graphic designer, illustrator, and comic book artist and the co-creator of L.U.C.H.A.
---
Links Mentioned in this Episode
ComixLaunch.com/patreon 
ComixLaunch.com/deadzoneebook
https://www.kickstarter.com/projects/1016350946/lucha-a-wrestling-sci-fi-thriller?ref=nav_search&result=project&term=l.u.c.h.a. 
---
More About Our Sponsor
I've opened Club ComixLaunch to help continue and expand on the ComixLaunch mission of increasing the number of creators equipped to harness the power of the Kickstarter platform to bring amazing independent projects to life.
As a Club ComixLaunch member, you'll have access to a number of exclusive perks and privileges, such as:
A shout out on the ComixLaunch Podcast for you and your project.
Access to the ComixLaunch Club exclusive Patreon feed for even more mindset, strategies and tactics to get your project funded.
The ComixLaunch Club Insider Monthly Kickstarter Resource which might be a guide, checklist, cheat sheet, template, or bonus training video designed to help you launch.
Priority enrollment in ComixLaunch Courses
Discounts on Courses, Books and Upcoming Premium Products
You can even sponsor an episode of the ComixLaunch podcast through Patreon.
And as the Club Grows, so do the perks…
See, there is a direct correlation between listener support and the value ComixLaunch can provide, and as the club expands, we hope to offer:
Monthly Kickstarter Page Critiques
Club Exclusive Chats and Q&As
Bonus Sessions of the ComixLaunch Podcast.
Full podcast transcripts for every episode.
And much more!
For as little as a dollar a month, you can access Club ComixLaunch today, help keep the podcast going and improving, and take your crowdfunding game to the next level.
Membership has its privileges, and to get a taste of them absolutely free, please go to ComixLaunch.com/club and download a free Club ComixLaunch VIP Insider bonus resources today.
Let's get you ready for your best launch yet!
I'll see you inside the Club!
---
ComixLauncher [171]
Write down your expectations for what your collaborators will do during your next launch. Then share those expectations with your team to see how well they match with what they had in mind?
---
How to Find Out More About Today's Featured Guest
Podcast: Play in new window | Download | Embed
Subscribe: Apple Podcasts | RSS