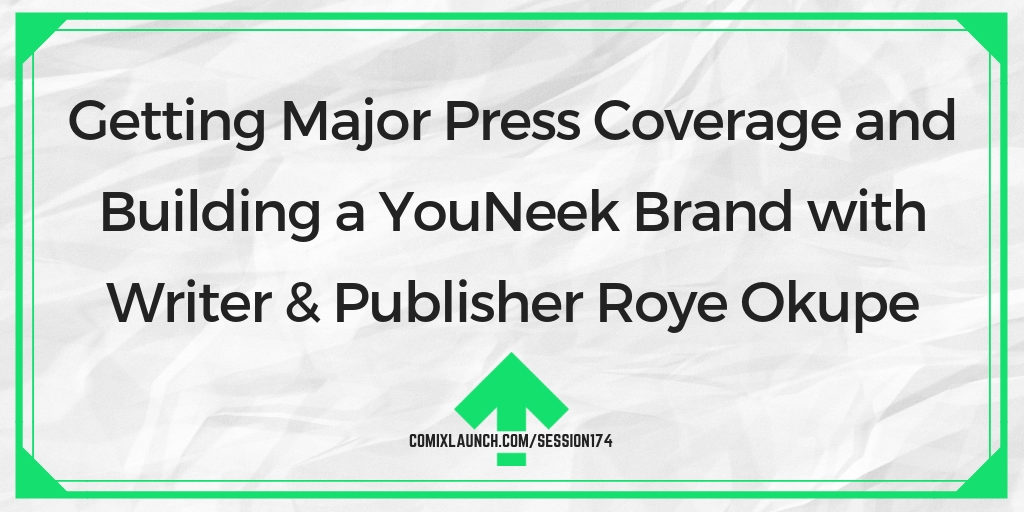 A few years ago, Roye Okupe of YouNeek Studios went all in on his dream to become a successful comic book publisher. In this podcast, Roye shares his journey from watching American super hero cartoons as a child in Nigeria to moving to the States and developing a line of books showcasing heroes inspired by his culture, and all the many lessons he's learned along the way.
---
Highlights of this Session include:
Roye's incredible journey from living inNigeria to becoming a Washington, D.C. based comic book publisher.
Roye's strategies to get featured on major press outlets such as The Washington Post.
How Roye grew his Facebook page to over 13,000+ fans
Plus: Tips for working with overseas creative teams.
---
This Session's Featured Resource is Bluehost.
Go to ComixLaunch.com/bluehost for a special discount on domain registration and website hosting.
---
Today's Featured Guest
Roye Okupe is the CEO and Creative Direct of YouNeek Studios, a Washington D.C. based publishing company which produces graphic novels and animated stories inspired by African history, culture & mythology.
---
Links Mentioned in Today's Show
ComixLaunch.com/bluehost
ComixLaunch.com/mastermind
https://www.kickstarter.com/blog/a-new-approach-to-our-work-on-drip?
---
More About Our Featured Resource
In a moment, I'm going to give you today's ComixLauncher, but first, we need to thank our sponsor…
Let me ask you a question… are you master of your own domain?
No, this isn't a dated Seinfeld reference… I'm talking about your web domain.
And Bluehost is an all in one web hosting solution that will help you master your domain.
I own the domains for ComixTribe.com, ComixLaunch.com and many more… but I know many of you are trying to save a few pennies a day by NOT paying for domains you're trying to build brands around.
That's a mistake.
Owning your own domain provides better branding
More professional.
More credible.
More memorable.
When you own the dot com for your brand, it'll help you protect it.
If you're building your empire on someone else land, your comic @facebook or @tumblr or remember @myspace God forbid… you don't control those platforms.
Own your own domain…
You can use the ComixLaunch affiliate link to get a special introductory offer and 30-day money back guarantee at Bluehost by going to Comixlaunch.com/bluehost today.
Bluehost powers more than 2 million websites world wide and makes it super simple to get a WordPress hosted website up in just one click.
Master Your Domain, go to ComixLaunch.com/bluehost and lock it in today.
---
ComixLauncher [174]
Write the HEADLINE for your story if it were on the cover of the Washington Post?
---
How to Find Out More About Today's Featured Guest
You can learn more about YouNeek Studios on the website: youneekstudios.com
You can learn more about Roye on my Washington Post Interview here https://www.washingtonpost.com/news/comic-riffs/wp/2016/08/24/he-came-to-d-c-from-nigeria-and-created-his-own-african-comic-book-universe/?noredirect=on&utm_term=.94640c77ab49
Roye has an online course that helps creators learn more about the business side of their art. You can check that out here: https://roye-okupe.mykajabi.com/p/creative-biz-launch
Follow Roye on Twitter, Instagram & Facebook
https://twitter.com/youneekstudios
https://instagram.com/youneekstudios
https://www.facebook.com/YouNeekStudios
Podcast: Play in new window | Download | Embed
Subscribe: Apple Podcasts | RSS