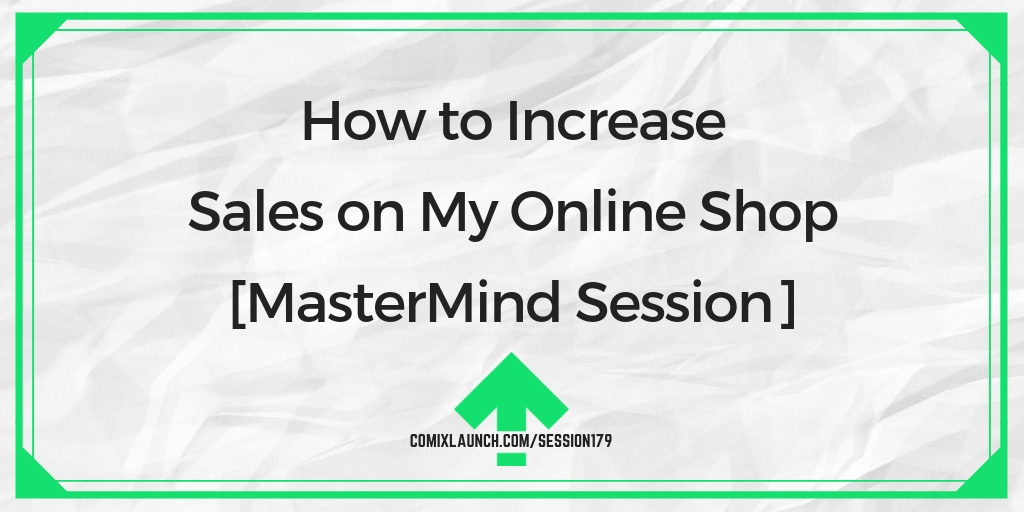 Over the past year, Carmelo Chimera has worked hard at dialing in his audience building, email list growth, and Kickstarter launches. Now that he has a a successfully funded graphic novel to sell, he's identified his sales page as not converting. In this session, the mastermind provides Carmelo with concrete steps to boost his online sales conversion rate.
---
Highlights of this Session include:
Elements of a effective sales funnel and how Carmelo knows it's his sales page that needs work?
The kismet of a mastermind… you never know what skills will come to play.
Ways to quickly improve the conversion rate on your sales pages.
Plus: Tyler opens up about the struggle of doing something new.
---
This Session is Sponsored by

---
In the Mastermind Hot Seat:
Carmelo Chimera is a lawyer and comic shop owner by day, and a comic book creator by later in the day. He is the creator of the Kickstarter funded graphic novel, THE MAGNIFICENT and the recent sci-fi/ horror graphic novel anthology Cellar Door.
---
In the Mastermind Round Table:
Sebastian Chow is the London-based writer and artist of the Kickstarter funded feline space race series, CATAPULTED.
Darryl Jones is a comic book creator, designer, and creator of the successful fantasy board game Dobbers.
Shaun Manning is a writer and creator of historical graphic novels such as MacBeth: The Red King, and has written short comics for for Star Wars Adventures, Dark Horse Presents, the Thought Bubble anthology, and more.
Ryan Summers is a Chicago-based director, designer, animator and educator… and soon to be podcaster.
---
Links Mentioned in Today's Show:
ComixLaunch.com/shopify
ComixLaunch.com/mastermind
---
More About Our Sponsor
Are you thinking about starting or upgrading your online shop so you can sell more of your art?
Are you tired wasting time and energy hacking together cheap, limited solutions that aren't serving you or your potential customers very well?
Instead of spinning your wheels only looking at free or dirt-cheap store options, why not grab an affordable full-service online sales platform optimized for sales like Shopify?
With Shopify…
You don't need Design skills. Shopify has dozens of beautiful, fully-customizable, mobile-friendly templates to get a perfectly branded look and an online stop you'll be proud of.
You don't Coding skills. With Shopify, setting up your store is simple, and you'll be selling in no time at all, even if technology hates you.
And you don't even need a Credit Card to get started. With this ComixLaunch offer, you can try Shopify free for 14 days. No risk, and no credit card required.
What you get with Shopify is a…
Fully customizable website, online store, and blog… your store can be your website!
Unlimited products!
Smooth integration to sell on channels like Facebook, Amazon and Pinterest.
24-7 Customer support!
More than 500,000 creative businesses are powered by Shopify, including the CisforCthulhu.com store which I manage… and couldn't be happier with it.
Stop messing around with subpar online shop solutions and try Shopify.
To start your 14-day free trial of Shopify, go to ComixLaunch.com/shopify
---
ComixLauncher [179]
If you have something for sale on an online shop, get someone (maybe family or friend) to go through the process of buying from you in front of you. Ask them to talk aloud what they're thinking, seeing? Make notes of ways to improve the experience based on seeing it through their eyes.
---
How to Find Out More About Today's Hot Seat Creator:
chimerascomics.com
http://twitter.com/chimerascomics
https://facebook.com/groups/chimerascomicscommunity/
https://www.instagram.com/chimerascomics
---
Quote:
"Everything gets harder if you start going on and on about how hard it is." – N.D. Wilson
Podcast: Play in new window | Download | Embed
Subscribe: Apple Podcasts | RSS