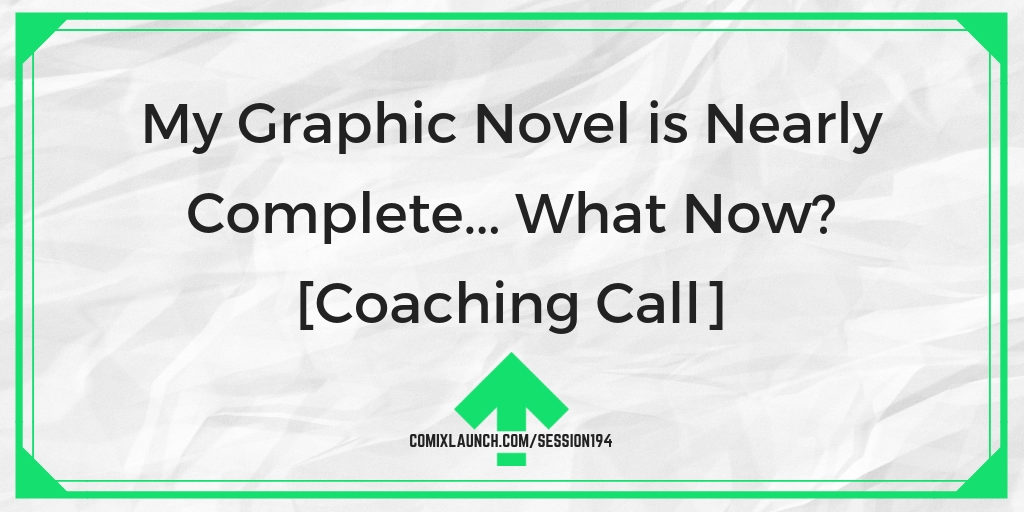 After pouring years into creating his first graphic novel which is finally about to be complete, creator Zach Block is now looking for a little guidance on how to proceed with getting it launched to the world. Sit in on this final coaching call with Zach and Tyler as they walk through what happens after your book is finished.
---
Highlights of this session include:
What to charge for your now complete graphic novel?
Do people really care about free previews of your comics?
Strategies for launching your first graphic novel.
Plus: Have you registered for the 2019 ComixLaunch Challenge at ComixLaunch.com/fundedchallenge yet?
---
This Session is Sponsored by…
…the FREE ComixLaunch 5 Days to Funded Kickstarter Challenge running April 15-19, 2019. Register Now at ComixLaunch.com/fundedchallenge .
---
Today's Featured Guest
Zach Block grew up in Montana surrounded by mountains, forest and lakes. With an adventurous spirit, he's traveled and worked around the world building satellite antenna systems, managing technology projects and pursuing film and entertainment jobs and side projects. The most topical of which is a 4 year journey making the wakeboarding graphic novel "Shake The Lake"; a collage of teenage angst, romance, friendship and troublemaking in a coming-of-age story with a serving of action sports and wakeboarding. Zach lives in Los Angeles, spends his days working at a brand agency and his nights and weekends being a new dad and project managing the final chapter of his graphic novel. Zach works on Shake The Lake with a brother/sister team of illustrators out of Guanajuato, Mexico and his own brother Machi Block, owner of Elevated Clothing Company.
---
Links Mentioned in the Show
---
More About Our Sponsor:
Attention writers, artists & self-publishers:
Whether you're just starting to think about your first or next Kickstarter project, you've got a project on Kickstarter now, or you're about to launch, the ComixLaunch 5 Days to Funded Kickstarter Challenge will give you a proven road map for greater crowdfunding success.
Register Now at ComixLaunch.com/fundedchallenge
This is a Free 5-Day Kickstarter Planning Challenge!
Where you'll work with me to Plan Your First or Next Wildly Successful Comic Book Kickstarter in 5 Days…
Even if you have no experience, no audience, or no project idea.
Join the challenge for…

An Actionable Kickstarter Gameplan
Creator Networking & Cross-promotion
Get Your Kickstarter Questions Answered
PLUS: THERE WILL BE SURPRISE BONUSES & PRIZES FOR ACTIVE CHALLENGE PARTICIPANTS!
By the end of this FREE live 5-Day Online Challenge, you will have:
Improved your Kickstarter profile and enhanced project page so backers are more likely to trust you.
Calculated how much funding your next launch is likely to raise and scoped a project in alignment with that number.
A one-page project plan that covers all of the key elements of a solid Kickstarter plan.
Networked with creators on a similar journey as you and been supported along the way!
The 2019 ComixLaunch Challenge Starts Soon!
Live Online Challenge Begins Monday, April 15, 2019!
So don't wait…

Register Today at ComixLaunch.com/fundedchallenge
---
ComixLauncher [194]
Go sign up for the 5 Days to Funded ComixLaunch Kickstarter Challenge at ComixLaunch.com/fundedchallenge
---
How to Find Out More About Our Featured Guesth
Podcast: Play in new window | Download | Embed
Subscribe: Apple Podcasts | RSS