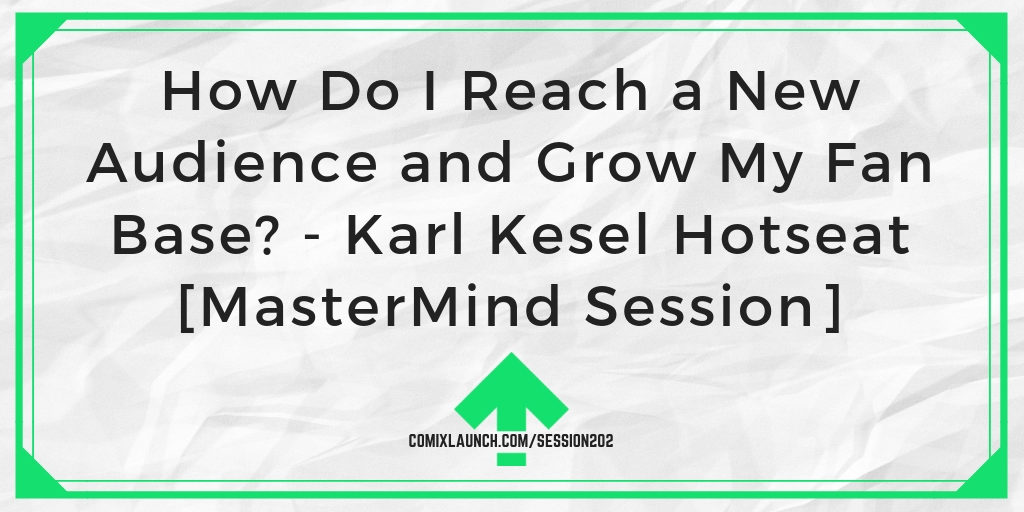 Karl Kesel's (Section Zero) projects have raised over $100,000.00 on Kickstarter, but he's struggling to grow his fan base and reach a new audience for his work. In this session, he's joined by fellow members of the "six-figures in funding" club including Russell Nohelty, Dirk Manning and Tyler James to brainstorm golden opportunities and new strategies for Karl to build upon his fan base and take it to new heights!
---
Highlights of This Session Include:
What Karl has done to build up his audience to this point, and why he'll need to adjust his strategy to keep going?
One of the most powerful tools to get to know your audience and where to find more people like them.
The power of adding a personal touch to your social media posts.
Plus: Are you looking to join a creator MasterMind group this year? Then you're in luck!
---
This Session is Sponsored by…
…the ComixLaunch MasterMind.
If you would you like to meet once a month with a group of serious, like-minded creators to talk about your projects and creative business for mutual support and accountability in the new year, go to ComixLaunch.com/mastermind and get on the interest list.
New Groups will be forming in June and start meeting in July!
---
In the Mastermind Hotseat Today:
Karl Kesel loves his job far more than he has any right to. He has written, inked, and occasionally penciled: Superman, Superboy, Harley Quinn, Spider-Man, Fantastic Four, Captain America and many others— although he has an inexplicable fondness for obscure characters no one else really remembers. His oddly endearing love of zombies led him to create JOHNNY ZOMBIE— a maybe-mythical-maybe-not zombie fighter. In 2000 he co-created SECTION ZERO with Tom Grummett, a labor of love that they were able to bring back thanks to the miracle of Kickstarter! Waiting in the wings: IMPOSSIBLE JONES! He lives with his amazing wife Myrna, joyful son Isaac, cute-as-a-bug daughter Eliza, and exuberant corgi Sprocket in Portland, Oregon. He really can't complain about much.
---
In the Mastermind Round Table:
Russell Nohelty, author of comics and prose, launched mulitple five-figure anthology projects, and creates courses and other resources for creatives at thecompletecreative.com. (Session #203 Hotseat)
Dirk Manning is the writer/creator of comic series TALES OF MR. RHEE (Devil's Due), NIGHTMARE WORLD (Image Comics/Shadowline), WRITE OR WRONG: A WRITER'S GUIDE TO CREATING COMICS (Caliber) and more. (Session #204 Hotseat)
Tyler James (Session #205 Hotseat)
---
Links Mentioned in Today's Episode:
---
ComixLauncher [202]:
Go take a long, hard look at your own social media feed. How social are they? Are you getting discussions going? Are you sharing any of YOU there?
---
How to Find Out More About Today's Hotseat Creator:
sectionzerocomic.com
panicbuttonpress.com
impossiblejones.com
Podcast: Play in new window | Download | Embed
Subscribe: Apple Podcasts | RSS