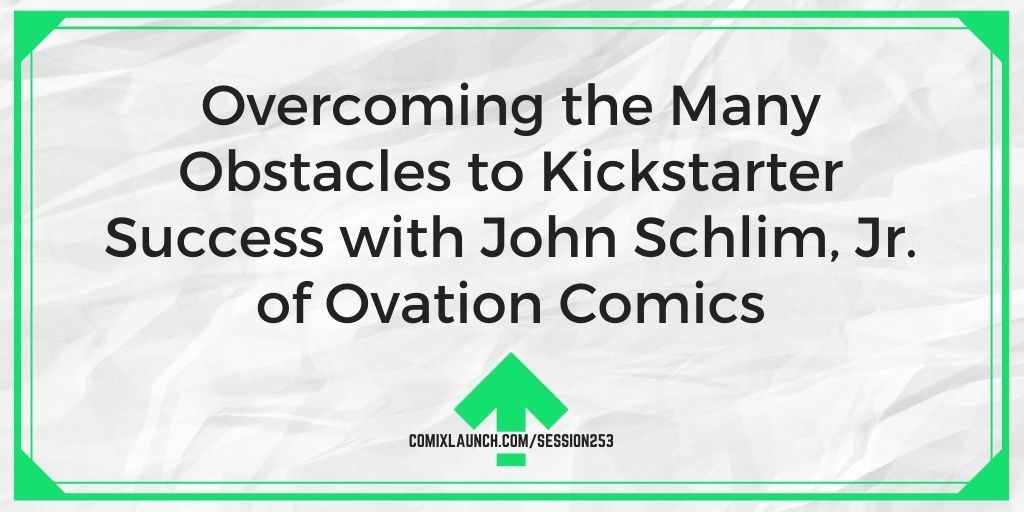 Ovation Comics Publisher and writer of Battle Royale Planet, Goth Ghost Girl & Infinity Agents John Schlim, Jr. joins Tyler for a frank discussion on the perserverance and problem solving required for success on Kickstarter and beyond.
---
Highlights of This Session Include:
How John has been able to string together seven successful Kickstarter campaigns after a first launch failure.
Why John decided to postpone his latest launch for Battle Royale Planet due to the Covid-19 Crisis… but only by a few weeks.
Weighing the pros and cons of sticking to one series vs launching multiple series on Kickstarter.
Plus: How the Ovation Comics Shopify Store launch was timed "perfectly."
---
This Session is Sponsored by:

---
Today's Featured Guest:
John Schlim Jr. is a a lifelong storyteller and wordsmith who's worked as a journalist, editor, columnist and advertising copywriter.

After amassing writing credits Arcana Studio, Brain Scan Studios, Image Comics, and others, but he's successfully harnessed the power of Kickstarter to fund Ovation Comics, his self-publishing through my own imprint, and give him a direct connection to fans of the fantasy, sci-fi and supernatural titles such as Goth Ghost Girl, Infinity Agents and Masque Ovation is becoming known for. His 9th Kickstarter for a new series called "Battle Royale Planet" just launched!
---
Links Mentioned in Today's Show:
https://www.kickstarter.com/lights-on
comixlaunch.com/shopify

---
More About Our Sponsor:
Are you thinking about starting or upgrading your online shop so you can sell more of your art?
Are you tired wasting time and energy hacking together cheap, limited solutions that aren't serving you or your potential customers very well?
Instead of spinning your wheels only looking at free or dirt-cheap store options, why not grab an affordable full-service online sales platform optimized for sales like Shopify?
With Shopify…
You don't need Design skills. Shopify has dozens of beautiful, fully-customizable, mobile-friendly templates to get a perfectly branded look and an online stop you'll be proud of.
You don't Coding skills. With Shopify, setting up your store is simple, and you'll be selling in no time at all, even if technology hates you.
And you don't even need a Credit Card to get started. With this ComixLaunch offer, you can try Shopify free for 14 days. No risk, and no credit card required.
What you get with Shopify is a…
Fully customizable website, online store, and blog… your store can be your website!
Unlimited products!
Smooth integration to sell on channels like Facebook, Amazon and Pinterest.
24-7 Customer support!
More than 500,000 creative businesses are powered by Shopify, including the CisforCthulhu.com store which I manage… and couldn't be happier with it.
Stop messing around with subpar online shop solutions and try Shopify.
To start your 14-day free trial of Shopify, go to ComixLaunch.com/shopify
---
ComixLauncher [253]
How many current series are you working on? Is it too many, too few or just right for you?
---
How to Find Out More About Our Featured Guest:
http://www.fablehaus.net/
http://ovationcomics.com/
Podcast: Play in new window | Download | Embed
Subscribe: Apple Podcasts | RSS