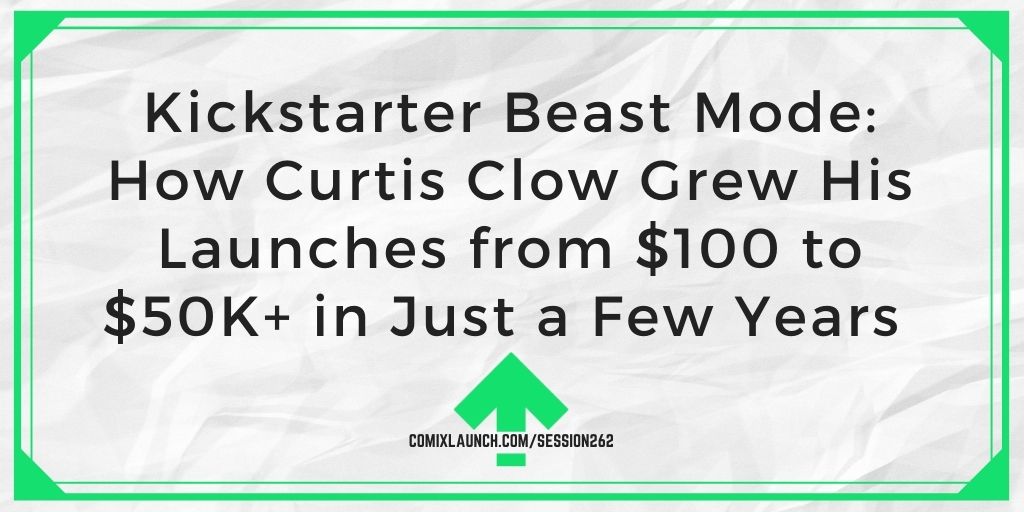 Curtis Clow is a comic book writer and creator whose Kickstarter-serialized series Beastland's has raised $90,000 on the platform, and just wrapped his biggest launch yet. In this interview, Tyler chats with Curtis about how he was able to quit the day job late last year and make a living through writing and comics, how he landed all of his Kickstarter funded comics with publishers, and the secrets behind his latest breakthrough launch. Considering Curtis' comics journey started in earnest just a few years ago, this interview should be incredibly inspiring for creators out there.
---
Highlights of This Session Include:
Why and how Curtis ran a "Training Wheels" launch to first learn Kickstarter.
Curtis' keys to 5Xing funding on his last Beastlands launch!
Biggest surprises when transitioning to becoming a full-time writer.
Plus: A bonus clip from Tyler's recent interview on the Comics from the Apocalypse Podcast!
---
This Session is Sponsored By:
StickerMule custom stickers and more. Go to ComixLaunch.com/stickermule and get a $10 credit on your next order.
---
Today's Featured Guest:
Curtis Clow is the writer/co-creator of comics such as The Wild Cosmos (Scout Comics), The Dragon's Kin (In Hiatus Studios), Slightly Exaggerated published on Kickstarter. He's most known for his funded and serialized on Kickstarter series Beastlands, which has raised $90K on the platform to date, and just wrapped his most successful launch yet!
---
Links Mentioned in this Episode:
stickermule.com
comixlaunch.com/roadmap
https://www.kickstarter.com/projects/curtisclow/beastlands-1-5-a-heartful-fantasy-adventure
---
ComixLauncher [262]
What might a "Training Wheels" sized launch look like for you to learn Kickstarter by launching something super small be?
---
How to Find Out More About Our Featured Guest:
Contact Curtis on Twitter and Instagram @CurtisWriterC or at toinfinitystudios.com
Podcast: Play in new window | Download | Embed
Subscribe: Apple Podcasts | RSS