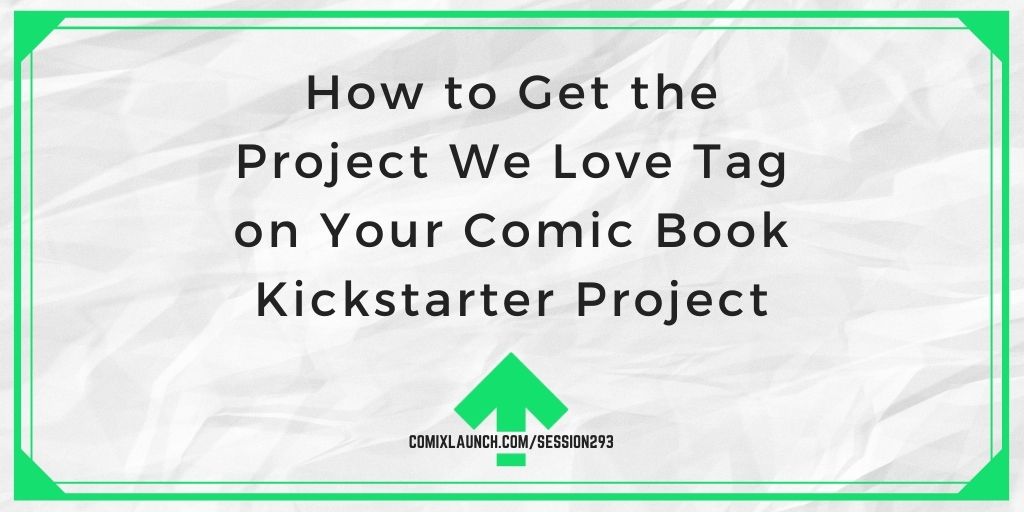 What's the secret to getting the "Project We Love" Tag on Your Comic Book Kickstarter Project? In this video, Tyler shares the importance of the PWL tag, dispels some common myths about it, and shares what comic crowdfunding creators can do to up the odds that their projects get selected.
---
Highlights of This Session Include:
The biggest myths and misconceptions about the Project We Love Tag Debunked!
What Kickstarter says publicly (and privately) about how to up the chances your project we'll get the PWL tag.
Why certain wildly popular creators almost NEVER get the tag… and why that isn't a problem for them.
Plus: Celebrating another awesome milestone for ComixLaunch Pros!
---
This Session is Sponsored by:

---
Links Mentioned in Today's Show:
comixlaunch.com/shopify
Comicimpressions.com
ComixLaunch.com/roadmap
---
More About Our Sponsor:
Are you thinking about starting or upgrading your online shop so you can sell more of your art?
Are you tired wasting time and energy hacking together cheap, limited solutions that aren't serving you or your potential customers very well?
Instead of spinning your wheels only looking at free or dirt-cheap store options, why not grab an affordable full-service online sales platform optimized for sales like Shopify?
With Shopify…
You don't need Design skills. Shopify has dozens of beautiful, fully-customizable, mobile-friendly templates to get a perfectly branded look and an online stop you'll be proud of.
You don't Coding skills. With Shopify, setting up your store is simple, and you'll be selling in no time at all, even if technology hates you.
And you don't even need a Credit Card to get started. With this ComixLaunch offer, you can try Shopify free for 14 days. No risk, and no credit card required.
What you get with Shopify is a…
Fully customizable website, online store, and blog… your store can be your website!
Unlimited products!
Smooth integration to sell on channels like Facebook, Amazon and Pinterest.
24-7 Customer support!
More than 500,000 creative businesses are powered by Shopify, including the CisforCthulhu.com store which I manage… and couldn't be happier with it.
Stop messing around with subpar online shop solutions and try Shopify.
To start your 14-day free trial of Shopify, go to ComixLaunch.com/shopify
---
ComixLauncher [293]
Explore the PROJECTS WE LOVE tag and find three projects similar to yours that got the tag, and then study each page for notes on what those creators did especially well and how you can apply to your next launch.
Podcast: Play in new window | Download | Embed
Subscribe: Apple Podcasts | RSS