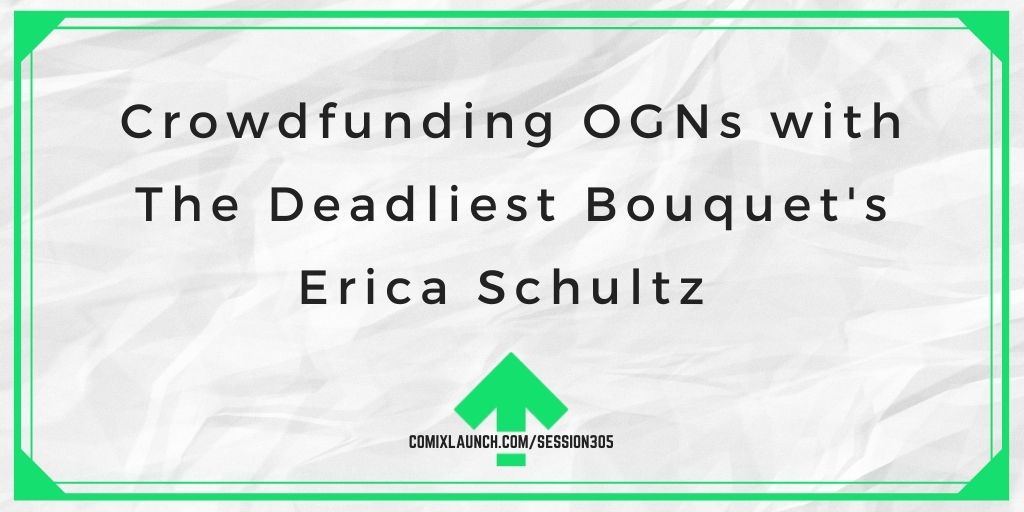 Ringo-nominated comic book writer and editor Erica Schultz chats with Tyler about using crowdfunding to bring an all-new original graphic novel The Deadliest Bouquet to life on Kickstarter.
---
Highlights of This Session Include:
How Erica pulled The Deadliest Bouquet team together.
Why Erica made the decision to go for funding the entire graphic novel in one launch vs serializing it on Kickstarter.
Insight from some of Erica's other great experiences in the comics industry, including working on a Comixology Original and participating in the first DC – Talent Development Writers Workshop.
Plus: Some of the sage advice Erica share's with her Kubert School students.
---
Today's Session is Sponsored by…
Pneumatic Cases, a story of Deduction, Seduction, Death and Pistons is LIVE on Kickstarter RIGHT NOW with issues #1-3! Join Lord and Lady Ravenscroft as they travel across Europe solving murders and fighting natural (and supernatural) enemies with their inventions at LASTEMBERPRESS.COM/pc3.
---
Today's Featured Guest:
Erica Schultz is a comic book writer, editor, and letterer who has published work with Marvel, DC, comiXology Originals, Red 5, and more. She was nominated for the Ringo Award for Best Writer in 2020 for her series Forgotten Home for comiXology Originals, and the series was also nominated for Best Cover, Best Inker, Best Lettering, and Best series. Worked on popular ip such as Zena Warrior Princess & Daredevil. She currently teaches at The Kubert School in Dover, NJ and is an editor with Mad Cave Studios.
---
Links Mentioned in Today's Show:
https://www.kickstarter.com/projects/deadliestbouquet/the-deadliest-bouquet-0
---
More About Our Sponsor:
PNEUMATIC CASES #1-3 is the latest offering from Last Ember Press featuring the penultimate issue of the Steampunk Murder Mystery Series!
Lord and Lady Ravenscroft are scientists and inventors who solve crimes as a side hustle. When a violent murder is laid out on the streets of London for all to see, the pair are called in to consult in classic Holmesian fashion.
The clues they find take them on a journey across Europe fighting reanimated men and other nefarious criminals while making enemies along the way. Now, their quest has landed them in Romania where violent animal attacks are anything but. How this ties into the larger mystery at hand is what Percy and Annie must discover or die trying!
After funding in 48 Hours, ISSUE 4 is now being unlocked via Stretch Goals!
Be a part of the journey on Kickstarter through May 30th at http://lastemberpress.com/pc3
---
ComixLauncher [305]
How much of YOU can you find in your characters?
---
How to Find Out More About Our Featured Guest:
https://www.ericaschultzwrites.com/
Podcast: Play in new window | Download | Embed
Subscribe: Apple Podcasts | RSS