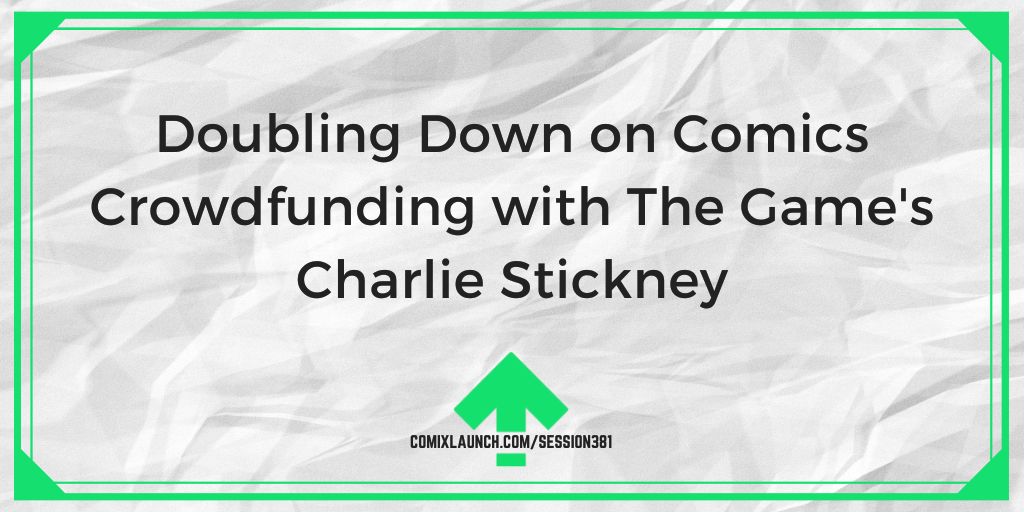 Get ready for a deep dive conversation on the state of comics crowdfunding with one of the most respected creators in the space, writer Charlie Stickney. Charlie returns to the ComixLaunch Podcast to talk about his stepping down as Co-Publisher of Scout Comics to focus on his successful crowdfunding projects including White Ash, Glarien, The Game and more. Topics will include how many launches are too many, how the crowdfunding space is evolving, what the future may hold for the direct market and Kickstarter, and much more!
---
Highlights of This Session Include:
The challenges and opportunities of launching on Kickstarter and in the direct market (aka comic shops).
Charlie's approach to serializing in bigger story chunks for the Kickstarter audience.
Next level creator cross-promotion beyond the Kickstarter update swap.
Plus: The crowdfunding metric Charlie pays the most attention to when evaluating his launches.
---
This Session is Sponsored by:

---
Today's Featured Guest:
Charlie Stickney is the writer and Co-Creator of White Ash, Glarien, The Game, The Adept and HISMWTC. He brings over 20 years experience as a writer/producer and creator of film, television, animation and music videos for companies including: Sony Pictures, ITV, Universal Pictures, Revolution Studios, and Scholastic Productions.
He also recently stepped down from a 3 year stint as co-publisher of SCOUT Comics to focus on his White Ash Comics Imprint, which brings stories directly to fans on Kickstarter.
---
Links Mentioned in Today's Show:
Charlie's latest series The GAME #1-3 with art and letters by Conor Hughes and colors by Tríona Farrell is live on Kickstarter now: https://www.kickstarter.com/projects/thegamecomic/the-game-1-3
Kickstarter Comics with Oriana Leckert and Pat Shand via Twitter Spaces:
---
More About Our Sponsor:
Are you thinking about starting or upgrading your online shop so you can sell more of your art?
Are you tired wasting time and energy hacking together cheap, limited solutions that aren't serving you or your potential customers very well?
Instead of spinning your wheels only looking at free or dirt-cheap store options, why not grab an affordable full-service online sales platform optimized for sales like Shopify?
With Shopify…
You don't need Design skills. Shopify has dozens of beautiful, fully-customizable, mobile-friendly templates to get a perfectly branded look and an online stop you'll be proud of.
You don't Coding skills. With Shopify, setting up your store is simple, and you'll be selling in no time at all, even if technology hates you.
And you don't even need a Credit Card to get started. With this ComixLaunch offer, you can try Shopify free for 14 days. No risk, and no credit card required.
What you get with Shopify is a…
Fully customizable website, online store, and blog… your store can be your website!
Unlimited products!
Smooth integration to sell on channels like Facebook, Amazon and Pinterest.
24-7 Customer support!
More than 500,000 creative businesses are powered by Shopify, including the CisforCthulhu.com store which I manage… and couldn't be happier with it.
Stop messing around with subpar online shop solutions and try Shopify.
To start your 14-day free trial of Shopify, go to ComixLaunch.com/shopify
---
ComixLauncher [381]
Who would be on your list of the top three creators to crosspromote with during your next Kickstarter launch?
---
How to Find Out More About Our Featured Guest:
https://twitter.com/CharlesStickney
Podcast: Play in new window | Download | Embed
Subscribe: Apple Podcasts | RSS