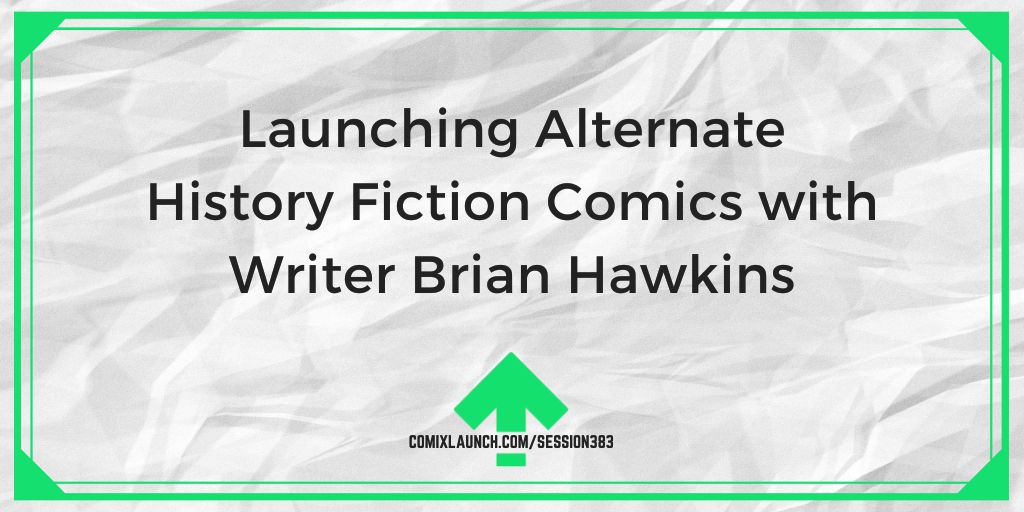 Join comics writer Brian Hawkins (Black Cotton, The Vineyard) for a discussing about creating and launching alternative history comics. Brian's latest crowdfunding effort is America's Kingdom, new series taking place in a modern-day America under the reign and rule of a descendant of George Washington. Get Brian's tips on alternate history worldbuilding, plus insights from his lessons learned as a freelance writer and comics editor.
---
Highlights of This Session Include:
Tips for building an alternative reality historical fiction series to life.
How to go from a great high concept idea to an actual story.
Brian's thoughts on building a career in comics, from freelance writing, comics editing, crowdfunding and more!
Plus: Tyler has the scoop on some recent Kickstarter platform updates!
---
This Session's Featured Resource is Bluehost:
Go to ComixLaunch.com/bluehost for a special discount on domain registration and website hosting.
---
Today's Featured Guest:
Brian Hawkins is a writer of comic books, novels and scripts. He's done freelance writing for BlackBox Comics and Zenescope Entertertainment, and works as an editor for Mad Cave Studios. His work includes the ongoing series Black Cotton published by Scout Comics, and The Vineyard from Aftershock, as well as self-published crowdfunded work such as "Don't Ever Blink" and "The Lunatic, The Lover & the Poet." He's back on Kickstarter this week with America's Kingdom, a new series about a modern-day America, under the reign and rule of a descendent of George Washington.
---
Links Mentioned in Today's Show:
Check out Brian Hawkin's America's Kingdom #1-2: An Alternate Reality Fantasy Series on Kickstarter: https://www.kickstarter.com/projects/brianlouisiam/americas-kingdom-1-2-an-alternate-reality-fantasy-series
---
More About Our Featured Resource:
In a moment, I'm going to give you today's ComixLauncher, but first, we need to thank our sponsor…
Let me ask you a question… are you master of your own domain?
No, this isn't a dated Seinfeld reference… I'm talking about your web domain.
And Bluehost is an all in one web hosting solution that will help you master your domain.
I own the domains for ComixTribe.com, ComixLaunch.com and many more… but I know many of you are trying to save a few pennies a day by NOT paying for domains you're trying to build brands around.
That's a mistake.
Owning your own domain provides better branding
More professional.
More credible.
More memorable.
When you own the dot com for your brand, it'll help you protect it.
If you're building your empire on someone else land, your comic @facebook or @tumblr or remember @myspace God forbid… you don't control those platforms.
Own your own domain…
You can use the ComixLaunch affiliate link to get a special introductory offer and 30-day money back guarantee at Bluehost by going to Comixlaunch.com/bluehost today.
Bluehost powers more than 2 million websites world wide and makes it super simple to get a WordPress hosted website up in just one click.
Master Your Domain, go to ComixLaunch.com/bluehost and lock it in today.
---
ComixLauncher [383]
Thought exercise: What moments in history going a different way do you think would make for the most compelling story ideas? Brainstorm a quick top 10 list… and then pick one to flesh out into a short treatment. You might be on to something…
---
How to Find Out More About Our Featured Guest:
Website: https://www.brianhawkinswrites.com/
Substack: CHARACTER + OBSTACLE = STORY
https://brianhawkinswrites.substack.com/
Podcast: Play in new window | Download | Embed
Subscribe: Apple Podcasts | RSS