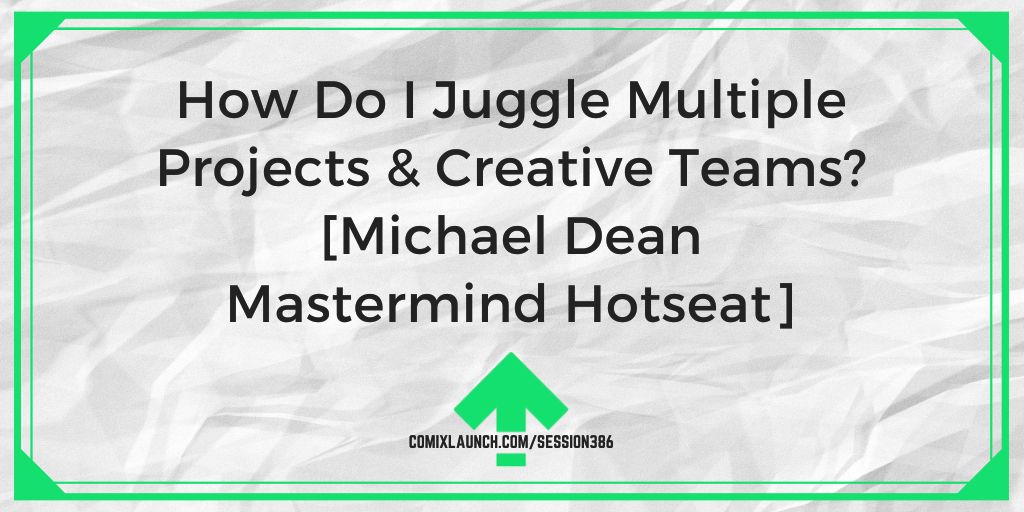 What are the best strategies to communicate deadlines and juggle multiple projects and creative teams when you're eyeing the Kickstarter platform? This is a challenge writer and filmmaker Michael Dean is currently wresting with. In this mastermind style session, a roundtable of creators will help Michael find the right tips and best practices to motivate his team and hit his launch goals.
---
Highlights of This Session Include:
The different kinds of collaborative arrangements writers often make with artists, and the pros and cons of each?
The importance of communicating vision to the entire team and why someone must lead?
Approaches to keeping multiple projects on track.
Plus: 4 Ways You Know You're in a Great Mastermind
---
This Session is Sponsored by…
…the ComixLaunch MasterMind. Fighting isolation and staying connected with others is more important than ever right now…
If you would you like to meet once a month with a group of serious, like-minded creators to talk about your projects and creative business for mutual support and accountability this year, go to ComixLaunch.com/mastermind and get on the interest list.
New groups will be forming in December and meeting in January!
---
In the MasterMind Hot Seat Today:
Michael Dean's work often centers on the human in the surreal. As a big fan of grounded spec fic, he strives to create stories you've never heard centering on the kind of people you definitely know. While comics are his first love, he also works in TV and Audio, co-creating the cult-favorite podcast Hollow Public Radio. Michael's used Kickstarter for a number of things from short films to a performance space, and his first graphic novel MARINER: An Ancient Rime reached 22k, and he has 2 more comics dropping next year.
---
In the MasterMind Round Table:
Karla Medrano (comic book writer)
Tom Leveen (novelist & comic book writer)
Patrick Kellner (comic book writer)
Travis Gibb (comic book writer)
---
Links Mentioned in Today's Show:
---
More About Our Sponsor:
Okay, creators, I have a question for you…
Right now, how many people are there on this planet who know exactly what it is that you're trying to create this week, this month, this year, and in the next five years and in your lifetime?
And how many of those people ALSO want AND can help you to achieve those big dreams… and are regularly thinking about what they can do to help you on your mission?
Right now, do you have other creators in your corner who you trust to offer good, knowledgeable support and advice about the issues and struggles you face as a comic creator?
Are these creators who are always going to tell it to you straight, even if it's not what you want to hear, but what you need to hear to level up?
And are you meeting with these people on a regular consistent basis to talk about these things?
Seriously, how many people do you have in your world right now who fit that full description?
If the answer is "NOT ENOUGH", then I want you to imagine that there was a small group of high performing creators, who you really respect and you admire, and they constantly had you on their minds.
Imagine you were meeting with them regularly for mutual support, brainstorming and accountability.
Would that make a difference in your creative business and in your life?
If so, then I want to invite you to learn more about the ComixLaunch mastermind groups starting up in January.
Just go to ComixLaunch.com/mastermind to get on the interest list. We'll be accepting applications for just a short time in December to fill brand new groups who start meeting in January.
A ComixLaunch Mastermind Group could be just the thing you're looking for to have a massive creative breakthrough in the new year.
So again, ComixLaunch.com/mastermind is where you'll find all that information.
You'll get on the interest list and potentially get into an awesome ComixLaunch Mastermind group of your own, and hit the ground running with us in January.
---
ComixLauncher [386]
On a scale of 1-10, how well are you currently communicating your project key deliverable dates with your collaborators? What can you do to make sure the whole team is on the same page before the new year?
---
How to Find Out More About Today's Hot Seat Creator:
Instagram/Twitter: @yomichaeldean
Podcast: Play in new window | Download | Embed
Subscribe: Apple Podcasts | RSS