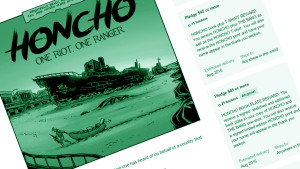 In this session with Jeff McComsey, the small press powerhouse behind the FUBAR historical zombie franchise, the elements of a successful Kickstarter project page are uncovered. Discover how Jeff's beautiful Kickstarter pages have generated more than $150K in funding.
---
This session is sponsored by KrakenPrint.
Need a reliable printer for your next comic book or graphic novel print run? Then you need to unleash the Kraken. Head to ComixLaunch.com/Kraken for 5% off your entire first order.
---
Table Setting
If this is your first time, this is the show where we dive deep into the Kickstarter Platform that has raised more than $40M to crowdfund comics and graphic novel projects by creators like you… we talk mindset, strategy, and tactics.
I have an incredible guest and we have an awesome conversation… a Master Class if you will.
Before we get into it… Gotta say thank you.
Jeremy and I have been blown away by the interest and the applications to the ComixLaunch course.
We enrolled a couple new members today, and it's looking like we're going to have a full course.
I'm super pumped to be working directly with a several of you next January to build your first or next Kickstarter campaigns.
Note: Enrollment for the pilot session of the ComixLaunch Course is now closed.
---
Today's Guest
My guest today is a writer/illustrator who has successfully funded 5 projects on Kickstarter that have collectively raised more than $150K.
He is the editor in chief of the New York Times Best Selling historical zombie anthology FUBAR now into its sixth volume.
His other work includes American Terror, Mother Russia, Flutter, and
He is the Generalisso of the Small Press Commandos, one of my favorite private facebook groups full of hardworking creators.
He latest project, HONCHO, which imagines a future world where a veteran of World War III is on a new mission to reunite a fractured America… through baseball, has just launched on Kickstarter.
Welcome to ComixLaunch Jeff McComsey
---
As a guy who has been in the trenches, survived 5 successful KS campaigns, and now just re-enlisted for a 6th… there's so much we could talk about… wealth of knowledge.
One thing I've always admired about your projects is how great a job you do designing your Kickstarter pages. I know it's something you put a lot of thought and effort into, and might be something novice KS creators don't give all that much thought to….
So, I thought it would be great to really dive in deep on KS page design with a Master.
Guiding Discussion Questions
1) Great KS page starts with a great image. How do you go about choosing your KS project images? Tips, Dos and Don'ts?
Starts with strong cover

Two people who back

Fans of you

Fans of the product

KS Key Art – so important

Netflix – what stands out to you there?
2) Recommendations for what to include on your Kickstarter Page?
3) Any Copywriting tips? What's the right balance of detail to include on your page?
4) What tools do you use to create your graphics and images? Any tips or recommendations for the graphic design challenge?
5) With the Honcho campaign… anything you're doing differently than previous campaigns?
---
ComixLaunch Lightning Round
SPEED ROUND of Questions (Short/ Quick answers 30 seconds or so.)
1) Finish this sentence: "Kickstarter is _______."
…the best place to build equity in yourself as a creator.
2) Let's the pretend the powers that be at Kickstarter are listening (which you know they are)… if you could change one thing about the Kickstarter platform, what would it be?
So way to add a social media aspect to share booty and happy backer pics from fulfillment as great social proof for a creator's ability to deliver.
3) What's your secret weapon? (Meaning a tool, resource, app, etc. that you couldn't make comics without?)
my phone
4) Fulfillment is where even successful Kickstarter creators often drop the ball… Do you have a fulfillment tip for our listeners?
Start with the reward with the most backers and get it out of the way, then find someone to help you for some of the time.
5) Can you recommend one comic (not done by you) more people need to check out?
Barbarian Lord by Matt Smith. 
http://www.barbarianlord.com/
---
Sponsor Mid-Roll
In a moment, I'm going to give you today's ComixLauncher, but first, we need to thank our sponsor…
[Krakenprint sponsor ad full #2 – 30-45 seconds]
---
ComixLauncher
A ComixLauncher is a short, actionable activity you can and should do right now, or immediately after listening to the show. They're all activities I've done myself, and will get you one step closer to a successful ComixLaunch. They'll transform this Podcast from a passive, lean back activity centered around Tyler James, into an active, lean-forward activity centered around YOU.
ComixLauncher 022:
Start a Kickstarter Page Design Swipe File.
A swipe file is a collection or curated archive of exemplar work to reference.
To be the best, you want to model the best.
All of us our busy, but we all can spare 5 minutes to do this. If you'd like to share the results of your ComixLauncher with me, I'd love to see them. Email me at [email protected], subject line: ComixLauncher #22.]
---
Wrap Up Questions
1) Do you have one final piece of advice for CREATORS on running a Successful KS campaign for the ComixLaunch listeners?
Plan your campaign like a bank robbery!
2) Besides the HONCHO KS, what's the best place to keep up with you online?
---
Have You Subscribed, Rated, or Reviewed ComixLaunch Yet?
If you've enjoyed this Session of ComixLaunch, I need you to do me a favor… actually, I need three favors. Please Subscribe, Rate and Review ComixLaunch on iTunes.
They're the rocket fuel this show is running on, and the sooner you do it, the more powerful your action will be. Don't wait to give us some love!
>>> CLICK HERE TO LEAVE A REVIEW ON iTUNES <<<
Provide a rating, 1-5 stars and leave an honest review.
This can be done in less than 2 minutes and could make HUGE difference to the show.
Podcast: Play in new window | Download | Embed
Subscribe: Apple Podcasts | RSS