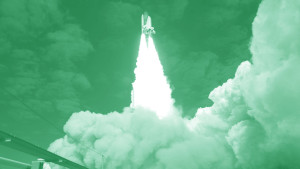 In this session, Tyler and Jeremy talk to Russell Nohelty of Wannabe Press about tapping into the power of Kickstarter and the techniques of successful online marketers to launch a new publishing venture.
---
Today's Session is Sponsored by the Johnny Bullet webcomic by Hervé St-Louis. Read it for free at comicbookbin.com/bullet.
---
Today's Guest
Our guest today is a writer of film, TV, animation, comics, and novels.  After buying back the rights to all of his properties and going independent, he successfully funded his first Kickstarter in 2014, which he used to jumpstart the launch of his publishing company, Wannabe Press. Since then he's successfully funded a second Kickstarter campaign all while running and growing his company.
Welcome to ComixLaunch, Russell Nohelty!
Today's Topic:  Kickstarter as a launching pad for new publishers.
Guiding Questions
1) Decision To Go Independent.
Russell bought back all the rights to all of his properties to release them himself. Why did he make this decision and what did the process entail?
2) Using Kickstarter as a launching pad for your career in comics.
Part of the re-release was putting together a print run of Ichabod Jones: Monster Hunter – which was previously published as a digital-only comic.
Were any obstacles to doing a Kickstarter for a book that had already been released, albeit digitally?
3) How to maintain momentum after the Kickstarter.
Let's excavate some strategies he used to take support from his Kickstarter to Wannabe Press and his other titles.
4) Growth with a Second Kickstarter.
A year after Ichabod, he launched the Kickstarter for Katrina Hates the Dead.
He almost doubled his # of backers (from 162 to 294) and raised $3,000 more (~$5,500 to ~$8,800)
5) Key Tips
Build and Audience with Landing pages
Facebook ads
Webcomics
Built mailing list 0 – 1,300 people
Auto-responder sequence

How did he activate his past backers for this new Kickstarter?
How did he acquire new fans throughout the year?

SumoMe
Project Wonderful
ComixLaunch Lightning Round
SPEED ROUND of Questions (Short/ Quick answers 30 seconds or so.)
1) Finish this sentence: "Kickstarter is _______."
"The absolute best way to launch your creative career."
2) Let's the pretend the powers that be at Kickstarter are listening (which you know they are)… if you could change one thing about the Kickstarter platform, what would it be?
"I love 99.9% of Kickstarter. I think they could be more transparent. How do you go about becoming a staff pick? How do you run the most successful campaign possible?"
3) What's your secret weapon? (Meaning a tool, resource, app, etc. that you couldn't make comics without?)
"Buffer is probably the number one but Krowdster for a campaign."
4) Fulfillment is where even successful Kickstarter creators often drop the ball… Do you have a fulfillment tip for our listeners?
"Do not ask people to do anything for your next campaign until every single person has a book in their hand."
5) Can you recommend one comic (not done by you) more people need to check out?
"I'm going to say Shiver Bureau by Walter Ostlie."
---
Sponsor: Johnny Bullet
Johnny Bullet is really the kind of comics that we don't get enough of. Hervé St-Louis, also known as Toon Doctor, creates it.
It's a web comic that has the look and feel of a classic newspaper comic strip, except that it's published weekly web comic.
Johnny Bullet is a professional drag racer who gets in trouble with the law, bad guys, and of course bad women!
You can tell that Hervé, Johnny Bullet's creator, likes cars and drag racing. There are muscle cars everywhere!
There is really no comic like Johnny Bullet. It's been described as Michel Vaillant meets theDukes of Hazzard. Set in the 1970s the characters sport afros, and bell-bottoms.
It's fun to read a crime comic that's serious but without being dark and gloomy. Johnny Bullet is your classic good guy!
While Hervé tells me that he isn't ready to launch his Kickstarter just yet, there's nothing stopping you from reading Johnny Bullet at ComicBookBin dot com slash bullet (comicbookbin.com/bullet).
Leave him comments so he knows that we sent you!
Johnny Bullet. It's a comic about a man and his car.
---
ComixLauncher
It's time for today's ComixLauncher.
A ComixLauncher is a short, actionable activity you can and should do right now, or immediately after listening to the show. They're all activities I've done myself, and will get you one step closer to a successful ComixLaunch. They'll transform this Podcast from a passive, lean back activity centered around Tyler James, into an active, lean-forward activity centered around YOU.
ComixLauncher – 026
In two sentences or less, describe your brand as a comic book creator. And if you don't have one established yet, if you're new, then tell me how you'd like fans to describe who you are and what you create.
If you'd like to share your comixlauncher with me, I'd love to hear it. [email protected] subject ComixLauncher 026.
---
Wrap Up
Where can our listeners connect with you?
Twitter: @russellnohelty
Facebook: Russell Nohelty
Instagram: russellnohelty
Thank you so much for listening, and for letting me walk with you, as you taken another step forward toward your next successful ComixLaunch.
---
Have You Subscribed, Rated, or Reviewed ComixLaunch Yet?
If you've enjoyed this Session of ComixLaunch, I need you to do me a favor… actually, I need three favors. Please Subscribe, Rate and Review ComixLaunch on iTunes.
They're the rocket fuel this show is running on, and the sooner you do it, the more powerful your action will be. Don't wait to give us some love!
>>> CLICK HERE TO LEAVE A REVIEW ON iTUNES <<<
Provide a rating, 1-5 stars and leave an honest review.
This can be done in less than 2 minutes and could make HUGE difference to the show.
Podcast: Play in new window | Download | Embed
Subscribe: Apple Podcasts | RSS