Serialization has been a fundamental aspect of the comic book medium. This session with new writer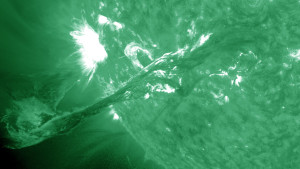 James Haick explores the strengths, weaknesses and opportunities Kickstarter provides creators to crowdfund comics one issue at a time.
---
Today's Session is Sponsored by
Luminous Ages, a fantasy comic and art book now on Patreon. Visit ComixLaunch.com/luminous to find out more.
---
Session Table Setting
Welcome back to ComixLaunch!
Guest Introduction
My guest today is success financial advisor and a lifelong comic fan, who, in 2015 finally got into the game, writing successful career as a financial advisor for
Welcome to ComixLaunch, James Haick
Anything else you want to tell the CL audience about you and your work before we dive in?
What is Today's Episode About?
Guiding Discussion Questions
1) Tell us a little more about Solar Flare? Where'd the idea for it come from, and what led you to the decision to take issue #1 to Kickstarter?
2) Take us back to that first KS… Jan 28, 2015, you launched SF #1 KS. You set a $3,800 goal, and hit it on the day before your campaign ended, raising $3,874 in funding.
Was that first campaign as nerve wracking as I imagine it was?
You had a very specific 4,000 copy print run in mind for that goal… where'd that number come from?
What were your big lessons and takeaways from your first KS?
3) Okay, let's talk about funding the second issue. Three months later, April 28th, you launched the KS for the second issue.
What did you change for #2?
More backers, less funding… thoughts on why?
Decision to launch KS for #2 prior to #1 getting in backers hands. Risky?
4) Now, for #3, #4, #5 you've been coming out almost like clock-work, every three months. However, you've been playing with the goal amount. Dropped to $2K for #3, down to $1500 for #4, and back up to $2K for #5. What's your thinking there?
5) Reader attrition is something every publisher has to deal with…
What are you doing to keep backers coming back for each issue?
What are you doing to bring new readers on-board?
Speed Round
1) Finish this sentence: "Kickstarter is _______."
A chance for all us independent creators to create something. 
2) Let's the pretend the powers that be at Kickstarter are listening (which you know they are)… if you could change one thing about the Kickstarter platform, what would it be?
To eliminate double emails for backers who have backed more than once.  
3) What's your secret weapon? (Meaning a tool, resource, app, etc. that you couldn't make comics without?)
The Art of Comic Book Writing by Mark Kneece
Fiverr.com
4) Fulfillment is where even successful Kickstarter creators often drop the ball… Do you have a fulfillment tip for our listeners?
The customer is always right.
5) Can you recommend one comic (not done by you) more people need to check out?
---
Sponsor Mid-Roll
In a moment, I'm going to give you today's ComixLauncher, but first, we need to thank our sponsor…

Luminous Ages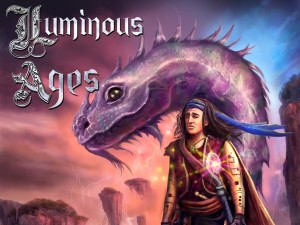 Luminous Ages is a fantasy comic set in a universe where dragons, humans, gods, titans, demons, angels and beasts have the ability to control dream magic!
Created by Australian writer/artist Anthony Christou, the adventure begins with a young farm boy, Thrakos, going through a painful transformation to become a Mage of the Mark. What path will he choose? What secret has his father been hiding from him? And why are dragons hunting him in the dreamworld?
It's a full-color paperback comic available now on Kickstarter, and includes a bonus concept art book full of dragons and magic, that expands on existing and future characters and environments in the comic!
The first issue of Luminous Ages and the Concept Artbook is finished and can be ordered now.
Go to ComixLaunch.com/luminous to find out more.
Be sure to leave Anthony a comment so he knows that we sent you!
---
ComixLauncher
It's time for today's ComixLauncher.
A ComixLauncher is a short, actionable activity you can and should do right now, or immediately after listening to the show. They're all activities I've done myself, and will get you one step closer to a successful ComixLaunch. They'll transform this Podcast from a passive, lean back activity centered around Tyler James, into an active, lean-forward activity centered around YOU.
ComixLauncher
Today's ComixLauncher — Share a resource with someone who could use it.
James shared a lot of his favorite resources, and talked about how helpful people in the comics community have been to him, and he's interested in returning the favor.
It's one of the special things about our community… that we help each other.
All of us our busy, but we all can spare 5 minutes to do this. [NA — What comes out on paper may surprise you. And if you'd like to share the results of your ComixLauncher with me, I'd love to see them. Email me at [email protected], subject line: ComixLauncher #37.]
---
Wrap Up
Wrap Up Questions
1) One thing we didn't talk about was ?
2) What's the best way to keep up with you online?
Thanks for Listening.
We're going to go even deeper into both mindset, strategies and tactics for making KS work for you.
---
Have You Subscribed, Rated, or Reviewed ComixLaunch Yet?
If you've enjoyed this Session of ComixLaunch, I need you to do me a favor… actually, I need three favors. Please Subscribe, Rate and Review ComixLaunch on iTunes.
They're the rocket fuel this show is running on, and the sooner you do it, the more powerful your action will be. Don't wait to give us some love!
>>> CLICK HERE TO LEAVE A REVIEW ON iTUNES <<<
Provide a rating, 1-5 stars and leave an honest review.
This can be done in less than 2 minutes and could make HUGE difference to the show.
Podcast: Play in new window | Download | Embed
Subscribe: Apple Podcasts | RSS