In this session, Tyler talks to the creator of Hyperstarter, a new diagnostic tool for crowdfunders. Plus,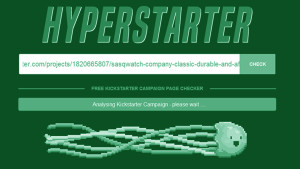 a new change to Kickstarter image sizes, and ComixLaunch listener voicemail.
---
Today's Session is Sponsored by
KrakenPrint
Need a reliable printer for your next comic book or graphic novel print run? Then you need to unleash the Kraken. Head to ComixLaunch.com/Kraken for 5% off your entire first order.
---
Session Table Setting
Hello, and Welcome!
Today we have voicemails from Richard Clark and Ray Chou.
In Kickstarter News there is a change in project image size:
New Project Image: 4:3 to 16:9 starting April 6
Expect video will move to 16:9 widescreen as well.
This is a good thing. Creating a 16:9 version for YouTube, 4:3 for KS
This could be a challenge for comic creators who take the easy route.
Even harder to take your comic cover and simply use that for your project image.
Today's Episode is all about a new, Free tool for Crowdfunders.
Welcome back to ComixLaunch!
---
Guest Introduction
My guest today is an English artist and entrepreneur living in China.
He's the creator of the website GiftsandCoupons.com. a digital coupon and gifts marketplace.
And he's now the creator of Hyperstarter, a new crowdfunding marketing and analytics tool that instantly analyzes a Kickstarter creator's project page, identifying strengths and areas for improvement. He also has services to help creators promote their projects, find backers, and connect with influencers in their niche.
Welcome to ComixLaunch Mr. Giles Dawe.
What is Today's Episode About?
---
Guiding Discussion Questions
1) What's the story behind Hyperstarter? How did you come to be interested in the Crowdfunding space?
2) I've had the chance to preview the Hyperstarter tool, and from what I've seen, it's pretty cool. But I'd like you to give a bit more detail on it. What's the problem it's trying to solve, and how does it try to solve it? What are the key features and benefits?
Does it work for:
Current Projects?
Projects in Draft or Preview Stage?
Past Projects?
Doesn't appear to analyze the video? Is that on the horizon. (Tech difficult)
Ideal # of Words?
Rewards? Stuff in Mind there?
3) How do you see Hyperstarter in comparison to other tools and services out there? How are you keeping up with what else is out there in the ever expanding crowdfunding space?
4) What's the business model behind Hyperstarter? The tool is free, how do you make money to keep the lights on and keep improving the tool?
5) You wrote a great linked in Post called "100 Crowdfunding Influencers to Boost Your Campaign"? I'll link to the post in the show notes, but what kind of advice do you have for listerners when it comes to finding and reaching out to influencers?
https://www.linkedin.com/pulse/100-crowdfunding-influencers-boost-your-campaign-giles-dawe
---
HyperStarter Screen Shots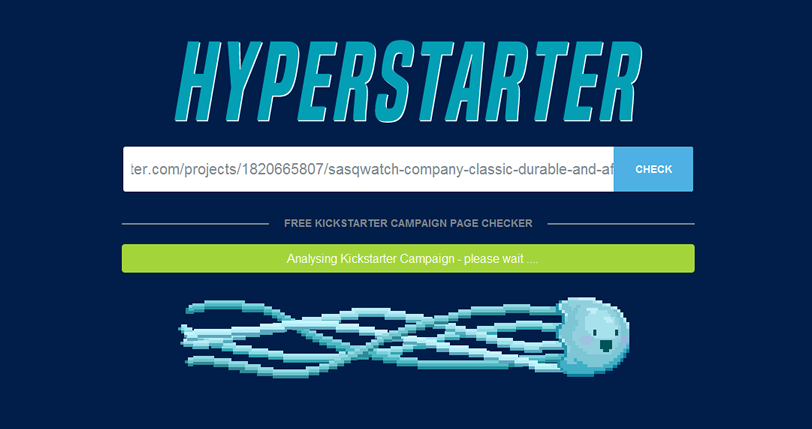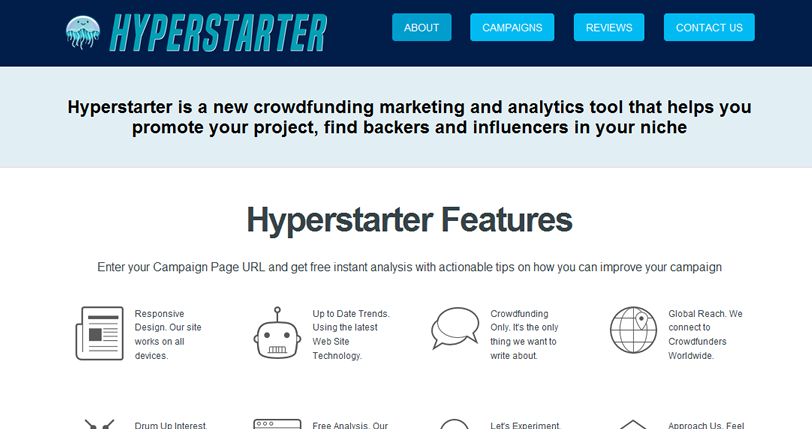 ---
Sponsor Mid-Roll
In a moment, I'm going to give you today's ComixLauncher, but first, we need to thank our sponsor…
Last year, ComixTribe spent nearly $85,000 on printing.
While we rely on a number of printers to get our books to market, one printer I can strongly recommend is KrakenPrint…
Our friends Jacob Way and Sam Amborn at Kraken Print offer:
Competitive pricing.
Great customer service, especially for your first offset print run.
Monthly storage if you do not want to store hundreds or thousands of books at home.
Distribution options, including breaking down orders and shipping direct to Diamond or comic stores at their specially negotiated discounted rates on shipping.
And NOW they even offer Kickstarter fulfillment!
Kraken will pick, pack, and ship out orders for your backers.
If you want to unleash the Kraken, go to comixlaunch.com/kraken, mention the ComixLaunch podcast, and they're going to knock 5% off your first print run…and they're going to hook us up with a 5% credit.
It's a classic win/win/win/win – You get a great price on printing, your backers get a beautiful offset printed book, you help the podcast out, and Kraken gets your business.
That's comixlaunch.com/kraken for 5% off your entire first print run.
---
ComixLauncher
It's time for today's ComixLauncher.
A ComixLauncher is a short, actionable activity you can and should do right now, or immediately after listening to the show. They're all activities I've done myself, and will get you one step closer to a successful ComixLaunch. They'll transform this Podcast from a passive, lean back activity centered around Tyler James, into an active, lean-forward activity centered around YOU.
ComixLauncher 39
Today's ComixLauncher — Go to Hyperstarter.com and plug in a Kickstarter Project to check.
---
Wrap Up
Wrap Up Questions
1) If ComixLaunch listeners are interested in finding out more about Hyperstarter.com, what should they do?
 Check out hyperstarter.com!
2) What's the best way to connect with you online?
3) Do you have one final piece of advice for Kickstarter creators to keep in mind when launching their campaigns?
Focus on testing it out.  Promote to someone who has never heard of you and what you're doing. If it  doesn't work out cancel your campaign and try again. 
Thanks for Listening.
We're going to go even deeper into both mindset, strategies and tactics for making KS work for you.
---
Have You Subscribed, Rated, or Reviewed ComixLaunch Yet?
If you've enjoyed this Session of ComixLaunch, I need you to do me a favor… actually, I need three favors. Please Subscribe, Rate and Review ComixLaunch on iTunes.
They're the rocket fuel this show is running on, and the sooner you do it, the more powerful your action will be. Don't wait to give us some love!
>>> CLICK HERE TO LEAVE A REVIEW ON iTUNES <<<
Provide a rating, 1-5 stars and leave an honest review.
This can be done in less than 2 minutes and could make HUGE difference to the show.
Podcast: Play in new window | Download | Embed
Subscribe: Apple Podcasts | RSS