Kickback and be a fly on the wall with this frank crowdfunding discussion with Dirk Manning, writer of Nightmare World and The Tales of Mr. Rhee,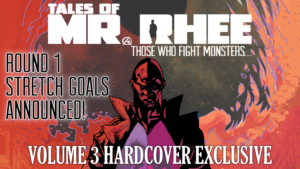 and author of the book Write or Wrong: A Writer's Guide to Creating Comics, as he an Tyler discuss the importance of putting enough skin in the game when running a Kickstarter and building a career.
---
Today's Session is Sponsored by
Purebuttons, your go-to resource for custom buttons of all shapes and sizes.  
Go to ComixLaunch.com/purebuttons for 10% off your next order of custom buttons.
---
Session Table Setting
Welcome back to ComixLaunch!
Guest Introduction
My guest today is the writer/creator of the comic series TALES OF MR. RHEE (Devil's Due), and the long-running webcomic anthology turned Image Comics/Shadowline series NIGHTMARE WORLD.  I first discovered his work through his WRITE OR WRONG column on Newsarama and later Bleeding Cool, which eventually became a book WRITE OR WRONG: A WRITER'S GUIDE TO CREATING COMICS (Caliber) available in paperback on Amazon.  He is a comic convention warrior, I get tired just thinking about his Con schedule.  And he's also got a few successful Kickstarter campaigns under his belt and about to launch a new one that we'll talk all about…
Welcome to ComixLaunch Mr. Dirk Manning.
Now, usually when I do ComixLaunch interviews I send my guests a bunch of guiding interview questions to frame the podcast… But I've mixed it up. You have the gift of gab, the skills to pay the bills and knowledge bombs galore to drop… So we're just going to have a conversation… Sitting around eating a bowl of ice cream and talking comics and KS.
What is Today's Episode About?
The difference between using Kickstarter to fund a project in its entirety and using Kickstarter to "Kickstart" a project, and give you some, but not all of the funds you need to do your thing, understanding that it may be necessary for you to put skin in the game yourself.
SPEED ROUND
1) Finish this sentence: "Kickstarter is _______."
"…A Game-changer."
2) Let's the pretend the powers that be at Kickstarter are listening (which you know they are)… if you could change one thing about the Kickstarter platform, what would it be?
Easier to report predators that are trying to take advantage of you who are offering scams.
3) What's your secret weapon? (Meaning a tool, resource, app, etc. that you couldn't make comics without?)
"Passion."
4) Fulfillment is where even successful Kickstarter creators often drop the ball… Do you have a fulfillment tip for our listeners?
Realize what you're capable of and have a plan in advance and be informed of the financial, time, storage commitment.
5) Can you recommend one comic (not done by you) more people need to check out?
Anything by Eric Powell / Dan Doherty "Touching Evil" / The books of Victor Dandridge / "The Legend of Wonder Woman" Renae DeLiz and Ray Dillon/ Comixtribe books
---
Sponsor Mid-Roll
In a moment, I'm going to give you today's ComixLauncher, but first, we need to thank our sponsor…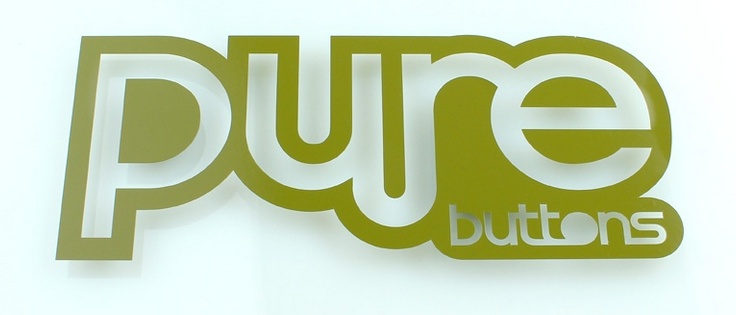 Episode Sponsor: PureButtons
When creating your Kickstarter projects, it's absolutely essential to have a variety of pledge levels and awesome rewards for your backers. Making custom buttons of your most popular characters is an easy reward or add on you can bring to your campaign…and the folks at PureButtons can help. Specializing in custom buttons of all shapes and sizes, as well as button packs, fridge magnets, custom coasters and much more, PureButtons is my top recommendation for fast, reliable quality printing of buttons and more.
---
ComixLauncher
It's time for today's ComixLauncher.
ComixLauncher 42-
Dirk's two questions… write down, in pencil, short, one sentence answers to:
What do you want?
What are you willing to do to get it?
All of us our busy, but we all can spare 5 minutes to do this. [NA — What comes out on paper may surprise you. And if you'd like to share the results of your ComixLauncher with me, I'd love to see them. Email me at [email protected], subject line: ComixLauncher #42 ]
---
Wrap Up
If you could pick one Column from the Write or Wrong archive creators listening should go , what would it be?
http://www.bleedingcool.com/2013/07/14/how-to-make-a-million-dollars-in-comics-part-1-of-2-dirk-mannings-write-or-wrong-76/
http://www.bleedingcool.com/2013/07/30/how-to-make-one-million-dollars-in-comics-part-2-of-2-write-or-wrong-77-by-dirk-manning/
Thanks for Listening.
We're going to go even deeper into both mindset, strategies and tactics for making KS work for you.
---
Have You Subscribed, Rated, or Reviewed ComixLaunch Yet?
If you've enjoyed this Session of ComixLaunch, I need you to do me a favor… actually, I need three favors. Please Subscribe, Rate and Review ComixLaunch on iTunes.
They're the rocket fuel this show is running on, and the sooner you do it, the more powerful your action will be. Don't wait to give us some love!
>>> CLICK HERE TO LEAVE A REVIEW ON iTUNES <<<
Provide a rating, 1-5 stars and leave an honest review.
This can be done in less than 2 minutes and could make HUGE difference to the show.
Podcast: Play in new window | Download | Embed
Subscribe: Apple Podcasts | RSS