Yes, having an explosive launch to your Kickstarter project is important… but so too is finishing strong. In this must-listen to session, Tyler breaks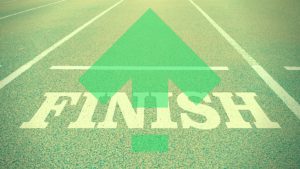 down his 5 best tactics for closing with a bang, with examples pulled from his latest and greatest Kickstarter launch. If you're running a Kickstarter campaign right now, you can't afford NOT to listen to this one.
---
Today's Session is Sponsored by
KrakenPrint
Need a reliable printer for your next comic book or graphic novel print run? Then you need to unleash the Kraken. Head to ComixLaunch.com/Kraken for 5% off your entire first order.
---
Session Table Setting
Happy Belated Mother's Day to all the Mother's out there!
Congrats to Kristi McDowell and the First ComixLaunch Course Success Story
She raised $11,430 on a $9,850 goal, powered by 220 backers; bringing her first Graphic Novel Collecting Gamer Girl & Vixen to life.
She ran a solid campaign and used a lot of the strategies and tactics we covered in the course, but also added her own spin on things…
Story Mode! (Not choose your own adventure!) in the updates.
It wasn't easy (we never say it's going to be easy) But I think it was easier, especially because she had 10 other creators in her corner throughout the campaign giving her feedback on updates.
Deconstructing her email blasts to her list.
Suggesting small tweaks mid-campaign that could have a big impact.
In fact, there was a strategy that I employed in the C is for Cthulhu campaign that worked extremely well… I shared it with her, she tweaked it slightly with her on take on it, executed it, and boom, $1000 boost in the middle of her campaign, in the dead zone that is always the toughest part.
Set the bar high for our other Members — Chris Garrett – Defects Vol. 1, Josh Janes Lost Dogs MC, and Cody Stewart's – The Slip… all coming up. They look great.
I will definitely have Kristi on the show at some point to share her lessons learned.
Excited about this… because it proves the point that it's not about ME. That this stuff can be taught, it can be learned. That creators with small, but growing audiences can harness the platform to do big things…
What is Today's Episode About?
Finishing Strong.
Recently finished the C is for Cthulhu Coloring Book Campaign. It ended up, by $5, being the most funded campaign I've managed.
And while it got off to a strong start, with the most backers I'd received in the opening 24 hours, it was by far, the strongest finish of any campaign I've ever done.  In fact, the last two days of the campaign were, by far, the best two days of the campaign in terms of funding.
Data provided by KickTraq.com, over the final 48 hours of the campaign, we:
163 New Backers or 16% of the total backers for the campaign.
$13,221 in funding or 31% of the total funds raised in the campaign.
Not bad for just 2 days, right?
Now, strong finishes are common, it's Kickstarter math, so these results aren't necessarily outliers. However, they also don't necessarily just happen. There are plenty of projects that end with a far more mild bump than what we were able to achieve.
In this episode, I'm going to give you 5 Tips for having an explosive end to your campaign.
Sound good? Let's do it.
5 Tips for an Explosive Finish to Your Kickstarter Campaign
Tip #1 – Create a Big Finish Checklist in Advance
Things speed up in the final two days… Relativity at play here.
Having an end of campaign game-plan in place before the final 48 is huge!!!
Checklists are a way to save yourself from missing steps.  During a long exhausting campaign it's easy to forget stuff. Checklists, created in advance help us.
One of the most valuable things inside TcC is the detailed checklists.
A few commonly missed items to include on yours:
48 hours prior to end reminder
Refresh your page before hand
Onboard new backers
Turn off your paid advertising!
Tip #2 – Always Have One or Two Goals You're Stretching for During the Home Stretch
Rebuttal to the "Don't want to be Greedy" Comment
First, perfectly okay not to have stretch goals. Not a must, and the newer you are to crowdfunding, the more recommended it is to keep things simple.
However, I take exception to stretch goals or shooting for over funding as "being greedy."
You've created a book…
Is making that book and campaign better for your backers being greedy?
Is wanting more people to get your book in their hands being greedy?
Is building more profit into your campaign being greedy?
I don't think so… Reality is most creators won't do a KS this year. Those that do will only do one… And it will be the biggest income month of the year… Followed by several down months while fulfillment takes time and energy.
When you're campaigning, you owe it to your future self to give it your all… And if that means stretch goals and overfunding, there shouldn't be any guilt associated with that.
Now, the tip is to design your stretch goals such that there is always one or two within reach that you can stretch to and rally around in your final 48 hours.
This is also why I don't necessarily recommend putting up your stretch goals on day one…
You need to be running your campaign a while to see what's feasible for stretch goals…
So, for Cthulhu, 3 days out, we were at $27,197… heading into Final 48 hours.
$30K was almost certain.
Because I was confident my $30K stretch goal would inspire a rush of new pledges and pledge upgrades, I was pretty confident $40K was attainable, too.
But $50K… wasn't going to happen.
Decided to slip in a new stretch goal, $42,484… at which we would reveal the next title by Greg and Jason.
Why that amount? It was $1 higher than our previous funding target.
Well… what happened? With about 3 hours before close, we were about $1,200 away from that amount.
With 15 minutes to go… we were less than 200.
And with less than 5 minutes to go, we hit it… and ended the campaign just $5 over that mark.
Coincidence? Or did having that final stretch goal make the difference?
One Bonus Tip
It definitely helps if your Stretch Goal can be extra awesome… and ours was… a Giant C is for Cthulhu Plush doll.
For the last campaign, it was unlocking the Purple plush…
Not always possible or desirable to have a big game changing stretch goal at the end of the campaign, but believe me… it's effective.
Tip #3 – Batch Your Social Media Countdown Posts
Here's what I don't want you to be doing in your final 48 hours… rushing to FB or Twitter 10 times on your final day day, crafting updates, making images and posting them to post reminders that your campaign is ending.
You've got more important things to do… such as monitoring the Kickstarter, fielding last minute questions, and celebrating a job well done.
To avoid this, block out an hour or so at some point during the final 48 hours, and batch your Kickstarter and Twitter updates.
Frequency – Twitter – final day, final 12 hours, hourly countdown, 45, 15, 10, 5, Thank You.
Facebook – Final Day, final 12, final 9, 6, 3, 2, 1, 15, done.
Use Canva.com to make nice, attractive, appropriately sized images
Twitter Posts — 1024 x 512 png
FB Posts — 940×788 png
Facebook – Schedule posts, starting from Campaign end and work backwards.
Twitter – Schedule Posts
Tip #4 – Ramp up Your Updates
No more than one a day… accept the last day.
Last Day Update
Remind them it's the final day
Update on pending stretch goals
Gratitude
Closing Ceremonies reminder
Any Surprises?
Stretch Goals Unlocked – Let them know.
Tip #5 – Email Blasts with Motion Mail
You need to email your list.
How often should you email your list?
"Only email you list, on the days you'd like to make money."
Now… a little cheeky… but there's a lot of truth to it.
When you have an email list and you have a product to sell or a campaign to fund, there is a direct correlation between emails and sales.
More direct than ANYTHING else you can do…
Tweets.
Facebook posts
Insta-pintra-snaps
Emailed List
Thu, Apr 28, 2016 8:00 am
38 hours left to Color Cthulhu…
82 Link Clicks
Fri, Apr 29, 2016 7:05 am
Fee-Fi-Fo-Fum… GIANT Cthulhu Plush is available for 15 hours only!
183 Link Clicks
Fri, Apr 29, 2016 7:00 pm
Another Cthulhu campaign bonus unlocked! [3 hours left!]
237 Link Clicks
Now, one of my bonus tips that turbo-charges the urgency of those final emails to your list is the inclusion of a CountDown Timer right in my email.
I use a free tool available at http://motionmailapp.com/
In just a few seconds, you can set up a great looking animated countdown timer that countdown the seconds right in your email.
This adds urgency, it increase clarity and attention… and gets extra clicks.
---
Sponsor Mid-Roll
In a moment, I'm going to give you today's ComixLauncher, but first, we need to thank our sponsor…
Last year, ComixTribe spent nearly $85,000 on printing.
While we rely on a number of printers to get our books to market, one printer I can strongly recommend is KrakenPrint…
Our friends Jacob Way and Sam Amborn at Kraken Print offer:
Competitive pricing.
Great customer service, especially for your first offset print run.
Monthly storage if you do not want to store hundreds or thousands of books at home.
Distribution options, including breaking down orders and shipping direct to Diamond or comic stores at their specially negotiated discounted rates on shipping.
And NOW they even offer Kickstarter fulfillment!
Kraken will pick, pack, and ship out orders for your backers.
If you want to unleash the Kraken, go to comixlaunch.com/kraken, mention the ComixLaunch podcast, and they're going to knock 5% off your first print run…and they're going to hook us up with a 5% credit.
It's a classic win/win/win/win – You get a great price on printing, your backers get a beautiful offset printed book, you help the podcast out, and Kraken gets your business.
That's comixlaunch.com/kraken for 5% off your entire first print run.
---
ComixLauncher
It's time for today's ComixLauncher.
A ComixLauncher is a short, actionable activity you can and should do right now, or immediately after listening to the show. They're all activities I've done myself, and will get you one step closer to a successful ComixLaunch. They'll transform this Podcast from a passive, lean back activity centered around Tyler James, into an active, lean-forward activity centered around YOU.
ComixLauncher 44
Go ComixLaunch.com/workflowy and check out that app!
---
Wrap Up
The Five Key Lessons
Tip #1 – Create a Big Finish Checklist in Advance
Tip #2 – Always Have One or Two Goals You're Stretching for During the Home Stretch
Tip #3 – Batch Your Social Media Countdown Posts
Tip #4 – Ramp up Your Updates
Tip #5 – Email Blasts with Motion Mail
Quote
"What I want is what I've not got. But what I need is all around me." – Dave Matthews Band
Thanks for Listening.
We're going to go even deeper into both mindset, strategies and tactics for making KS work for you.
Thank you so much for listening, and for letting me walk with you, as you taken another step forward toward your next successful ComixLaunch.
---
Have You Subscribed, Rated, or Reviewed ComixLaunch Yet?
If you've enjoyed this Session of ComixLaunch, I need you to do me a favor… actually, I need three favors. Please Subscribe, Rate and Review ComixLaunch on iTunes.
They're the rocket fuel this show is running on, and the sooner you do it, the more powerful your action will be. Don't wait to give us some love!
>>> CLICK HERE TO LEAVE A REVIEW ON iTUNES <<<
Provide a rating, 1-5 stars and leave an honest review.
This can be done in less than 2 minutes and could make HUGE difference to the show.
Podcast: Play in new window | Download | Embed
Subscribe: Apple Podcasts | RSS