In this session, Tyler talks to Jason Brubaker, a former Dreamwork animator who has pursued his dream of full-time self-publishing. Learn how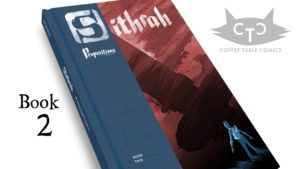 Jason built a trusting and loyal audience that has helped him raise more than $200K in crowdfunding. Plus: Jason has a special bonus offer for ComixLaunch listeners.
---
Today's Session is Sponsored by
KrakenPrint
Need a reliable printer for your next comic book or graphic novel print run? Then you need to unleash the Kraken. Head to ComixLaunch.com/Kraken for 5% off your entire first order.
---
Session Table Setting
Welcome back to ComixLaunch!
This is going to be a great show. I'm interviewing one of the comic creators and crowdfunders I look up to and have learned a ton from over the years.  We'll be talking all about building an audience.
This past week has been busy.  I had a ComixLauch Live session as practice for the workshop.  However, I ended up throwing 3/4 out the window.
We have a new series on the shelves this week: CHUM #1 from Ryan K Lindsay, Sami Kivela, Mark Dale published by ComixTribe… Surf Noir – Pulp Fiction on the beach.
Track it down at your local comic shop, grab it at shop.comixitribe.com or get it digitally on Comixology.
We also launched another Kickstarter, MummysAlwaysRight.com, with Joe Mulvey.  I'll have Joe on the show to talk about the transition from Comics to children's books, and how a daily sketch he drew for his daughters turned into his new book.
Finally, we're creeping up on the 50th episode of ComixLaunch! It's hard to believe it… I've been working on something super special for this milestone episode. It's going to be a lot of fun and I can't wait to share with you guys.
I'd love to get to 50 reviews on iTunes in time for Episode 50?  I'd love it if you can help us do that!
Guest Introduction
My guest today is the artist and writer of ReMind and Sithrah, Author of Unnatural Talent Creating, Printing and Selling Your Comic in the Digital Age.  Formerly worked for Dreamwork animation, but left in 2015 to pursues self-publishing.
Welcome to ComixLaunch, Mr. Jason Brubaker!
Guiding Discussion Questions – Building an Audience by Building Trust
1) You launched your latest Kickstarter for Sithrah volume 2 with a $24K goal. Definitely not chump change. Yet, you were fully funded with the support of 500+ backers in 24 hours. I'm positive, my listenerers are wondering… how exactly does that happen?
2) Building an audience… I know there are a lot of people who listen to this show, and they're thinking… "Okay, build an audience. Build an audience. I know I need to build an audience!… but how?" Knowing what you know now, if you were able to go back and time and drop some knowledge on young Jason B. with the goal to help him build an loyal audience… only faster, cheaper, and with less speed bumps along the way… what advice would you give him.
3) And what advice would you give to the creator who's maybe been at this for a while now, not a newbie, been creating… and is in a bit of a rut. Maybe webcomic's page views are flat, or can't seem to grow fanbase. What tips or strategies might you have for him or her?
4) Now, you've launched 5 Kickstarter projects, and raised over $200K on the KS platform… but you did launch a project for an audio recording of your book Unnatural Talent: Creating, Printing, and Selling Your Comic in the Digital Age. One of the biggest keys to building trust with an audience is being open and honest and sharing successes and "failures" with them… what did you learn from that unsuccessful campaign? I've said before that a failing to fund shouldn't be looked at as a failure… but rather simply a test. Agree?
Question: Would you be up for doing a special ComixLaunch listener incentive… back Sithrah v2, send you a Message letting you know you heard it on ComixLaunch through KS, you'll give them a digital copy of this book? (Or audio version?)
5) Every time I launch a campaign, I'm always trying a few new things… are there anything new strategies you're experimenting with on the Sithrah V 2 campaign?
Speed Round
1) Finish this sentence: "Kickstarter is _______."
"All-consuming"
2) Let's the pretend the powers that be at Kickstarter are listening (which you know they are)… if you could change one thing about the Kickstarter platform, what would it be?
"Add-on options, or being able to select multiple tiers"
3) What's your secret weapon? (Meaning a tool, resource, app, etc. that you couldn't make comics without?)
"Photoshop"
4) Fulfillment is where even successful Kickstarter creators often drop the ball… Do you have a fulfillment tip for our listeners?
"Backerkit"
5) Can you recommend one comic (not done by you) more people need to check out?
Patreon Bonus Questions
Jason, you've raised over $200K in Kickstarter funding across 4 successful projects. But for more than 2 years, you've also benefited from crowdfunding via Patreon, where patrons have been supporting you monetarily for every Comic Update you post. As of today, you have 171 patrons contributing $449 per comic update… (which is a much better page rate than most publishers pay, I might add.)
As I've committed this month to going deeper into understanding Patreon myself, and launching an Patreon to help support the ComixLaunch podcast, you're the perfect person to help clarify for me and my audience the key differences between the two platforms.
1) From your knowledgeable perspective, and as it regards the independent creator, what are the key differences between Patreon and Kickstarter?
2) Have you noticed any differences between Patrons and Backers? Are they the same people?
3) One of the things I've noticed is that Creators on Patreon tend to launch far more lowkey than creators on Kickstarter… with Kickstarter, we know launching hot out of the gate is important so you're not buried in the KS algorhithm and that the countdown clock starts ticking immediately, whereas there is no time pressure for Patreon. Still, I think it's a mistake not to also treat your new Patreon "launch" or an event. Thoughts? Any tips for launching a Patreon page?
4) How much extra time do you put into managing your Patreon page, posting, rewards, etc.? What do you do to keep existing Patrons engaged, and encourage new patrons, while at the same time staying on track with your production?
5) If a creator is on the fence about choosing whether to launch a Kickstarter or a Patreon, what advice would you give them? Do they even have to choose? Should they do one before the other?
6) If you could change anything about the Patreon platform to make it better, what would you change?
---
Sponsor Mid-Roll
In a moment, I'm going to give you today's ComixLauncher, but first, we need to thank our sponsor…
Last year, ComixTribe spent nearly $85,000 on printing.
While we rely on a number of printers to get our books to market, one printer I can strongly recommend is KrakenPrint…
Our friends Jacob Way and Sam Amborn at Kraken Print offer:
Competitive pricing.
Great customer service, especially for your first offset print run.
Monthly storage if you do not want to store hundreds or thousands of books at home.
Distribution options, including breaking down orders and shipping direct to Diamond or comic stores at their specially negotiated discounted rates on shipping.
And NOW they even offer Kickstarter fulfillment!
Kraken will pick, pack, and ship out orders for your backers.
If you want to unleash the Kraken, go to comixlaunch.com/kraken, mention the ComixLaunch podcast, and they're going to knock 5% off your first print run…and they're going to hook us up with a 5% credit.
It's a classic win/win/win/win – You get a great price on printing, your backers get a beautiful offset printed book, you help the podcast out, and Kraken gets your business.
That's comixlaunch.com/kraken for 5% off your entire first print run.
---
ComixLauncher
It's time for today's ComixLauncher.
A ComixLauncher is a short, actionable activity you can and should do right now, or immediately after listening to the show. They're all activities I've done myself, and will get you one step closer to a successful ComixLaunch. They'll transform this Podcast from a passive, lean back activity centered around Tyler James, into an active, lean-forward activity centered around YOU.
ComixLauncher 45
Today's ComixLauncher — Write down one idea from this podcast you will implement to help grow your audience.
All of us your busy, but we all can spare 5 minutes to do this. [NA — What comes out on paper may surprise you. And if you'd like to share the results of your ComixLauncher with me, I'd love to see them. Email me at [email protected], subject line: ComixLauncher #45.]
---
Wrap Up
Wrap Up Questions
1) What's next for you and Coffee Table Comics after Sithrah volume 2? Any other projects you're working on that you're excited about?
2) Besides checking out Sithrah over at Kickstarter, what's the best way for listeners to connect with you?
Thanks for Listening.
We're going to go even deeper into both mindset, strategies and tactics for making KS work for you.
Thank you so much for listening, and for letting me walk with you, as you take another step forward toward your next successful ComixLaunch.
---
Have You Subscribed, Rated, or Reviewed ComixLaunch Yet?
If you've enjoyed this Session of ComixLaunch, I need you to do me a favor… actually, I need three favors. Please Subscribe, Rate and Review ComixLaunch on iTunes.
They're the rocket fuel this show is running on, and the sooner you do it, the more powerful your action will be. Don't wait to give us some love!
>>> CLICK HERE TO LEAVE A REVIEW ON iTUNES <<<
Provide a rating, 1-5 stars and leave an honest review.
This can be done in less than 2 minutes and could make HUGE difference to the show.
Podcast: Play in new window | Download | Embed
Subscribe: Apple Podcasts | RSS