Great news, ComixLaunch listeners… despite what you read on the internet, the future of comics is in wonderful hands. In this session, Tyler talks to a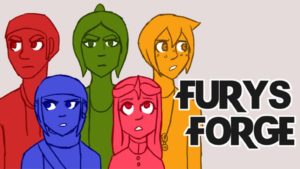 young comic creator who recently won a $1,000 entrepreneurship competition for her diversity focused publishing line, and has launched a Kickstarter for her new series, Fury's Forge, this month. Oh, and she's still in high school.
---
Today's Session is Sponsored by
KrakenPrint
Need a reliable printer for your next comic book or graphic novel print run? Then you need to unleash the Kraken. Head to ComixLaunch.com/Kraken for 5% off your entire first order.
---
Session Table Setting
Welcome back to ComixLaunch!
Happy Memorial Day, we have a great discussion today!  I've been thinking a lot about legacy lately. What impact we'll make and whether we'll leave the comic industry in a better place than we found it.  It started a small convention where I was reviewing the work of a 14 year old boy. A colleague pointed me to a local artist, a high school junior, who has launched a new Kickstarter… The project has diverse viewpoints, genders, ethnicities, and ages.  I believe the next generation is in great hands…
I'd like to give a quick shout out to Josh Janes of Lost Dogs MC whose Kickstarter is fully funded.  He employed a great milestone bonus strategy,
using fan art strategy to a tee.
The ComixLaunch Course alumni are now 2 for 2… with more launches coming up in June!
Guest Introduction
My guest today is a young and talented artist who is junior in high school.  With her writer partner Zach Rocklin-Waltch, she's started a new comics imprint Underdog Comics, which is committed to telling compelling stories featuring a diverse and authentic cast of characters.  This month, they launched their first Kickstarter project for a new series called Fury's Forge.
Welcome to ComixLaunch Tessa Beatrice!
Guiding Discussion Questions
1) I've been making comics since I was about 12 and selling them since I was 14… but I'd love to begin by hearing how long you've been making comics and how you first got interested in creating comics?
2) My audience has heard me talk about how I sold my first comic out of my backpack at school for a dollar a piece. (I made $9 total!) Fast-forward 25 years or so, and here you are taking your new series Fury's Forge to Kickstarter, and it's already received over $1,000 in pledges. Can you tell us about this new series?
3) Now, talk to me about your Kickstarter plan… How did you go about setting your goal, your pledge rewards, and your promotion plan to get the word out about it?
4) Now, when I was your age, most of my customers were my age… but I know to back a Kickstarter project you need to be at least 18 years of age… do high schooler kids know about Kickstarter and back Kickstarter projects?
5) Diversity is a core value of Underdog Comics. (Diversity of viewpoints is also a core value for ComixLaunch… which is why I'm thrilled to have you on.) As a young, female artist, what's your experience in comics been like so far? Positive? Negative? And what would you like to see the comics industry look like by the time you're my age?
Speed Round
1) Finish this sentence: "Kickstarter is _______."
A place where people can share the projects they're passionate about.
2) Let's the pretend the powers that be at Kickstarter are listening (which you know they are)… if you could change one thing about the Kickstarter platform, what would it be?
I'd like it to be more visually customizable.
3) What's your secret weapon? (Meaning a tool, resource, app, etc. that you couldn't make comics without?)
The people who help me.
4) Unique campaign exclusive rewards are a great component of many successful Kickstarter projects. Does you're campaign have any cool exclusives?
Original pencil pages that will be featured in later chapters, and commissions 
5) Can you recommend one comic (not done by you) more people need to check out?
Rat Queens
---
Sponsor Mid-Roll
In a moment, I'm going to give you today's ComixLauncher, but first, we need to thank our sponsor…
Last year, ComixTribe spent nearly $85,000 on printing.
While we rely on a number of printers to get our books to market, one printer I can strongly recommend is KrakenPrint…
Our friends Jacob Way and Sam Amborn at Kraken Print offer:
Competitive pricing.
Great customer service, especially for your first offset print run.
Monthly storage if you do not want to store hundreds or thousands of books at home.
Distribution options, including breaking down orders and shipping direct to Diamond or comic stores at their specially negotiated discounted rates on shipping.
And NOW they even offer Kickstarter fulfillment!
Kraken will pick, pack, and ship out orders for your backers.
If you want to unleash the Kraken, go to comixlaunch.com/kraken, mention the ComixLaunch podcast, and they're going to knock 5% off your first print run…and they're going to hook us up with a 5% credit.
It's a classic win/win/win/win – You get a great price on printing, your backers get a beautiful offset printed book, you help the podcast out, and Kraken gets your business.
That's comixlaunch.com/kraken for 5% off your entire first print run.
---
ComixLauncher
It's time for today's ComixLauncher.
A ComixLauncher is a short, actionable activity you can and should do right now, or immediately after listening to the show. They're all activities I've done myself, and will get you one step closer to a successful ComixLaunch. They'll transform this Podcast from a passive, lean back activity centered around Tyler James, into an active, lean-forward activity centered around YOU.
ComixLauncher 47
Today's ComixLauncher — Write down one digital reward you can give to backers BEFORE your project is funded.
All of us are busy, but we all can spare 5 minutes to do this. [NA — What comes out on paper may surprise you. And if you'd like to share the results of your ComixLauncher with me, I'd love to see them. Email me at [email protected], subject line: ComixLauncher #47.]
---
Wrap Up
Wrap Up Questions
1) Where can we find you?
2) What's one piece of advice you'd give to young creators?
Keep doing it and make sure you're having fun while you're doing it.
Thanks for Listening.
We're going to go even deeper into both mindset, strategies and tactics for making KS work for you.
Thank you so much for listening, and for letting me walk with you, as you take another step forward toward your next successful ComixLaunch.
---
Have You Subscribed, Rated, or Reviewed ComixLaunch Yet?
If you've enjoyed this Session of ComixLaunch, I need you to do me a favor… actually, I need three favors. Please Subscribe, Rate and Review ComixLaunch on iTunes.
They're the rocket fuel this show is running on, and the sooner you do it, the more powerful your action will be. Don't wait to give us some love!
>>> CLICK HERE TO LEAVE A REVIEW ON iTUNES <<<
Provide a rating, 1-5 stars and leave an honest review.
This can be done in less than 2 minutes and could make HUGE difference to the show.
Podcast: Play in new window | Download | Embed
Subscribe: Apple Podcasts | RSS