Want to learn how publishers can use Patreon to build recurring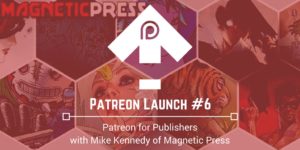 revenue into their business and provide extra value to their biggest fans? In this session, Tyler talks to Mike Kennedy, publisher of the Eisner-nominated comic book and graphic novel imprint Magnetic Press. Mike is using Patreon in an innovative way, and he shares his thinking and experience on Patreon, as well as bonus tips about licensing comics.
---
Today's Session is brought to you by
Club ComixLaunch on Patreon.
Get your free Club ComixLaunch VIP Insider bonus Kickstarter resource atComixLaunch.com/club.
---
Session Table Setting
Listener Feedback
"I just heard you say "Perfect is the enemy of progress." I completely agree, I'm all about action! Too many people only sit and talk about what they're going to do. Better to run and stumble than never get off the couch!" – Dylan Andrews | Launched his Patreon
Facebook Results
054 – 10 Simple Tips to Prep Your Facebook Page for a Kickstarter
Jay D'Ici – Conceptual Heist
Patreon Tiers
Max Battistella – Patreon Tiers
What is Today's Episode About?
Guest Introduction
My guest today is the publisher of Magnetic Press, a comic book imprint built to help creators both new and established from around the world share their stories with an English-language/North American market.
He is the former publisher at Archaia, and together with Wes Harris, former VP of publishing at BOOM!, founded Magnetic Press, and for the past three years has been steadily building that imprint from the ground up.
Magnetic Press books have received multiple Eisner nominations and they are doing very interesting things on Patreon.
Welcome to ComixLauch, Mr. Mike Kennedy!
What is Today's Episode About?
Patreon for Publishers
Guiding Discussion Questions
1) One of the things I talk about on ComixLaunch is the importance of niching down far enough so that we can compete in a crowded and competitive market. Magnetic Press has definitely differentiated itself. For those who are new to your company, can you talk about the story behind Magnetic Press, and the kinds of books you publish?
2) Last year, you launched the Magnetic Press Ambassadors club, which was one of of the more ambitious and innovative uses of the Patreon platform that I've seen. Can you talk about how Patreon first got on your radar, and what were some of the objectives you had for your Club?
3) I've been a backer of the club, and each month I get, essentially a Magnetic Press digital magazine PDF, which is phenomenal. But it seems like you're putting a TON of work into the Club. How much work are you putting into running and managing the Patreon each month?
4) Currently generating $636 with the support of 22 Patrons… You're offering some tremendous value over there, but I know you've told me it's been a slow grow. What are you doing to attract more Patrons and get the word out?
5) I know you've made some adjustments to your Patreon in the time you've had it running. Do you have some lessons learned or dos and don't for publishers thinking about jumping on Patreon?
---
Sponsor Mid-Roll
In a moment, I'm going to give you today's ComixLauncher, but first, we need to thank our sponsor…
Club ComixLaunch
ComixLaunch listeners, are you ready to take your crowdfunding game to the next level?
If so, I'd love for you to join me and your fellow creators inside Club ComixLaunch on Patreon.
I've opened Club ComixLaunch to help continue and expand on the ComixLaunch mission of increasing the number of creators equipped to harness the power of the Kickstarter platform to bring amazing independent projects to life.
As a Club ComixLaunch member, you'll have access to a number of exclusive perks and privileges, such as:
A shout out on the ComixLaunch Podcast for you and your project.
Access to the ComixLaunch Club exclusive Patreon feed for even more mindset, strategies and tactics to get your project funded.
The ComixLaunch Club Insider Monthly Kickstarter Resource which might be a guide, checklist, cheat sheet, template, or bonus training video designed to help you launch.
Priority enrollment in ComixLaunch Courses
Discounts on Courses, Books and Upcoming Premium Products
You can even sponsor an episode of the ComixLaunch podcast through Patreon.
And as the Club Grows, so do the perks…
See, there is a direct correlation between listener support and the value ComixLaunch can provide, and as the club expands, we hope to offer:
Monthly Kickstarter Page Critiques
Club Exclusive Chats and Q&As
Bonus Sessions of the ComixLaunch Podcast.
Full podcast transcripts for every episode.
And much more!
For as little as a dollar a month, you can access Club ComixLaunch today, help keep the podcast going and improving, and take your crowdfunding game to the next level.
Membership has its privileges, and to get a taste of them absolutely free, please go toComixLaunch.com/club and download a free Club ComixLaunch VIP Insider bonus resources today.
Let's get you ready for your best launch yet!
I'll see you inside the Club!
---
ComixLauncher
It's time for today's ComixLauncher.
A ComixLauncher is a short, actionable activity you can do immediately after listening to the show. They're all activities I've done myself, and will get you one step closer to a successful ComixLaunch. They'll transform this Podcast from a passive, lean back activity centered around Tyler James, into an active, lean-forward activity centered around YOU and your projects.
ComixLauncher [062]
You don't have a business until you have monthly recurring revenue… What can you do in the next six months to start generating monthly recurring revenue for your creative business?
Invite to share results @ comixlaunch.com/voicemail or in an email [email protected]
---
Wrap Up
Wrap Up Questions
1) One final piece of advice for publishers
2) What upcoming project are you most excited about?
3) What's the best way for listeners to connect?
Patreon Shoutouts
M.K. Palmer – Michelle – Meraki
Lee Strayer – VIP
Last Ember Press – Free Comic
---
Have You Subscribed, Rated, or Reviewed ComixLaunch Yet?
If you've enjoyed this Session of ComixLaunch, I need you to do me a favor… actually, I need three favors. Please Subscribe, Rate and Review ComixLaunch on iTunes.
They're the rocket fuel this show is running on, and the sooner you do it, the more powerful your action will be. Don't wait to give us some love!
>>> CLICK HERE TO LEAVE A REVIEW ON iTUNES <<<
Provide a rating, 1-5 stars and leave an honest review.
This can be done in less than 2 minutes and could make HUGE difference to the show.
Podcast: Play in new window | Download | Embed
Subscribe: Apple Podcasts | RSS