If you could go back in time and give yourself one piece of advice that you wish you new when you first began your creative career, what would it be? It's a great question right… and a commonly asked question. In this session, Tyler shares his answer, and it's probably not the one you're expecting, but if you're planning on launching a Kickstarter in 2017, it's something you need to hear.
---
Today's Session is Sponsored by
Luminous Ages, a fantasy comic and art book now on Patreon. Visit ComixLaunch.com/luminous to find out more.
---
What is Today's Episode About?
Training Show
https://docs.google.com/document/d/13uNe2-7VcX_98zQvZRWbHYxjBJYwaELb52BZidaE4tY/edit?usp=sharing
---
Sponsor Mid-Roll
In a moment, I'm going to give you today's ComixLauncher, but first, we need to thank our sponsor…

Luminous Ages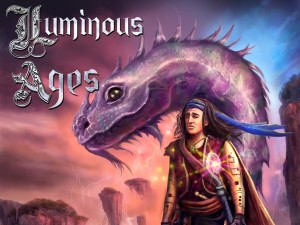 Luminous Ages is a fantasy comic set in a universe where dragons, humans, gods, titans, demons, angels and beasts have the ability to control dream magic!
Created by Australian writer/artist Anthony Christou, the adventure begins with a young farm boy, Thrakos, going through a painful transformation to become a Mage of the Mark. What path will he choose? What secret has his father been hiding from him? And why are dragons hunting him in the dreamworld?
It's a full-color paperback comic available now on Kickstarter, and includes a bonus concept art book full of dragons and magic, that expands on existing and future characters and environments in the comic!
The first issue of Luminous Ages and the Concept Artbook is finished and can be ordered now.
Go to ComixLaunch.com/luminous to find out more.
Be sure to leave Anthony a comment so he knows that we sent you!
---
ComixLauncher
It's time for today's ComixLauncher.
A ComixLauncher is a short, actionable activity you can do immediately after listening to the show. They're all activities I've done myself, and will get you one step closer to a successful ComixLaunch. They'll transform this Podcast from a passive, lean back activity centered around Tyler James, into an active, lean-forward activity centered around YOU and your projects.
ComixLauncher [066]
So, I've come to the end of my missive here, but I want to end with a question for all creators out there who've read this far…
First, have you started an email list yet?
If not, I want you to tell me why not? What are you doing today or this week coming up, that's more important than starting an email list?
And if yes, how are you using your email list? What's working for you and what's not working for you?
Invite to share results @ comixlaunch.com/voicemail or in an email [email protected]
---
Wrap Up
Training Shows
I hope I've lit a fire under you with this session.
Because I really want each and every one of you listening this to succeed and to go as far in this industry as you possibly can.
I also know, that for many of you, you're thinking:
TYLER HELP! I need more?
Well, that's precisely why I created the ListLaunch Course.
The three biggest mistakes most creators list when starting their email list… and exactly what to do instead.
Gmail & Yahoo won't cut it: Why you need a proper email service provider (ESP) for your list?
Tackling the Technology: How to pick the right ESP for where you are and where you're going by answering a few simple questions?
Simple and smart set-up for your new ESP (or how to check and optimize your current ESP to make sure you're taking full advantage of its power?)
The 3 Key Types of Emails You'll Need to Set-up Right Away.
Email Metrics: What's good engagement for Conversions, Open Rate, and Clicks, and how to boost all three.
Email Best Practices for Writers, Artists, and Self-Publishers… with lots of examples!
How to setting up smart, powerful automated email engagement sequences (without feeling like a robot?)
How to avoid getting slammed with the SPAM label?
How to figure out how big your list should be before you launch your Kickstarter? (Spoiler: It's probably bigger than your current list…but smaller than you might think.)
Email list building strategies: A blueprint to get your first 100, 500, and 1000 subscribers?
I ran a pilot version of ListLaunch earlier this summer and the reviews and results of the creators taking it have been incredible.
On October 25, my new program, ComixLaunch Mastery will open its doors, and the first Two months of CM is ListLaunch.
So, if you'd like to spend the final two months of 2016 building and energizing your fan base so that when you launch your first or next Kickstarter in 2017 they are primed and ready to back you… I'm excited to work with you.
And if you're listening to this and thinking, that sounds great, but what if I don't have a fan base? What if I'm starting from zero?
In that case, I'm JEALOUS.
You're essentially coming to me as a blank slate. You haven't built up a ton of misconceptions, bad habits and practices, or limiting beliefs that I'll have to break down before building back up the right way.
Instead, I can just give you the playbook I wish I had starting out, the playbook I've spent the last 15 years learning the hard way.
The Time Machine. The deloreon doors are open.
If you want to make sure you get notified as soon as ComixLaunch Mastery is open for enrollment, go to ComixLaunch.com/course
Any special announcements
ComixLaunch Gameplan, a free 3-Part Training series will begin tomorrow, so check your inbox as 6 am for part 1 from me?
Not on the ComixLaunch list? Head to ComixLaunch.com and signup top bar.
Quote
"The Energy of Your Business is Directly Tied to Your Email List" – Amy Porterfield
As creators, far too often we make the mistake of thinking things are different for us than traditional businesses.
And yes, some things are different.
But the power of an email list is not one of them.
Thanks for Listening.
We're going to go even deeper into both mindset, strategies and tactics for making KS work for you.
Thank you so much for listening, and for letting me walk with you, as you taken another step forward toward your next successful ComixLaunch.
---
Have You Subscribed, Rated, or Reviewed ComixLaunch Yet?
If you've enjoyed this Session of ComixLaunch, I need you to do me a favor… actually, I need three favors. Please Subscribe, Rate and Review ComixLaunch on iTunes.
They're the rocket fuel this show is running on, and the sooner you do it, the more powerful your action will be. Don't wait to give us some love!
>>> CLICK HERE TO LEAVE A REVIEW ON iTUNES <<<
Provide a rating, 1-5 stars and leave an honest review.
This can be done in less than 2 minutes and could make HUGE difference to the show.
Podcast: Play in new window | Download | Embed
Subscribe: Apple Podcasts | RSS