Today's guest is a writer, model, cosplayer, and host of the podcast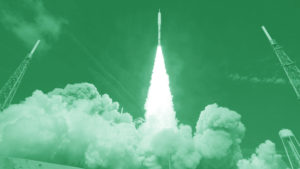 Vodka O'Clock. Tyler and Amber discuss a wide range of topics, including releasing books via Kindle and Amazon Createspace, the challenges of making big changes to your Patreon format, what it takes to do NANOWRIMO, and how to build a better, more inclusive comic book industry.
---
Today's Session is Sponsored by
Luminous Ages, a fantasy comic and art book now on Patreon. Visit ComixLaunch.com/luminous to find out more.
---
Session Table Setting
Show Updates
Ready For Launch Workshop
In the ComixLaunch Podcast, I've been talking a lot about "building an audience" lately and how absolutely important that is to crowdfunding success.
But some of my listeners have taken me to task for it lately, and I've been hit with a bunch of "Yeah, buts…"
"Yeah, but how big an audience do I actually need to launch a Kickstarter?"
"Yeah, but how to do I get started building an audience when no one knows I exist?"
"Yeah, but what if I [hate, suck at, don't know how] to promote my work?"
I get it.
And honestly, I LOVE the "Yeah, buts…"
Because "yeah, but…" is an indicator that the very next thing that follows is a pothole in a creator's road to success.
And that's largely how I view my job here at ComixLaunch…
I'm looking for the potholes creators like us are hitting and I'm trying to fill them to the absolute best of my ability.
Ready for Launch: How to Get Your Comic Book & Graphic Novel Project Funded on Kickstarter… Without a Big Social Media Following
Workshop attendees will learn:
✔ Why a big social media following is NOT a prerequisite to Kickstarter success… and what definitely is.
✔ Where Kickstarter backers really come from and the best way to get them to support you on Day One.
✔ The #1 mistake that most failed Kickstarters make, and what successful project creators do differently.
✔ How to figure out how big your audience needs to be to have success on Kickstarter, and what to do to prepare them for your upcoming campaign.
✔ My Top Tech Tool recommendations for building and engaging with your growing audience in preparation for your launch.
Plus: Special Bonuses for Live Attendees & a Q&A Session to get your Kickstarter questions answered.
Note: Prior registration is required. Unfortunately, there will not be a replay available for this training, so hope you can make it live. (If there's demand, I may do an encore at some point.)
I'm going to do a few more Workshops between now and the end of the year… pick a time that works for you and join me!
---
Guest Introduction
My guest today is a writer, model, cosplayer, and host of the podcast Vodka O'Clock.
Her journalistic and op-ed writing has been published at Women Write About Comics and Femsplain.com, as well as her blog AmberUnmasked.com.
Her comic book fiction work has appeared in the Rise: Comics Against Bullying and Shakespeare Shaken anthologies among others.
And her latest novel, Full Body Manslaughter, the 2nd book in her Farrah Wethers Mystery series, was just released in Kindle and Paperback format on Amazon.
Welcome to ComixLaunch, Amber Love.
What is Today's Episode About?
Guiding Discussion Questions
1) Creatively, you keep a lot of plates spinning, and that's something I resonate with. When I'm being hard on myself I call it "creative ADD" and when I'm being generous I might say I'm a "Renaissance Man." I think the term "Renaissance Woman" would apply nicely to you… but I'm wondering if you could tell us a bit about your journey as a writer/creator and what aspects of your art are you most passionate about now?
2) On the ComixLaunch podcast, we primarily talk about Crowdfunding Comics & Graphic Novels on Kickstarter… but in the title of the show, I included "…and Beyond!" because I knew I'd want to talk about other platforms… You've published work on the Amazon platform, using both Kindle and CreateSpace. Can you tell us about that experience?
3) You have a Patreon set up to help support your creative work. What's your approach to Patreon been? https://www.patreon.com/amberunmasked
4) Making the comic book industry and comics internet a better place for female creators is an issue you're passionate about… and have been since you started blogging and writing in 2006. As we're ending 2016, how do you think that progress is going? Are things getting better, worse, or unchanged for female creators? And what 1-2 things would you like to see happen over the next few years that could make a better industry for everyone.
5)NANOWRIMO is this month… and you're doing it again! What's that experience like, and why does that grueling challenge to write a novel in a month keep pulling you back in!
Speed Round
1) Let's the pretend the powers that be at Patreon are listening (which you know they are)… if you could change one thing about the Kickstarter platform, what would it be?
2) What's your secret weapon? (Meaning a tool, resource, app, etc. that you couldn't make comics without?)
3) NANOWRIMO Tip for First Timers?
4) Can you recommend one comic or book (not done by you) more people need to check out?
---
Sponsor Mid-Roll
In a moment, I'm going to give you today's ComixLauncher, but first, we need to thank our sponsor…

Luminous Ages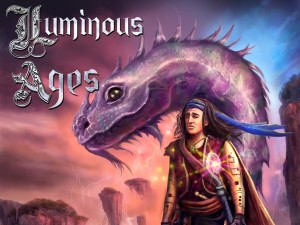 Luminous Ages is a fantasy comic set in a universe where dragons, humans, gods, titans, demons, angels and beasts have the ability to control dream magic!
Created by Australian writer/artist Anthony Christou, the adventure begins with a young farm boy, Thrakos, going through a painful transformation to become a Mage of the Mark. What path will he choose? What secret has his father been hiding from him? And why are dragons hunting him in the dreamworld?
It's a full-color paperback comic available now on Kickstarter, and includes a bonus concept art book full of dragons and magic, that expands on existing and future characters and environments in the comic!
The first issue of Luminous Ages and the Concept Artbook is finished and can be ordered now.
Go to ComixLaunch.com/luminous to find out more.
Be sure to leave Anthony a comment so he knows that we sent you!
---
ComixLauncher
It's time for today's ComixLauncher.
A ComixLauncher is a short, actionable activity you can do immediately after listening to the show. They're all activities I've done myself, and will get you one step closer to a successful ComixLaunch. They'll transform this Podcast from a passive, lean back activity centered around Tyler James, into an active, lean-forward activity centered around YOU and your projects.
ComixLauncher [070]
The next time you read something outrageous in your head online that sends your lizard brain wild… stop. Remind yourself that this clearly WRONG person was once a baby… and imagine just a few big moments in his/her life that resulted in that comment or action.
One, it's a good thought exercise for the writers out there.
Two, it'll train that all important often underveloped part of the emotional spectrum… Empathy.
Share results @ comixlaunch.com/voicemail or in an email [email protected]
---
Wrap Up
Hope you enjoyed that conversation. I know I did.
Check out Amber's Book
And Connect with Amber here:
Vodka O'Clock is on iTunes, Stitcher, and AmberUnmasked.com
Twitter: @elizabethamber
Instagram: @amberunmasked
Any special announcements
ComixLunch
Comics, Kickstarter, and Lunch!
Facebook.com/ComixLaunch
Ready for Launch
ComixLaunch.com/ready
It's like a Live version of the podcast!
Thanks for Listening.
In future episodes we're going to go even deeper into both mindset, strategies and tactics for making KS work for you.
Bringing on a self-publisher who first started making and selling comics in the 4th grade, was a veteran of the 90s boom and bust of independent publishing, and after a long hiatus, is back with a vengence and feels now is the GREATEST TIME to be a creator.
You're going to enjoy that interview!
Thank you so much for listening, and for letting me walk with you, as you taken another step forward toward your next successful ComixLaunch.
Podcast: Play in new window | Download | Embed
Subscribe: Apple Podcasts | RSS