"NOW is the best time in the entire history of the comic book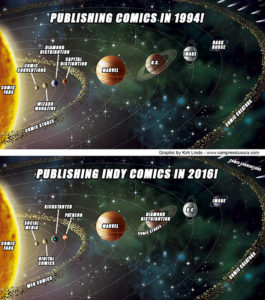 industry to be a self-publisher." At least that's the perspective of Kirk Lindo, who brings more than 25 years of comics publishing experience to the table. Tyler and Kirk talk the evolution of comics publishing in this session, and Kirk also shares one tip that has doubled his productivity this year.
---
This session's featured resource is Bluehost.
Go to ComixLaunch.com/bluehost for a special discount on domain registration and website hosting.
---
Session Table Setting
Would you like to know how self-publishing has changed over the past twenty years from a creator who has been in the trenches since the early 90s?
I have an absolutely KILLER interview with a creator who brings a great perspective on the past, present, and bright future of comics… you're going to love this one. I know I did.
Listener Feedback
"We ended up launching All the King's Men on Kickstarter, smashed through our modest goal in the first five hours, and are now sitting pretty at 220% funded after just one day. Obviously having a good product at a good price is an important part of the equation, but I credit a great deal of this campaign's easy-come success and reduced-stress process to the advice I've soaked up from the ComixLaunch podcast. The podcast got me thinking about accessible logos, the content of the project's by-line, different options for standing out, and what information is most critical when writing a project description. It's made the whole process much easier than my previous campaigns, almost intuitive." (Shane W Smith, All the King's Men)
Show Updates
Ready For Launch Workshop
Having a blast with them… I'm going to do one more in 2016!
Free Online Workshop
How to Get your Comic Book or GN Project funded WITHOUT a Large following on social media.
ComixLaunch.com/ready to register.
Tech worked wonderfully! My beautiful slides worked!
Club ComixLaunch
VIP Resource – A Ninja software tool that I designed makes it super easy and quick to take Comic book pages and cut them into single panels.  A while back, I mentioned the idea aloud to a few of the engineers at the game design studio I've worked for.
The next day, one of the engineers came in and had a working prototype.  Especially useful for creating quick social media sharing images.  Useful for chopping up good resolution panels for making comic teaser trailers and Kickstarter videos.  All VIPs have access to it right now!
ComixLaunch.com/patreon to support the show and get access.
Super Cool, Super Secret December / Holiday bonus resource.
I will be acknowledging some new Patrons at the end of this show.
Platform Updates
Kickstarter Live
Gamechanger.
Will be doing a dedicated show about it.
Encourage you to go to live.kickstarter.com sometime this week to get a feel for it and for the possibilities.
Patreon Scheduled Posts
Patreon now supports the ability to schedule posts.
Before you could publish or draft… anyone with a blog knows the scheduled post feature is super desirable.
What is Today's Episode About?
Guest Introduction
My guest today has been making comics and selling comics since the 4th grade.
He studied comics and sequential art under Will Eisner at The School of Visual Arts in Manhatten, and was Editor-In-Chief at Personality Comics in the Early 90s where he worked with creators including Jimmy Palmiotti, Adam Hughes, Jason Pearson & Brian Stelfreeze among others.
He also has experience as an art director for an Ad agency and Marketing Director for a large sportwear company.
Over the past three years, he's returned to comics with a vengeance, publishing 33 books, and harnessing the power of the Kickstarter platform.
Welcome to ComixLaunch, Kirk Lindo.
I'm really excited to talk to you because… you bring a wealth of experience and hard won insight, and have a perspective that many of our younger listeners do not.
What is Today's Episode About?
We're going to talk about self-publishing past and present.
Guiding Discussion Questions
1) You recently gave a lecture on a publishing panel in which you opened it up with the bold statement that "NOW is the best time in the entire history of the comic book industry to be a self publisher." You are someone who has been doing this a long time, and bring a long perspective on this… I happen to agree with you by the way, but I'll ask you to lay out the case for your argument.
Speed Round
1) How would you finish this sentence: "Kickstarter is _____"
A life changer if you do it right
2) Let's the pretend the powers that be at Kickstarter are listening (which you know they are)… if you could change one thing about the Kickstarter platform, what would it be?
A customizable backer thank you page 
3) What's your secret weapon? (Meaning a tool, resource, app, etc. that you couldn't make comics without?)
Adobe creator suite
4) Fulfillment is an area where even successful Kickstarter creators often drop the ball. Do you have a fulfillment tip for our listeners?
Pack nicely
5) Can you recommend one comic or book (not done by you) more people need to check out?
Star Power
---
Sponsor Mid-Roll
In a moment, I'm going to give you today's ComixLauncher, but first, we need to thank our sponsor…
BLUEHOST
Let me ask you a question… are you master of your own domain?
No, this isn't a dated Seinfeld reference… I'm talking about your web domain.
And Bluehost is an all in one web hosting solution that will help you master your domain.
I own the domains for ComixTribe.com, ComixLaunch.com and many more… but I know many of you are trying to save a few pennies a day by NOT paying for domains you're trying to build brands around.
That's a mistake.
Owning your own domain provides better branding
More professional.
More credible.
More memorable.
When you own the dot com for your brand, it'll help you protect it.
If you're building your empire on someone else land, your comic @facebook or @tumblr or remember @myspace God forbid… you don't control those platforms.
Own your own domain…
You can use the ComixLaunch affiliate link to get a special introductory offer and 30-day money back guarantee at Bluehost by going to Comixlaunch.com/bluehost today.
Bluehost powers more than 2 million websites world wide and makes it super simple to get a wordpress hosted website up in just one click.
Master Your Domain, go to ComixLaunch.com/bluehost and lock it in today.
---
ComixLauncher
It's time for today's ComixLauncher.
A ComixLauncher is a short, actionable activity you can do immediately after listening to the show. They're all activities I've done myself, and will get you one step closer to a successful ComixLaunch. They'll transform this Podcast from a passive, lean back activity centered around Tyler James, into an active, lean-forward activity centered around YOU and your projects.
ComixLauncher [071]
Now, this ComixLauncher is going to make more sense to you when you hear the rest of the interview with Kirk… but here's what I want you to do.
When you thinking about your productivity… imagine a scale from 0 to Four.
0 being NOT productive at all.
4 Being BEAST MODE productivity.
1, 2, 3 being in between.
Now, write out.. a quick sentence or two for what each level of productivity looks like for each level.
How many pages scripted is a 1?
How many panels drawn in a day is a 2?
How many editors contacted is a 3?
Whatever thing you're measuring… or judging yourself on, think about what each of those levels actually looks like.
And then the last thing…
One a scale of 0-4, what was yesterday?
What was or will today be?
And what does tomorrow look like?
Invite to share your scale with me @ comixlaunch.com/voicemail or in an email [email protected]
---
Wrap Up Questions
1) One final piece of advice
2) What has you most excited?
3) What's the best way for listeners to connect?
Special Thanks to Patrons
Philip from Leviathan Studo and House of Imagi, is a GOLD VIP Club ComixLaunch Insider.
Also working with Philip inside the ComixLaunch Mastery Program… excited to be working with him.
You can check out his comic Requiem for a Grieving hero over at line Webtoons, where it's being serialized.
Cody Stewart.
Cody Stewart upcoming Kickstarter for The Slip.
Cody was in the pilot version of the ComixLaunch Course, and will be launching in January I believe.
Working hard and it shows.
M.K. Palmer (Meraki) and James Whiting (Margo Integalactic Trash Collecter), also from the ComixLaunch Course pilot, and I've sung their praises on this show before. Thanks again for your support in helping the show continue to come out like clock work.
Big Tim
My name is Big Tim. I am an independent comic book writer.
His book Cthulhu Williams… gotta check it out on name alone.
Has a Patreon over at patreon.com/bigtim
James Powell
James is writer of Ten31 Publishing. Horror comics for Kids.
Been working with James a lot inside the ListLaunch Course, and I know he has some Kickstarters in the works for 2017… excited for him to get into the game.
Recently had shoulder surgery and is on the mend.
There are more to call out… but we're out of time. So until next time…
We're going to go even deeper into both mindset, strategies and tactics for making KS work for you.
Next up: The Return of the Patreon Launch series… we'll talk to a creator who took me up on the 30 Day Patreon Launch challenge… he took action, he got results, and we're going to share them with you next week.
Thank you so much for listening, and for letting me walk with you, as you taken another step forward toward your next successful ComixLaunch.
---
Have You Subscribed, Rated, or Reviewed ComixLaunch Yet?
If you've enjoyed this Session of ComixLaunch, I need you to do me a favor… actually, I need three favors. Please Subscribe, Rate and Review ComixLaunch on iTunes.
They're the rocket fuel this show is running on, and the sooner you do it, the more powerful your action will be. Don't wait to give us some love!
>>> CLICK HERE TO LEAVE A REVIEW ON iTUNES <<<
Provide a rating, 1-5 stars and leave an honest review.
This can be done in less than 2 minutes and could make HUGE difference to the show.
Podcast: Play in new window | Download | Embed
Subscribe: Apple Podcasts | RSS