In this session, Tyler and Searnold of Completely Different Comics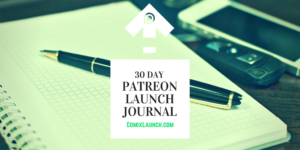 discuss their experience keeping a Patreon Launch Journal for 30 Days, where they committed to taking action and tracking results for their respective Patreon launches for a month. Lots of insight on what works when it comes to building your Patronage.
---
Today's Session is brought to you by
Club ComixLaunch on Patreon.
Get your free Club ComixLaunch VIP Insider bonus Kickstarter resource atComixLaunch.com/club.
---
Session Table Setting
30 Day Patreon Launch Challenge
How you can kickoff a challenge for yourself.
Interview with a creator who took me up on the Challenge… took action, got results.
https://www.comixlaunch.com/patreonlaunchjournal/
Show Updates
One more READY FOR LAUNCH workshop — How to get your comic & graphic novel funded WITHOUT a big following on social media.
ComixLaunch.com/ready
Just Launched
What is Today's Episode About?
Guest Introduction
My guest today is the creative force behind Complete Different Comics, where he delivers up a new stand-alone comic short on the first of every month, giving him the opportunity to work with lots of talented artists. He recently jumped head first into the Patreon platform and kept a 30-Day Launch Journal which he shared publicly charting his actions and results to get his Patreon off the ground. Growing the audience and reach of CDC and launching a successful Kickstarter are in the cards for him in 2017.
Welcome to Comixlaunch, Searnold!
What is Today's Episode About?
Big theme or topic for discussion
https://www.comixlaunch.com/patreonlaunchjournal/
Guiding Discussion Questions
1) Before we get started, tell me a little bit about Completely Different Comics and your work?
2) Okay, so, let's dig into the Patreon Launch 30 Day challenge. What was it about the challenge that inspired you to take action on it? What was your initial goal? And how were you feeling about it before you launched?
3) What did you find out when creating your Patreon page and planning your launch that surprised you?
4) Where did your first Patrons come from? How did you get them to your page, and what did seeing that first pledge come through feel like.
5) 30 Days focused on anything can be tough… how tough was this challenge for you? What would you have liked to have done better or would you do differently in the future?
6) Where are you now with Patreon, and what do you see for your Patreon Page going forward?
Speed Round
1) Let's the pretend the powers that be at Patreon are listening (which you know they are)… if you could change one thing about the Patreon platform, what would it be?
To be able to interact with people on Patreon who follow you and receive updates but haven't yet backed you.
2) What's your secret weapon? (Meaning a tool, resource, app, etc. that you couldn't make comics without?)
A program called Gimp. Like a free Photoshop
3) Do you have a tip for finding artists to collaborate with?
Offer them money.
4) Can you recommend one comic or book (not done by you) more people need to check out?
Ryan North "Dinosaur Comics"
Brian Clevenger's "Atomic Robo"
Aganan Beck "Space Corps"
 Ben Templesmith "Black Holers"
All on Patreon
---
Sponsor Mid-Roll
In a moment, I'm going to give you today's ComixLauncher, but first, we need to thank our sponsor…
Club ComixLaunch
ComixLaunch listeners, are you ready to take your crowdfunding game to the next level?
If so, I'd love for you to join me and your fellow creators inside Club ComixLaunch on Patreon.
I've opened Club ComixLaunch to help continue and expand on the ComixLaunch mission of increasing the number of creators equipped to harness the power of the Kickstarter platform to bring amazing independent projects to life.
As a Club ComixLaunch member, you'll have access to a number of exclusive perks and privileges, such as:
A shout out on the ComixLaunch Podcast for you and your project.
Access to the ComixLaunch Club exclusive Patreon feed for even more mindset, strategies and tactics to get your project funded.
The ComixLaunch Club Insider Monthly Kickstarter Resource which might be a guide, checklist, cheat sheet, template, or bonus training video designed to help you launch.
Priority enrollment in ComixLaunch Courses
Discounts on Courses, Books and Upcoming Premium Products
You can even sponsor an episode of the ComixLaunch podcast through Patreon.
And as the Club Grows, so do the perks…
See, there is a direct correlation between listener support and the value ComixLaunch can provide, and as the club expands, we hope to offer:
Monthly Kickstarter Page Critiques
Club Exclusive Chats and Q&As
Bonus Sessions of the ComixLaunch Podcast.
Full podcast transcripts for every episode.
And much more!
For as little as a dollar a month, you can access Club ComixLaunch today, help keep the podcast going and improving, and take your crowdfunding game to the next level.
Membership has its privileges, and to get a taste of them absolutely free, please go toComixLaunch.com/club and download a free Club ComixLaunch VIP Insider bonus resources today.
Let's get you ready for your best launch yet!
I'll see you inside the Club!
---
ComixLauncher
It's time for today's ComixLauncher.
A ComixLauncher is a short, actionable activity you can do immediately after listening to the show. They're all activities I've done myself, and will get you one step closer to a successful ComixLaunch. They'll transform this Podcast from a passive, lean back activity centered around Tyler James, into an active, lean-forward activity centered around YOU and your projects.
ComixLauncher [072]
What's something measurable that you want to improve?
Invite to share results @ comixlaunch.com/voicemail or in an email [email protected]
---
Wrap Up
Quote
"We are not creatures of circumstance, we are creators of circumstance." – Benjamin Disraeli
Thanks for Listening.
We're going to go even deeper into both mindset, strategies and tactics for making KS work for you.
Thank you so much for listening, and for letting me walk with you, as you taken another step forward toward your next successful ComixLaunch.
Wrap Up Questions
1) One final piece of advice
2) What has you most excited?
3) What's the best way for listeners to connect?
---
Have You Subscribed, Rated, or Reviewed ComixLaunch Yet?
If you've enjoyed this Session of ComixLaunch, I need you to do me a favor… actually, I need three favors. Please Subscribe, Rate and Review ComixLaunch on iTunes.
They're the rocket fuel this show is running on, and the sooner you do it, the more powerful your action will be. Don't wait to give us some love!
>>> CLICK HERE TO LEAVE A REVIEW ON iTUNES <<<
Provide a rating, 1-5 stars and leave an honest review.
This can be done in less than 2 minutes and could make HUGE difference to the show.
Podcast: Play in new window | Download | Embed
Subscribe: Apple Podcasts | RSS