Launching a Kickstarter in 2017? Are you up for a Challenge? Then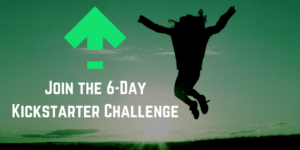 ComixLaunch has one for you. Join Tyler James and five special guest instructors in completing six powerful challenges designed to level up your next Kickstarter project to make it your best launch ever!
---
Hightlights of this Session Include:
You're invited to join Tyler James, five guest instructors, and over 100 of your fellow creators to take part in the free ComixLaunch 6-Day Kickstarter Challenge.
Why Tyler is running this challenge and how it fits squarely in with the mission and vision of ComixLaunch.
The three reasons you should join this first ComixLaunch challenge.
Plus: Tyler shares exactly what he'll be teaching in the challenge and why it's the very first thing you should do when starting a new campaign, whether you're a Kickstarter novice or a seasoned veteran.
---
Today's Session is brought to you by
KrakenPrint
Need a reliable printer for your next comic book or graphic novel print run? Then you need to unleash the Kraken. Head to ComixLaunch.com/Kraken for 5% off your entire first order.
Last year, ComixTribe spent nearly $85,000 on printing.
While we rely on a number of printers to get our books to market, one printer I can strongly recommend is KrakenPrint…
Our friends Jacob Way and Sam Amborn at Kraken Print offer:
Competitive pricing.
Great customer service, especially for your first offset print run.
Monthly storage if you do not want to store hundreds or thousands of books at home.
Distribution options, including breaking down orders and shipping direct to Diamond or comic stores at their specially negotiated discounted rates on shipping.
And NOW they even offer Kickstarter fulfillment!
Kraken will pick, pack, and ship out orders for your backers.
If you want to unleash the Kraken, go to comixlaunch.com/kraken, mention the ComixLaunch podcast, and they're going to knock 5% off your first print run…and they're going to hook us up with a 5% credit.
It's a classic win/win/win/win – You get a great price on printing, your backers get a beautiful offset printed book, you help the podcast out, and Kraken gets your business.
That's comixlaunch.com/kraken for 5% off your entire first print run.
---
Wrap Up
Quote
"To be a champion, I think you have to see the big picture. It's not about winning and losing; it's about every day hard work and about thriving on a challenge." – Summer Sanders (Olympic Swimmer)
I've got a challenge for you.
Are you in?
---
In future sessions…
We're going to go even deeper into both mindset, strategies and tactics for making KS work for you.
Coming up, an interview with Russell Nohelty of Wannabe Press who will be a guest instructor in the challenge and he'll be talking about running 4 KS in a 12 month span and living to tell about it. It's a good one.
Thank you so much for listening, and for letting me walk with you, as you taken another step forward toward your next successful ComixLaunch.
---
Have You Subscribed, Rated, or Reviewed ComixLaunch Yet?
If you've enjoyed this Session of ComixLaunch, I need you to do me a favor… actually, I need three favors. Please Subscribe, Rate and Review ComixLaunch on iTunes.
They're the rocket fuel this show is running on, and the sooner you do it, the more powerful your action will be. Don't wait to give us some love!
>>> CLICK HERE TO LEAVE A REVIEW ON iTUNES <<<
Provide a rating, 1-5 stars and leave an honest review.
This can be done in less than 2 minutes and could make HUGE difference to the show.
Podcast: Play in new window | Download | Embed
Subscribe: Apple Podcasts | RSS