Creators, have you heard about Kickstarter's Make/100 initiative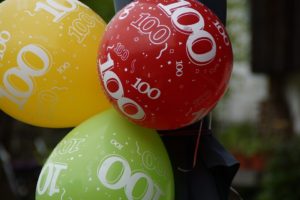 rolling out in January? They're challenging you to launch a Kickstarter with a special reward capped and limited to just 100 backers.
---
Highlights of this Session Include:
Get the scoop on Kickstarter's brand new initiative that encourages creators to Make 100 of something
The REAL reasons I think Kickstarter is doing this.
Inside the resources Kickstarter has made available for creators to Make/100.
Plus: Steal this Make/100 Kickstarter plan.
---
Today's Session is brought to you by
Club ComixLaunch
ComixLaunch listeners, are you ready to take your crowdfunding game to the next level?
If so, I'd love for you to join me and your fellow creators inside Club ComixLaunch on Patreon.
I've opened Club ComixLaunch to help continue and expand on the ComixLaunch mission of increasing the number of creators equipped to harness the power of the Kickstarter platform to bring amazing independent projects to life.
As a Club ComixLaunch member, you'll have access to a number of exclusive perks and privileges, such as:
A shout out on the ComixLaunch Podcast for you and your project.
Access to the ComixLaunch Club exclusive Patreon feed for even more mindset, strategies and tactics to get your project funded.
The ComixLaunch Club Insider Monthly Kickstarter Resource which might be a guide, checklist, cheat sheet, template, or bonus training video designed to help you launch.
Priority enrollment in ComixLaunch Courses
Discounts on Courses, Books and Upcoming Premium Products
You can even sponsor an episode of the ComixLaunch podcast through Patreon.
And as the Club Grows, so do the perks…
See, there is a direct correlation between listener support and the value ComixLaunch can provide, and as the club expands, we hope to offer:
Monthly Kickstarter Page Critiques
Club Exclusive Chats and Q&As
Bonus Sessions of the ComixLaunch Podcast.
Full podcast transcripts for every episode.
And much more!
For as little as a dollar a month, you can access Club ComixLaunch today, help keep the podcast going and improving, and take your crowdfunding game to the next level.
Membership has its privileges, and to get a taste of them absolutely free, please go toComixLaunch.com/club and download a free Club ComixLaunch VIP Insider bonus resources today.
Let's get you ready for your best launch yet!
I'll see you inside the Club!
---
Links Mentioned in Today's Show
Kickstarter's Make/100 planning guide –
https://emails.kickstarter.com/mpss/c/6QA/VCw/t.23h/Qr1l04VLTt6_KoWp3G1l4g/h3/uhBClM5-2BkUi-2Bo-2Fqg3oECjbuyxHaDoUO770Mqu8w-2FcLqYW6hhkjUIIG-2BakZF6-2BOGpSVbozYBdlR6-2FzVwYk0KuhyP7YGpSa51mzLLvgTDdKRM-3D
---
ComixLauncher
It's time for today's ComixLauncher.
A ComixLauncher is a short, actionable activity you can do immediately after listening to the show. They're all activities I've done myself, and will get you one step closer to a successful ComixLaunch. They'll transform this Podcast from a passive, lean back activity centered around Tyler James, into an active, lean-forward activity centered around YOU and your projects.
ComixLauncher [077]
I want you to come up with the idea for a limited Make 100 Reward tier for your current or next project.
Even if you aren't going to actually launch, I'd encourage you to do this exercise, because if it's successful, KS might do it again.
Plus, experimenting with creative and limited reward tiers is always a good idea.
Share results @ comixlaunch.com/voicemail or in an email [email protected]
Quote
"He who would learn to fly one day must first learn to stand and walk and run and climb and dance; one cannot fly into flying." – Friedrich Nietzsche
Make/100 is an opportunity to take a step toward future crowdfunding success.
Give it a shot… or 100.
---
Have You Subscribed, Rated, or Reviewed ComixLaunch Yet?
If you've enjoyed this Session of ComixLaunch, I need you to do me a favor… actually, I need three favors. Please Subscribe, Rate and Review ComixLaunch on iTunes.
They're the rocket fuel this show is running on, and the sooner you do it, the more powerful your action will be. Don't wait to give us some love!
>>> CLICK HERE TO LEAVE A REVIEW ON iTUNES <<<
Provide a rating, 1-5 stars and leave an honest review.
This can be done in less than 2 minutes and could make HUGE difference to the show.
Podcast: Play in new window | Download | Embed
Subscribe: Apple Podcasts | RSS