SINK, the latest horror Kickstarter from John Lees, Alex Cormack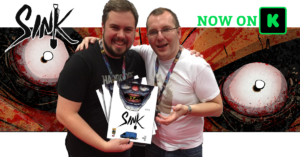 and ComixTribe was funded in just 12 hours. In this fly-on-the-wall conversation session, you'll hear the SINK team discuss openly and honestly the strengths, weaknesses, threats and opportunities of this new project, and how they put the game plan together for such a big project.
---
Highlights of this Session Include:
Dust off my favorite quick KS planning tool, the SWOT matrix, and show it in action.
How weaknesses and threats can be turned into Kickstarter opportunities.
Alex Cormack's top tips for drawing super scary clowns.
John's "secret" to writing genuinely scary comics.
Plus: More great comics are launching on Kickstarter every day. Some of the best are shared on this podcast!
Today's Session is brought to you by ComixTribe
Get 5 free comics at ComixTribe.com/subscribe
Guest Introduction
My guest today is John Lees, an award-winning comic book writer of THE STANDARD, AND THEN EMILY WAS GONE and QUILTE from ComixTribe. He was the co-writer, with yours truly, on the acclaimed mini-series OXYMORON: The Loveliest Nightmare, and recently knocked his first licensed property gig writing an issue of Teenage Mutant Ninja Turtles Universe for IDW. He hails from Glasgow, Scotland, which is the locale of his latest and greatest thriller, SINK, a new mini-series which, as of this podcasts airing is now on Kickstarter.
ComixTribe.com/SINK
johnleescomics.com
One of the things I recommend all creators do prior to launching a KS is a SWOT analysis for their project.
We first talked about the SWOT exercise here — https://www.comixlaunch.com/session003/
---
ComixLauncher
It's time for today's ComixLauncher.
A ComixLauncher is a short, actionable activity you can do immediately after listening to the show. They're all activities I've done myself, and will get you one step closer to a successful ComixLaunch. They'll transform this Podcast from a passive, lean back activity centered around Tyler James, into an active, lean-forward activity centered around YOU and your projects.
ComixLauncher [082]
Identify Two Weaknesses – Turn them into a two strengths.
Why So Important
Invite to share results @ comixlaunch.com/voicemail or in an email [email protected]
---
Have You Subscribed, Rated, or Reviewed ComixLaunch Yet?
If you've enjoyed this Session of ComixLaunch, I need you to do me a favor… actually, I need three favors. Please Subscribe, Rate and Review ComixLaunch on iTunes.
They're the rocket fuel this show is running on, and the sooner you do it, the more powerful your action will be. Don't wait to give us some love!
>>> CLICK HERE TO LEAVE A REVIEW ON iTUNES <<<
Provide a rating, 1-5 stars and leave an honest review.
This can be done in less than 2 minutes and could make HUGE difference to the show.
Podcast: Play in new window | Download | Embed
Subscribe: Apple Podcasts | RSS