In this session, Tyler recaps the recent 6-Day Kickstarter Challenge,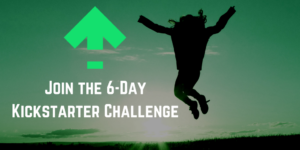 and shares insights from dozens of creators who participated. Including clips from every lesson shared during the challenge, this is a must-listen episode for anyone interested in taking their crowdfunding to the next level this year.
---
Highlights of this Session Include:
Clips from EVERY value-packed lesson taught during the challenge.
The biggest takeaways from dozens of creators like you who participated in the challenge.
Thoughts on the future of the challenge.
Plus: Comics Projects JUST LAUNCHED on Kickstarter!
---
Today's Session is brought to you by
ToInfinity Studios Mini-Issue: Training Wheels, a 11×15 high quality print, on Kickstarter now.
More info at toinfinitystudios.com,
Thanks – Curtis
---
ComixLauncher
It's time for today's ComixLauncher.
A ComixLauncher is a short, actionable activity you can do immediately after listening to the show. They're all activities I've done myself, and will get you one step closer to a successful ComixLaunch. They'll transform this Podcast from a passive, lean back activity centered around Tyler James, into an active, lean-forward activity centered around YOU and your projects.
ComixLauncher [081]
Share this episode.
Invite to share results @ comixlaunch.com/voicemail or in an email [email protected]
---
Quote
"The brick walls are there for a reason. The brick walls are not there to keep us out. The brick walls are there to give us a chance to show how badly we want something. Because the brick walls are there to stop the people who don't want it badly enough. They're there to stop the other people."
― Randy Pausch, The Last Lecture
---
Have You Subscribed, Rated, or Reviewed ComixLaunch Yet?
If you've enjoyed this Session of ComixLaunch, I need you to do me a favor… actually, I need three favors. Please Subscribe, Rate and Review ComixLaunch on iTunes.
They're the rocket fuel this show is running on, and the sooner you do it, the more powerful your action will be. Don't wait to give us some love!
>>> CLICK HERE TO LEAVE A REVIEW ON iTUNES <<<
Provide a rating, 1-5 stars and leave an honest review.
This can be done in less than 2 minutes and could make HUGE difference to the show.
Podcast: Play in new window | Download | Embed
Subscribe: Apple Podcasts | RSS