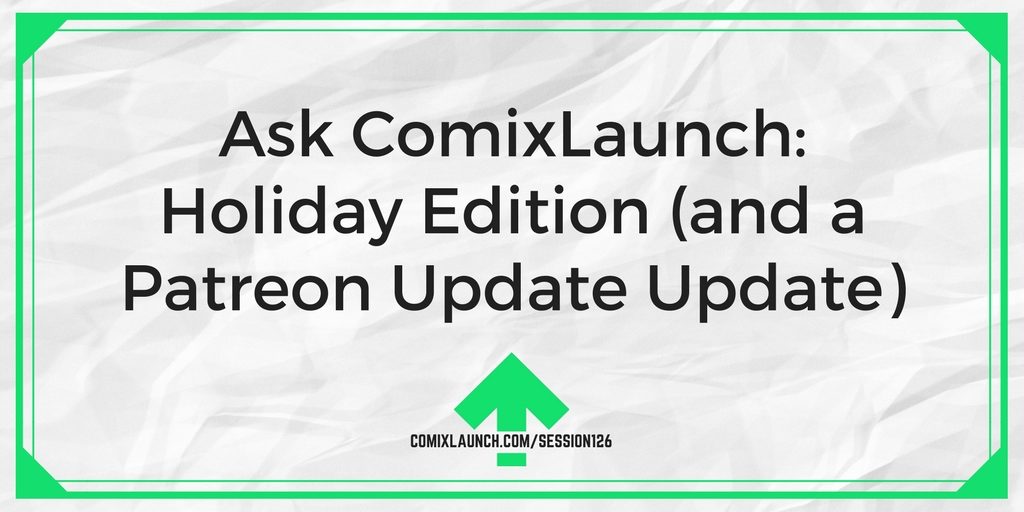 Throw a log on the fire, spike your egg nog and curl up to a special holiday episode of ComixLaunch. In this session, Tyler opens up the ComixLaunch mailbag and also answers some festive questions. Plus, an update on Patreon's decision to walk back their big fee structure change.
---
Highlights of this Session Include:
Patreon walks back it's fee change and what creators can learn from the controversy.
How to get off the Kickstarter rollercoaster after a launch?
To Pseudonym or Not to Pseudonym on Kickstarter?
How to make ME a fan of yours.
Plus: My answers to some great holiday questions.
---
Links Mentioned in Today's Show
ComixLaunch.com/patreon
ComixLaunch.com/session126
ComixLaunch.com/session103
---
This Session is Sponsored by ComixTribe
Go to ComixTribe.com/subscribe for 5 Free Comics
---
ComixLauncher [127]
What's one thing on your list that will help you grow as a creator in 2018?
---
Quote
"For it is in giving that we receive." – Francis of Assisi
Podcast: Play in new window | Download | Embed
Subscribe: Apple Podcasts | RSS