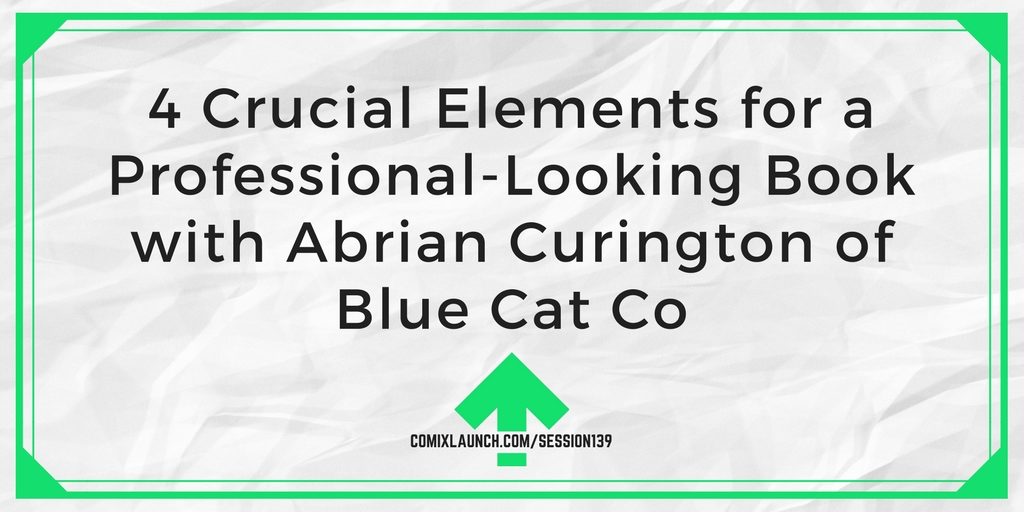 Creator Abrian Curington of Blue Cat Co. stops buy for a guest lesson all about how to create an eye-popping, head-turning, professional-looking book… even if it's your first one.
---
Highlights of this Session Include:
4 crucial elements that make up a professionally printed book
How to draw attention with a minimal cover aesthetic
Book Feel and how it can sell your book before the buyer even opens it
One important step that even major publishers can neglect
Plus: How to minimize overwhelm with your first book printing
---
This Session is Sponsored by FB ADs Demystified!
How Writers & Artists Can Profitably Use Facebook Ads to GenerateSubscribers, Backers & Sales on Autopilot (Even on a Tiny Budget!) Sign-up for this FREE ComixLaunch Workshop at ComixLaunch.com/fbads
Are you in need of more readers, subscribers, Kickstarter backers and customers for your books and art?
Have you ever wondered if Facebook ads actually work for writers & artists?
Have you tried FB ads, but been frustrated that all you seem to be paying for is "likes" and "engagement" but not getting much in the way of actual subscribers, backers & sales?
Then my new FB ADS DEMYSTIFIED! Workshop is for you!
Register for Free –> ComixLaunch.com/fbads
In this online training, I'm going to teach you how to steadily and predictably build your audience, grow your email list, drive people to your Kickstarter campaigns and other online promotions, and generate more backers and sales WITHOUT spending all of YOUR time marketing.
In this free workshop, I'll answer the most common questions creators ask me all the time about Facebook ads, including:
✔ Do Facebook Ads actually work for writers & artists?
✔ How do I get my ads to convert instead of just getting "likes" (meh!) and "engagement" (ugh!)?
✔ How do YOU use Facebook ads and get real results with them for your creative projects?
This is the training I wish existed 5 years ago when I first started dabbling into FB Ads, as it would have cleared up a whole lot of fear and confusion… (and would've made me a lot more sales!)
I don't know anyone else in our space who is teaching this stuff specifically for comic creators, publishers, writers & artists, so I'm excited to demystify FB ads for my tribe!
See the available times and register for the next FREE training today at ComixLaunch.com/fbads
I'l see you at the FB Ads Demystified workshop and can't wait to see what you launch next!
---
Today's Featured Guest
Abrian Curington, an illustrator that builds worlds. She specializes in light-hearted fantasy stories that champion fun, adventure and conquering the obstacles of life. She has a degree in Fine Art from WWU, and is the founder of Blue Cat Co., an independent publishing company dedicated to producing fantastical works that give people an escape from the din of the world. No gore, no mature content. Just fun for everyone!
---
Links Mentioned in this Episode
---
ComixLauncher [139]
What's the best looking book on your book shelf?
How can you apply some of that to your next print project?
---
How to Find Out More About Today's Featured Guest
Podcast: Play in new window | Download | Embed
Subscribe: Apple Podcasts | RSS