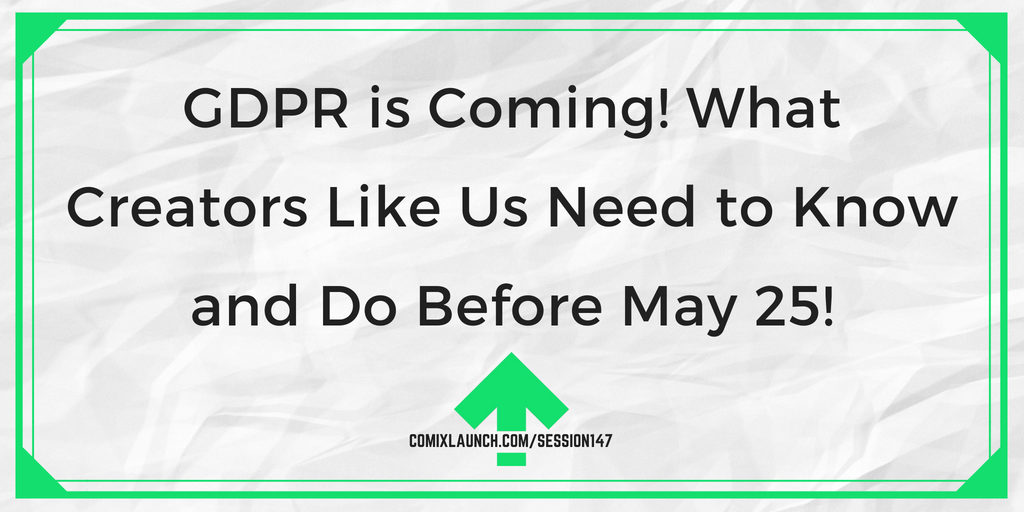 The General Data Protection Regulation, a privacy law from the European Union, goes into effect May 25, 2018, and has major consequences for creatives like us. Tyler breaks down what you need to know about GDPR and how to get compliant before the deadline. If you want support getting GDPR compliant, join ComixLaunch.com/springcleaning
---
Highlights of this Session Include:
What is the new GDPR regulation all about and why we as writers, artists, publishers and crowdfunders need to care?
Who the new law applies to. (SPOILER: If you're listening to this, it probably applies to you.)
Specific Actions creators like us need to take NOW and in the future to get GDPR compliant and avoid penalties.
Plus: An free invitation to make this whole GDPR thing a whole lot easier and more manageable for you with my help!
---
This Session is Sponsored by
Purebuttons, your go-to resource for custom buttons of all shapes and sizes.  
Go to ComixLaunch.com/purebuttons for 10% off your next order of custom buttons.
---
Links Mentioned in this Episode
Join the new challenge –> comixlaunch.com/springcleaning
Want built in landing pages with your marketing service provider? Check out Mailer Lite –> ComixLaunch.com/mailer
Do a lot of automated email sequences and tagging? Check out ComixLaunch.com/convertkit
---
ComixLauncher [147]
Go to ComixLaunch.com/springcleaning and register for the FREE 5 day challenge.
Finally clean up your existing fan list (or start a new one) and get GDPR-compliant in time for the May 25th deadline in a stress-free, easy-to-follow, free 5 day challenge, so that you can improve your email open rate and engage your fans in compliance with the new law.
By the end of this free five day challenge you will have:
– Made the necessary changes to your audience building platform so that you're in compliance with the new law and can confidently continue to grow your audience without the stress of hefty GDPR fines.
– Made sure that your current audience building tech solutions are the best ones for you current situation.
– Cleaned your email list of cold subscribers to increase your open rates and improve your standing with your email service provider.
– Added even more value to your fan base to continue your growth towards 1000+ true fans.
– Networked with creators on a similar journey as you and been supported along the way!
Podcast: Play in new window | Download | Embed
Subscribe: Apple Podcasts | RSS