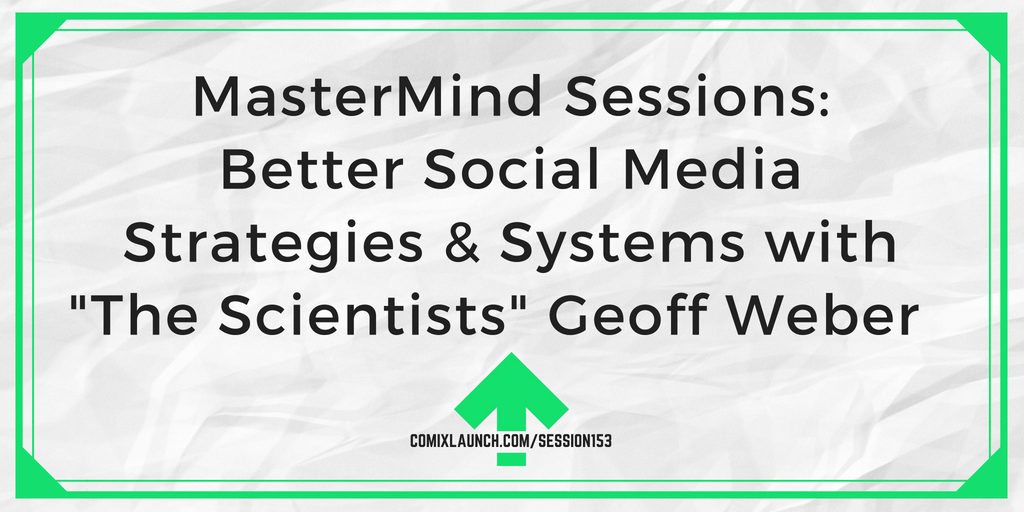 As creators, we know we need to actively promote our work. But how do we do so in a way that doesn't leave us completely drained and take all our time from creating? In this mastermind session episode, a group of creators help graphic novelist Geoff Weber navigate the tricky waters of social media systems.
---
Highlights of this Session Include:
How to have a social media strategy that doesn't sap the life out of you.
Instagram tactics that actually work.
Applying systems thinking to casual social posting and promotion.
Plus: "The Clooney Mindset Shift" – A Bonus lesson from Clay Adams of Fried Comics, a Founding Member of the ComixLaunch Mastermind
---
This Session is Sponsored by
Gemini Comic Supply. Use discount code "ComixLaunch" at checkout and get 10% off COMIC FLASH MAILERS at geminicomicsupply.com
---
Today's Featured Guests
Geoff Weber is an artist, magician, inventor, teacher, husband, and father of 4 boys.
He's created art for gaming books by Skirmisher Publishing and for the multi-issue comic anthology series, Strange Tales from Spooktown.
A number of his original magic tricks have been published as dvds and booklets.
And he recently funded The Scientists on Kickstarter, his first graphic novel, inspired by his love of 80s sci-fi/adventure.
Dan Ekis is a freelance illustrator and graphic novelist. He recently funded his his first creator owned title, Soul of the World, which he writes and draws, on Kickstarter. Dan runs the Kid Millionaire Clubhouse Facebook group, and interviews artists and creatives on his YouTube channel. Dan also contributed a Guest Lesson on ComixLaunch 134 – How to Get Your First (or Next) 1,000 Fans Who Will Actually Buy Your Comic
Jamie Gambell is profession Production sound engineer for film & tv by day, and a comic book writer by night. His self-published work includes Omnitarium, The Hero Code & Department O. Jamie is also the host of the Who I Am Podcast, a fortnightly interview show which DISCUSSES WHAT INSPIRES, MOTIVATES, AND DRIVES the creator's Jamie interviews.
Will Allred is a writer, professor, and technologist.
He created and wrote Diary of Night for BloodFire Studios which recently funded on Kickstarter, contributed to the Eisner-nominated "Comics through Time" book on comic history, and multiple other academic books on comics, and is writing a second novel.
Will received his Ph.D. in English from the University of Arkansas and is a longtime member of the nonprofit Grand Comics Database Project, having served for several years on its Board of Directors.
Will is also a member of the ComixLaunch MasterMind, and I've been meeting with will monthly.
---
Links Mentioned in this Episode
---
More About Our Sponsor
Hey, are you getting ready to ship rewards to all your awesome backers?
With more than a decade of publishing under my belt, I've shipped my fair share of comics and graphic novels over the years… so you bet I was SHOCKED to realize I'd been doing it all wrong!
One of the most overlooked aspects of the Kickstarter process is your shipping materials, which is a shame, because how your package arrives is often the last impression your campaign will make on a backer, and will be a big factor in whether they choose to support you again.
And yet, I can't tell you how many creators out there are disappointing their backers by shipping comics and graphic novels in shoddy packaging.
For the longest time, I was using and recommending rigid stayflat mailers for comics shipping… only to hear back from upset fans that their packages were decimated by a mail carrier who must hate them.
No more though.
I now use COMIC FLASH MAILERS from Gemini Comic Supply and the shipping complaints have all gone away.
COMIC FLASH MAILERS are engineered specifically to secure your comics and graphic novels.
They are constructed with high quality durable corrugated paper, while still being lightweight to reduce shipping costs.
Each mailer has a flexible capacity and is perfect for shipping single bagged and boarded issues or up to 12 comics or a few graphic novels in a single package.
And here's a pro-tip: COMIC FLASH MAILERS slip comfortably into a FLAT RATE LEGAL envelope, which can save you 50% or more on the cost of shipping domestically, depending on the weight.
I reached out to Bryan Kelly at Gemini, told him I was a huge fan of his company, and secured a special deal for ComixLaunch listeners looking to upgrade their shipping game.
Just use COUPON CODE "ComixLaunch" at checkout at geminicomicsupply.com for 10% off your very first order at Gemini and treat your books and backers with the care they deserve.
---
ComixLauncher [153]
Look at the last few pieces of content you've put out into the world (emails, blog posts, Tweets, Instagram or Facebook posts. Were they centered around you or your ideal reader. What would they look like if they were reframed to solve your readers problems instead of yours.
---
How to Find Out More About Today's Featured Guest
https://www.scientistscomic.com/
Podcast: Play in new window | Download | Embed
Subscribe: Apple Podcasts | RSS