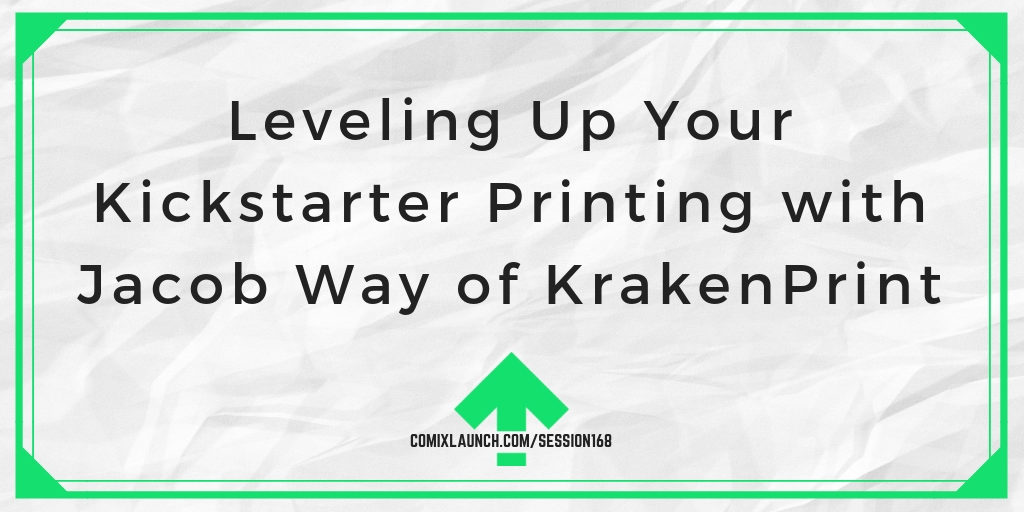 Jacob Way, CEO of KrakenPrint returns to the podcast to talk about new developments in printing for crowdfunders, as well as lessons he's learned by launching his own Kickstarter projects.
---
Highlights of this Session Include:
How to make smarter printing decisions before, during and after your Kickstarter campaigns.
How KrakenPrint has shifted to become a printing company FOR creators RUN BY creators.
Trends in printing and new ideas and options for creating standout products for your audience.
Plus: New insights from Jacob as he's seen what Kickstarter is like from the creator's side.
---
Today's Session is brought to you by
KrakenPrint
Need a reliable printer for your next comic book or graphic novel print run? Then you need to unleash the Kraken. Head to ComixLaunch.com/Kraken for 5% off your entire first order.
---
Today's Featured Guest
My guest today is the Founder & CEO of KrakenPrint, Jacob Way
---
Links Mentioned in this Episode
ComixLaunch.com/kraken
ComixLaunch.com/fbads
---
More About Our Sponsor
In 2016, ComixTribe spent nearly $85,000 on printing.
While we rely on a number of printers to get our books to market, one printer I can strongly recommend is KrakenPrint…
Our friends Jacob Way and Sam Amborn at Kraken Print offer:
Competitive pricing.
Great customer service, especially for your first offset print run.
Monthly storage if you do not want to store hundreds or thousands of books at home.
Distribution options, including breaking down orders and shipping direct to Diamond or comic stores at their specially negotiated discounted rates on shipping.
And NOW they even offer Kickstarter fulfillment!
Kraken will pick, pack, and ship out orders for your backers.
If you want to unleash the Kraken, go to comixlaunch.com/kraken, mention the ComixLaunch podcast, and they're going to knock 5% off your first print run…and they're going to hook us up with a 5% credit.
It's a classic win/win/win/win – You get a great price on printing, your backers get a beautiful offset printed book, you help the podcast out, and Kraken gets your business.
That's comixlaunch.com/kraken for 5% off your entire first print run.
---
ComixLauncher [168]
Check out the new quote calculator at Krakenprint.com
---
How to Find Out More About Today's Featured Guest
Podcast: Play in new window | Download | Embed
Subscribe: Apple Podcasts | RSS