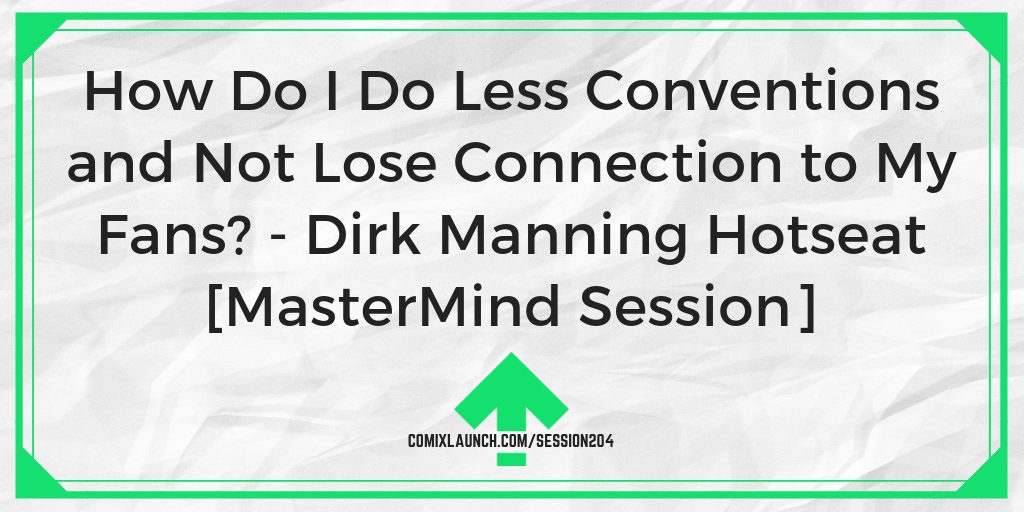 As his writing demands increase, Nightmare World creator Dirk Manning realizes he's going to need to cut back on his convention schedule. However, he's worried about losing connection with the fans who've supported him along the way if he's out of sight and out of mind. Hear the counsel Dirk receives from a mastermind of creator peers.
---
Highlights of This Session Include:
What are the ramifications of dramatically reducing the number of conventions you do in a year?
How to stay connected with your fans who you'll no longer be seeing at shows?
Reframing negatives into positives… and how absence can make the heart grow fonder.
Plus: Have you applied to the ComixLaunch MasterMind Yet?
---
This Session is Sponsored by…
…the ComixLaunch MasterMind.
If you would you like to meet once a month with a group of serious, like-minded creators to talk about your projects and creative business for mutual support and accountability in the new year, go to ComixLaunch.com/mastermind and get on the interest list.
New Groups will be forming in June and start meeting in July!
---
In the Mastermind Hotseat Today:
Dirk Manning is the writer/creator of comic series TALES OF MR. RHEE (Devil's Due), NIGHTMARE WORLD (Image Comics/Shadowline), WRITE OR WRONG: A WRITER'S GUIDE TO CREATING COMICS (Caliber) and more.
---
In the Mastermind Round Table:
Karl Kesel is a professional writer, inker and occassional penciler, whose credits include Superman, Super Boy, Harley Quinn, Spider-Man, Captain America and more. He has also co-created SECTION ZERO with Tom Grummett, a series brought back to life with the magic of Kickstarter (Session #202 Hotseat)
Russell Nohelty, author of comics and prose, launched mulitple five-figure anthology projects, and creates courses and other resources for creatives at thecompletecreative.com.
Tyler James (Session #205 Hotseat)
---
Links Mentioned in Today's Episode:
ComixLaunch.com/mastermind
conventionscene.com
---
ComixLauncher [204]:
Take a page out of Dirk Manning's playbook and start planning out your convention schedule for the next 12-18 months. Need to know dates for cons? Go to conventionscene.com to get the latest and greatest cons from around the country.
---
How to Find Out More About Today's Hotseat Creator:
dirkmanning.com
facebook.com/groups/dirkmanning
Twitter @dirkmanning
Instagram @dirkmanning
Podcast: Play in new window | Download | Embed
Subscribe: Apple Podcasts | RSS