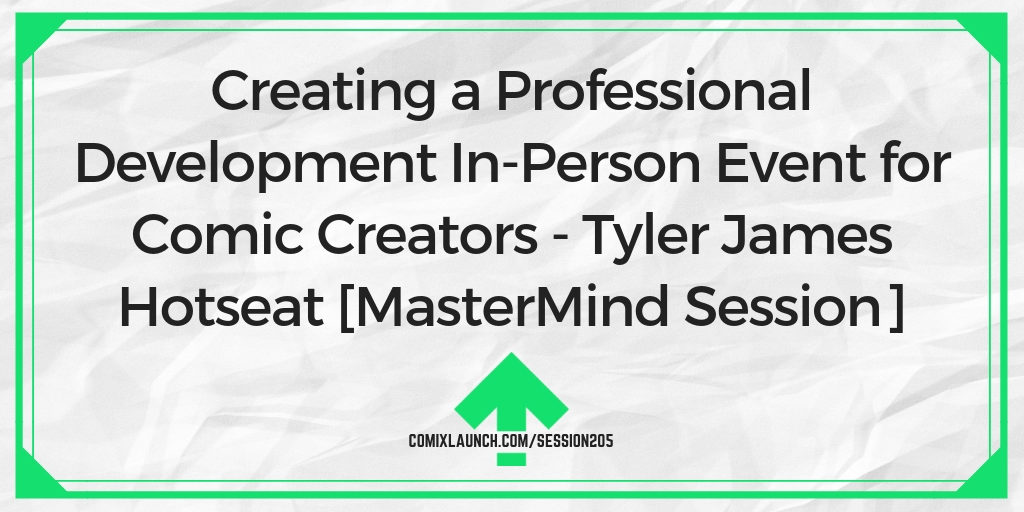 Tables are turned and ComixLaunch Host Tyler James finds himself in the hotseat. In this session, Tyler talks about a calling and vision for a live, in-person professional development conference for comic creators and gets some feedback and great questions to think about from a mastermind of creator peers. And the best part… YOU get to be a fly on the wall for this conversation!
---
Highlights of This Session Include:
Tyler's (less than clear) vision for an event for comic creators that's NOT a comic convention but instead an opportunity for learning, growth, networking, professional development and inspiration
Similar events to look at and model and the strengths, weaknesses and opportunities here
What it would take to get creators like Karl Kesel, Dirk Manning and Russell Nohelty to be interested in an event like this.
Plus: Good luck to all new ComixLaunch MasterMind applicants!
---
This Session is Sponsored by:
Today's session is brought to you by CrowdOx, software that helps you take control of your crowdfunding campaign, save time and raise more funding. ComixLaunch listeners get 10% off per backer pricing at Crowdox.com
---
In the Mastermind Hotseat Today:
Tyler James, host of ComixLaunch and publisher of ComixTribe
---
In the Mastermind Round Table:
Karl Kesel is a professional writer, inker and occassional penciler, whose credits include Superman, Super Boy, Harley Quinn, Spider-Man, Captain America and more. He has also co-created SECTION ZERO with Tom Grummett, a series brought back to life with the magic of Kickstarter (Session #202 Hotseat)
Dirk Manning is the writer/creator of comic series TALES OF MR. RHEE (Devil's Due), NIGHTMARE WORLD (Image Comics/Shadowline), WRITE OR WRONG: A WRITER'S GUIDE TO CREATING COMICS (Caliber) and more. (Session #204 Hotseat)
Russell Nohelty, author of comics and prose, launched mulitple five-figure anthology projects, and creates courses and other resources for creatives at thecompletecreative.com.
---
Links Mentioned in Today's Episode:
Karl Kesel's latest Kickstarter
IMPOSSIBLE JONES: GRIN & GRITTY! A Graphic Novel https://www.kickstarter.com/projects/1227066666/impossible-jones-grin-and-gritty-a-graphic-novel
---
More About Our Sponsor:
On this podcast back in 2017, I told you all I was shooting for a six-figure launch for the Sweet Dreams Cthulhu Kickstarter campaign.
Well, we came up a little short on Kickstarter…
But thanks to CrowdOx, we were able to shoot way past the six figure mark…
And it was the easiest funding to raise in the entire campaign.
See, CrowdOx helps crowdfunding project creators increase funding, manage their campaigns, and save time.
How does it work?
Well, CrowdOx helps creators take a successful campaign and keep the funds coming in by:
Selling Upgrades, Add-ons & Extras during the survey process with just a couple clicks.
Accepting pre-orders on a beautiful CrowdOx store to keep the funding coming in.
Collecting funding that Kickstarter couldn't from backers unable to fix their CC in time.
Accepting Paypal! (HUGE!)
CrowdOx Customers are raising on average an extra 12% of funding after their original campaign is over…
My first CrowdOx turbocharged launch, we raised an extra 18% and enabled us to hit that six figure goal.
CrowdOx is an alternative to BackerKit, and while I've used and recommended both companies, I prefer CrowdOx because it offers:
A per BACKER pricing model vs. a per Funds Raised, which usually works out better for creators.
An easier interface for creators and survey/checkout experience for backers.
Faster funding… Backers are charged immediately for their pledges, so there's no risk that credit cards won't clear when its time to fulfill.
And now, as a ComixLaunch sponsor, CrowdOx is offering creators an additional 10% off their per backer pricing at Crowdox.com.
So check them out and raise more funding after your next successful launch with CrowdOx at Crowdox.com.
---
ComixLauncher [205]:
What would YOU like to see in a professional development conference for comic creators?
Podcast: Play in new window | Download | Embed
Subscribe: Apple Podcasts | RSS