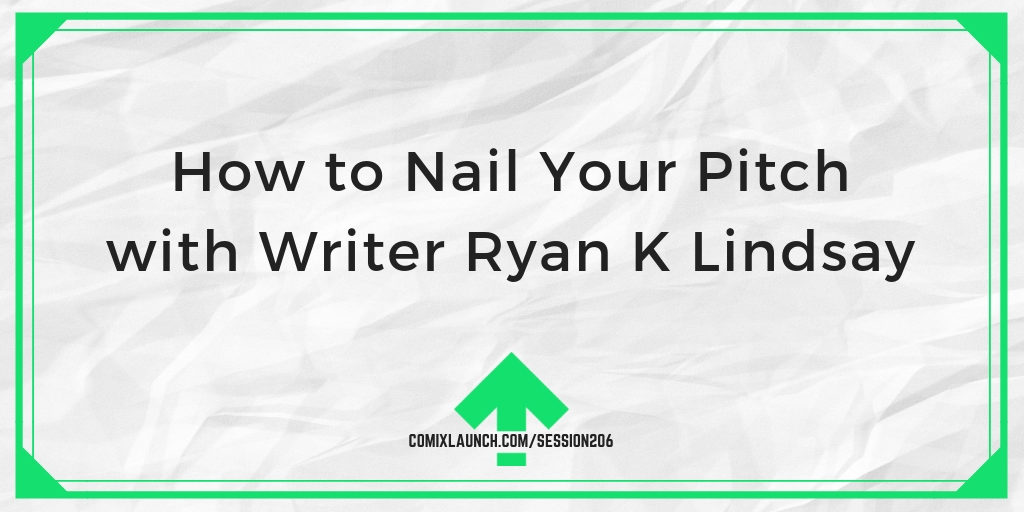 Over the past several years, Ryan K Lindsay has heard the word "yes" from Black Mask, IDW, Dark Horse, DC, ComixTribe and many more. On this special session of the ComixLaunch Podcast, Tyler picks Ryan's brain on how he's managed to perfect his pitching process to attract the interest of artists, editors and fans.
---
Highlights of This Session Include:
Ryan's process for determining what projects he'll pitch around to publishers and what projects he'll self-publish?
How to make your pitch stand out above the standard slush pile submissions.
Hope for creators who don't live in the comic book meccas of New York or LA and can't attend every convention, yet still want to get pitches accepted.
How geeking out on D&D lately is making Ryan a better writer?
Plus: Don't Miss out on Break Kickstarter Month!
---
This Session is Sponsored by:

---
Today's Featured Guest:
Ryan is a comic book writer and educator, and over the past several years, he's accumulated more publishing credits that we have time to cover.
His work has been published by Black Mask, MonkeyBrain, IDW, Dark Horse, Vertigo and ComixTribe to name a few.
He was selected as a participant in the highly coveted DC Writing Workshop group of 2016, learning advanced comic writing from Scott Snyder.
He's also self-published several Kickstarter-funded titles under his own Four Colour Ray Gun imprint, with a focus on digital-only campaigns for books such as DEER EDITOR, EIR, INK ISLAND and STAIN THE SEAS SCARLET.
Always one to heap massive praise on his artist partners and collaborators, Ryan has worked with artists including Eric Zawadzki, Sebastian Piriz, Sami Kivela, Owen Gieni, Tommy Lee, Edwards, Alex Cormack and more…
He is an extreme process junkie and writes one of the most thoughtful weekly newletters in comics called "The Two Fisted Homeopape" https://tinyletter.com/ryanklindsay
---
Links Mentioned in Today's Show:
ComixLaunch.com/shopify
break.kickstarter.com
https://tinyletter.com/ryanklindsay
ComixLaunch.com/club
---
More About Our Sponsor:
Are you thinking about starting or upgrading your online shop so you can sell more of your art?
Are you tired wasting time and energy hacking together cheap, limited solutions that aren't serving you or your potential customers very well?
Instead of spinning your wheels only looking at free or dirt-cheap store options, why not grab an affordable full-service online sales platform optimized for sales like Shopify?
With Shopify…
You don't need Design skills. Shopify has dozens of beautiful, fully-customizable, mobile-friendly templates to get a perfectly branded look and an online stop you'll be proud of.
You don't Coding skills. With Shopify, setting up your store is simple, and you'll be selling in no time at all, even if technology hates you.
And you don't even need a Credit Card to get started. With this ComixLaunch offer, you can try Shopify free for 14 days. No risk, and no credit card required.
What you get with Shopify is a…
Fully customizable website, online store, and blog… your store can be your website!
Unlimited products!
Smooth integration to sell on channels like Facebook, Amazon and Pinterest.
24-7 Customer support!
More than 500,000 creative businesses are powered by Shopify, including the CisforCthulhu.com store which I manage… and couldn't be happier with it.
Stop messing around with subpar online shop solutions and try Shopify.
To start your 14-day free trial of Shopify, go to ComixLaunch.com/shopify
---
ComixLauncher [206]
Go sign up for Ryan K Lindsay's newsletter for process, tips, advice, book recommendations and more–> https://tinyletter.com/ryanklindsay
---
How to Find Out More About Our Featured Guest:
https://tinyletter.com/ryanklindsay
twitter.com/ryanklindsay
https://ryanklindsay.com/
Podcast: Play in new window | Download | Embed
Subscribe: Apple Podcasts | RSS