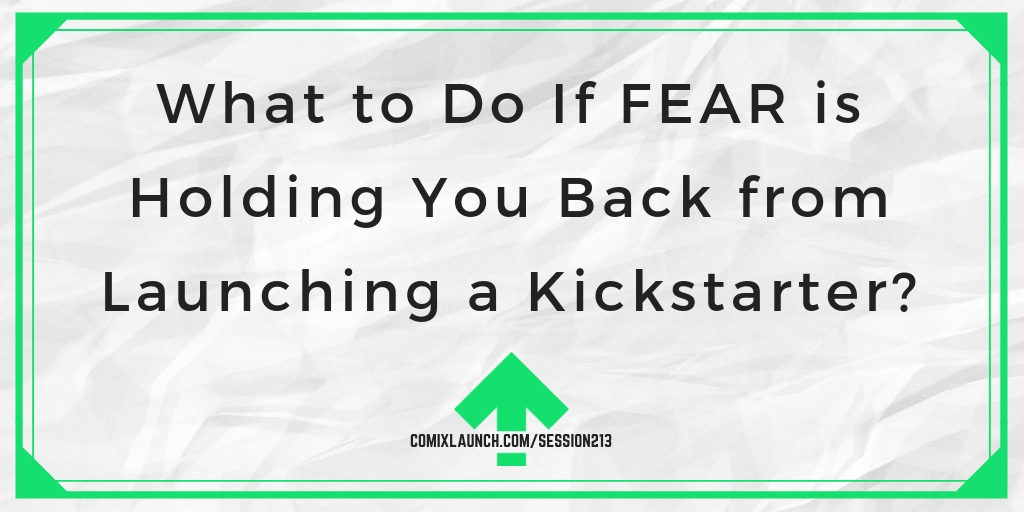 If fear is getting in the way of you actually launching your crowdfunding projects or going after your creative pursuits in a major way, this episode could change your future!
---
Highlights of This Session Include:
Why FEAR underlies almost all the objections creators have to launching projects on Kickstarter
How successful people view fear differently than most
What it takes to get past your fear and actually launch.
Plus: An upcoming series on overcoming all of the obstacles standing in the way of your successful launch!
---
This Session is Sponsored by:
Today's session is brought to you by CrowdOx, software that helps you take control of your crowdfunding campaign, save time and raise more funding. ComixLaunch listeners get 10% off per backer pricing at Crowdox.com
---
Links Mentioned in this Episode:
ComixLaunch.com/workshop
ComixLaunch.com/crowdox
https://pro.comixlaunch.com/blog/melody-pena
---
More About Our Sponsor:
On this podcast back in 2017, I told you all I was shooting for a six-figure launch for the Sweet Dreams Cthulhu Kickstarter campaign.
Well, we came up a little short on Kickstarter…
But thanks to CrowdOx, we were able to shoot way past the six figure mark…
And it was the easiest funding to raise in the entire campaign.
See, CrowdOx helps crowdfunding project creators increase funding, manage their campaigns, and save time.
How does it work?
Well, CrowdOx helps creators take a successful campaign and keep the funds coming in by:
Selling Upgrades, Add-ons & Extras during the survey process with just a couple clicks.
Accepting pre-orders on a beautiful CrowdOx store to keep the funding coming in.
Collecting funding that Kickstarter couldn't from backers unable to fix their CC in time.
Accepting Paypal! (HUGE!)
CrowdOx Customers are raising on average an extra 12% of funding after their original campaign is over…
My first CrowdOx turbocharged launch, we raised an extra 18% and enabled us to hit that six figure goal.
CrowdOx is an alternative to BackerKit, and while I've used and recommended both companies, I prefer CrowdOx because it offers:
A per BACKER pricing model vs. a per Funds Raised, which usually works out better for creators.
An easier interface for creators and survey/checkout experience for backers.
Faster funding… Backers are charged immediately for their pledges, so there's no risk that credit cards won't clear when its time to fulfill.
And now, as a ComixLaunch sponsor, CrowdOx is offering creators an additional 10% off their per backer pricing at Crowdox.com.
So check them out and raise more funding after your next successful launch with CrowdOx at Crowdox.com.
---
ComixLauncher [213]
Write down a list of all of your creative fears. Pick one and take an action that moves you toward facing that fear.
---
Quote
"The impediment to action advances action. What stands in the way becomes the way." – Emperor Marcus Aurelius
Podcast: Play in new window | Download | Embed
Subscribe: Apple Podcasts | RSS