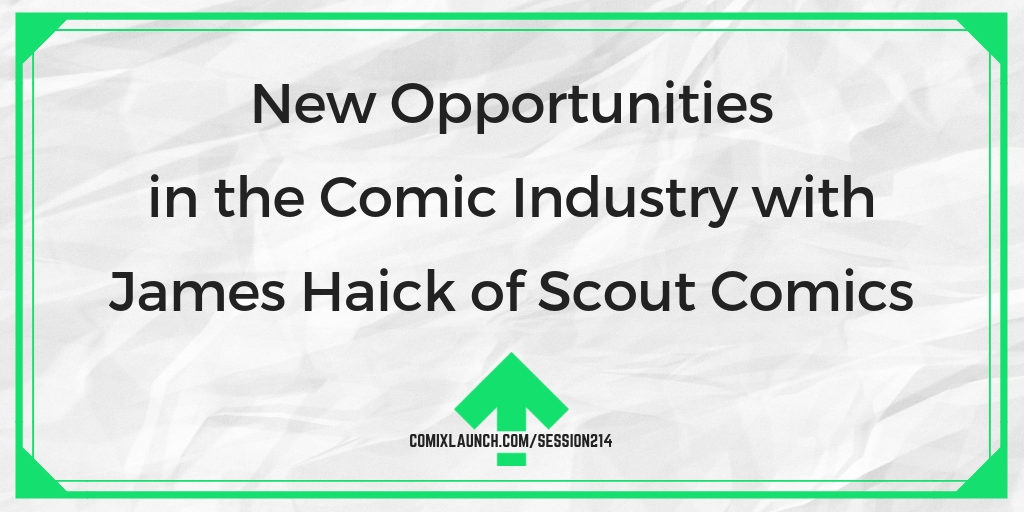 President of Scout Comics & Entertainment, Inc. James Haick returns to the Comixlaunch podcast to talk about the innovative moves SCOUT is making to shake up the world of creator-owned comics.
---
Highlights of this Session Include:
James' road from solo-comic creator to heading up Scout comics.
What James and Scout are looking for in the books they publish.
Innovative strategies and new opportunities for creators in and out of the direct market.
Plus: Tyler answers ComixLaunch listener Mindy Indy's voicemail question about what her lowest priced tier should be
---
Today's Session is brought to you by:
StickerMule custom stickers and more. Go to ComixLaunch.com/stickermule and get a $10 credit on your next order.
---
Today's Featured Guest:
James Haick III is the creator/writer of Solar Flare, Long Live Pro Wrestling and the co-creator and co-writer for The Mall from Scout Comics. James also serves as President of Scout Comics & Entertainment, Inc. Scout Comics & Entertainment, Inc. develops, publishes and launches creator-owned comics. Some of Scout's successful series include Stabbity Bunny, The Source, and The Mall.
---
Links Mentioned in this Episode:
comixlaunch.com/stickermule
http://www.scoutcomics.com
---
ComixLauncher [214]
Go buy a Scout Comic!
---
How to Find Out More About Our Featured Guest:
www.scoutcomics.com
www.facebook.com/scoutcomics
www.facebook.com/solarflarecomic
www.facebook.com/themallcomic
www.facebook.com/longliveprowrestling
@scoutcomics on Twitter and Instagram
@jameshaick on Twitter
Podcast: Play in new window | Download | Embed
Subscribe: Apple Podcasts | RSS