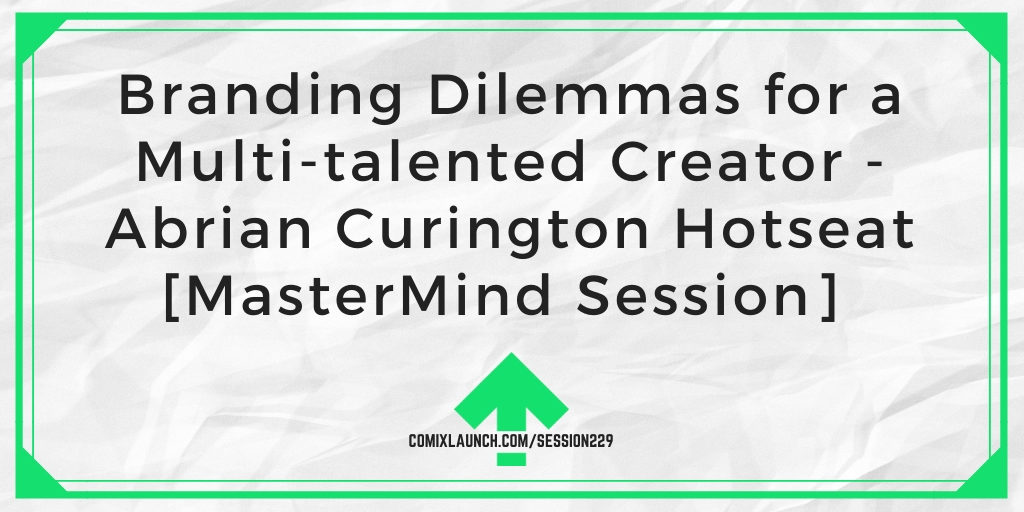 Abrian Curington is a multi-talented creator who, over the past few years has crowdfunded both fiction and non-fiction projects. Now she's wrestling with whether or not she needs to rebrand herself to be more inclusive of everything she does or to split her branding to serve the different fanbases she appeals to.
---
Highlights of This Session Include:
Tips for creators serving multiple audiences.
The power of a "one project at a time" approach to your creative business.
How segmentation can be powerful, but you might not require two completely different brands.
Plus: The Difference between pop-up masterminds and true masterminds.
---
This Session is Sponsored by:
If you would you like to meet once a month with a group of serious, like-minded creators to talk about your projects and creative business for mutual support and accountability this year, go to ComixLaunch.com/mastermind and get on the interest list.
New Groups will be forming in December and start meeting in January 2020!
---
In the Mastermind Hotseat Today:
Abrian Curington is an illustrator and fantasy cartogropher, specializing in light-hearted fantasy stories that champion fun, adventure, and conquering the obstacles of life. After graduating with a BA in Fine Art from WWU, I started Blue Cat Co., an independent publishing company dedicated to producing fantastical works that give people an escape from the din of the world. She has successfully crowdfunded and published "Notes Vol. 1: An Undersea Expedition Travelogue", "Bellmage," "Woolmancy", and several digital books. Aside from my work with Blue Cat Co., I am a tai chi instructor, and I often go on real-life journeys in nature reserves.
---
In the Mastermind Round Table:
Dawn Griffin is a designer/illustrator and cartoonist specializing in material for kids and young adults, and one of the founding members of Webcomic Alliance, a web resource & podcast for comic creators.
Melissa J Massey, a writer, illustrator, fantasy webcomic creator, and digital marketing and communications specialist.
Erica Shultz, professional comic book writer for Marvel, DC, Dynamite and Comixology Originals and a writing instructor at The Kubert School.
---
Links Mentioned in Today's Episode:
---
More About Our Sponsor:
If you're listening to this and the idea of meeting regularly with a small, focused group of like-minded creators to share resources, sharpen and strengthen your creative business strategies and to support each other in mutually benefical ways, sounds good to you… stop whatever it is you're doing now and get over to ComixLaunch.com/mastermind to get on our interest list.
I've been running these mastermind groups for over a year now, and I've seen how powerful they can be for the right creators.
Everybody has blindspots.
We ALL have things in our creative lives we can't see from the inside.
We all struggle with self doubt and paralysis, and we are all prone to getting stuck.
Albert Einstein said "we can't solve problems by using the same kind of thinking we used when we created them."
If you're ready to get new perspectives and solutions on your challenges from creators who have overcome them, a mastermind can provide that.
The right mastermind will support you, not let you fail, and push you to new heights.
Now, I realize many of you have gotten to this point largely on your own and may even be proud of that.
(And you should be!)
But at a certain point, what got you here, won't get you there.
Your network may be your single greatest asset, and being a part of a dedicated mastermind group will quickly become the most invaluable part of your network.
Joining a MasterMInd may be just what you're looking for IF…
…if you're overwhelmed by all of the possible projects you could do and need CLARITY on what you should be doing to actually achieve your creative goals.
…you're looking to create your biggest launch ever and have a breakthrough year.
…you feel like strategy, coaching, community and support are currently missing in your creative life and business.
…you're ready to grow your network of quality peers to include serious creators with whom you can talk strategy, growth, and taking your creative business to the next level.
If that sounds like you, go over to ComixLaunch.com/mastermind today, and I can't wait to start working with you!
---
ComixLauncher [229]:
How many different audiences are you currently serving? How well are you communicating with each of those audiences.
How to Find Out More About Today's Hot Seat Creator:
Podcast: Play in new window | Download | Embed
Subscribe: Apple Podcasts | RSS