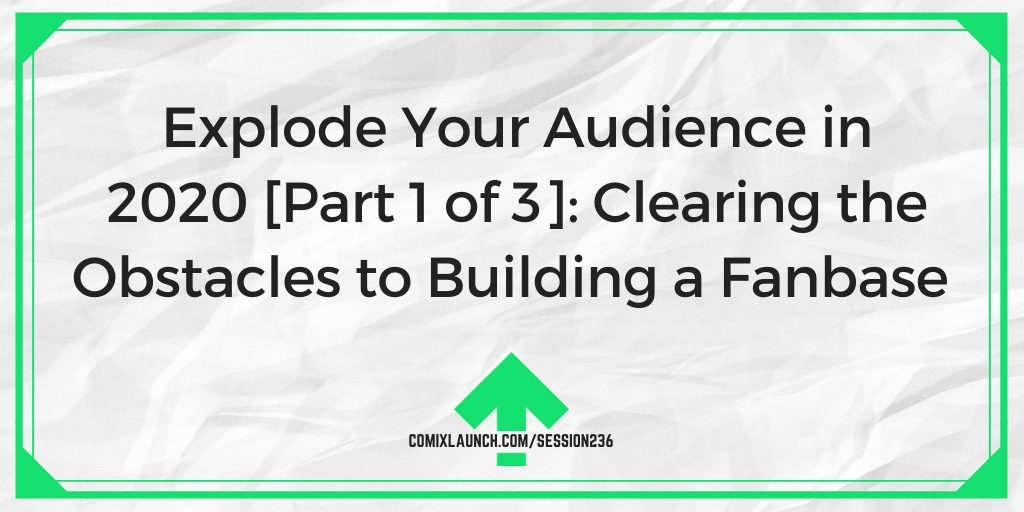 ComixLaunch gets backs to basics for the new year, and that means building a big, engaged audience ready to support your project launches on Kickstarter and beyond! In this first of three focused mini-trainings, you'll learn how to clear out all the obstacles standing in the way of a rabid fanbase and where to put your focus this decade to maximize your results.
---
Highlights of This Session Include:
How five years can go by in the blink of an eye… and change EVERYTHING!
What comixlaunchers really want when it comes to audience growth this year?
All of the many obstacles standing in the way of growing a following… and how to crush every single one.
Plus: The ONE thing to focus on if you want to build an audience that supports what you create on Kickstarter and beyond.
---
This Session's Featured Resource is Bluehost:
Go to ComixLaunch.com/bluehost for a special discount on domain registration and website hosting.
---
Links Mentioned in Today's Show:
ComixLaunch.com/bluehost for website hosting
If you want some one-on-one help this month planning your next launch, I have some GREAT news for a few of you…
I'd like to offer you a special FREE one-on-one 30 minute ComixLaunch Success Strategy Calls to talk with me about your next launch, just for being a ComixLaunch Podcast Listener.
If you'd like to book one of these free sessions with me, just go to ComixLaunch.com/success and follow the instructions to book a complimentary strategy session to get help with your next launch.
Tim Stiles, creator, and writer of 'Gorilla my Dreams' has organized an anthology book of art and short stories, titled 'Australia Burns: Tales of Devastation and Courage Under Fire' with all proceeds to be donated to the firefighters who are still out there right now, and the families who have lost everything in the 2019–20 Australian bushfire season.
https://australiaburns.bigcartel.com/product/australiaburns-anthology-single-issue
The book will feature some real-life accounts from the firefront and will give a real sense of what it's like fighting for homes and lives. Guys such as Darren Close of Killeroo fame and writer Ryan K. Lindsay are contributing to the book.
At the moment the team behind the book is taking pre-orders which I believe is shaping up to be around 80 pages, in full colour and will be sponsored by Jeffries Printing here in Australia.
---
More About Our Featured Resource:
In a moment, I'm going to give you today's ComixLauncher, but first, we need to thank our sponsor…
Let me ask you a question… are you master of your own domain?
No, this isn't a dated Seinfeld reference… I'm talking about your web domain.
And Bluehost is an all in one web hosting solution that will help you master your domain.
I own the domains for ComixTribe.com, ComixLaunch.com and many more… but I know many of you are trying to save a few pennies a day by NOT paying for domains you're trying to build brands around.
That's a mistake.
Owning your own domain provides better branding
More professional.
More credible.
More memorable.
When you own the dot com for your brand, it'll help you protect it.
If you're building your empire on someone else land, your comic @facebook or @tumblr or remember @myspace God forbid… you don't control those platforms.
Own your own domain…
You can use the ComixLaunch affiliate link to get a special introductory offer and 30-day money back guarantee at Bluehost by going to Comixlaunch.com/bluehost today.
Bluehost powers more than 2 million websites world wide and makes it super simple to get a WordPress hosted website up in just one click.
Master Your Domain, go to ComixLaunch.com/bluehost and lock it in today.
---
ComixLauncher [236]
Create an Email List Building Goal for Yourself. What is your email list size RIGHT NOW, and what would you like it to be by December 31, 2020?
Podcast: Play in new window | Download | Embed
Subscribe: Apple Podcasts | RSS