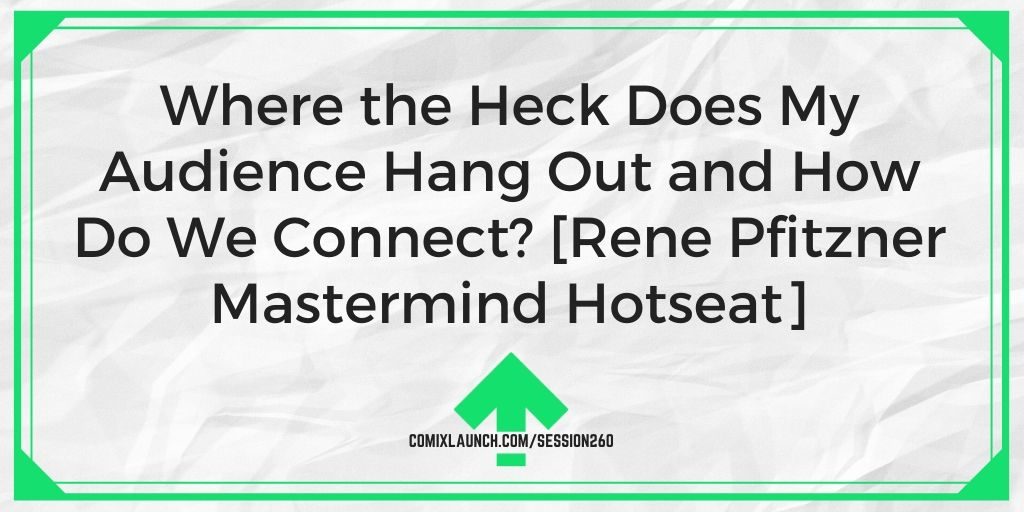 Comic creator Rene Pfitzner has been building a following and having success on Kickstarter, but still feels like he's struggling to find out where his ideal reader hangs out online, and the best strategies to actually connect with them so that they can discover his books? Tyler and a mastermind roundtable of creators have advice for Rene and share it in this mastermind style session.
---
Highlights of This Session Include:
Tips to figure out where your audience is hiding.
Connection strategies that work!
Advice for making the most out of any size audience.
Plus: Tips for surveying your audience!
---
This Session is Sponsored By:
Comic Impressions, a US based comic and graphic novel printer specializing in BOTH small digital AND large offset print runs. Go to ComicImpressions.com to to submit a quote or request a FREE printing sample and when you mention ComixLaunch you'll get 5% off your next order!
---
In the Mastermind Hotseat Today:
Rene Pfitzner is a comic artist and writer. He has worked in the animation industry, animating for Disney on 10 different films. He was a storyboard artist on Classic Tales and Bob's Burgers. He has been published in the comic anthologies Monsters and Pulp Crucifiction, and his comics have appeared in The Bizarre Times, Lot's Wife, Revolver and Mad Magazine. In 2018 he funded his first graphic novel on Kickstarter, Sneaky Goblins: an all-ages story of fantasy mayhem. In 2019 he funded and fulfilled his second comic kickstarter, Sneaky Goblins at College. He's currently Kickstarting his 3rd comic book project: Mythic Creature Trainer #1. Rene is passionate about creating compelling characters who are thrown into challenging situations. He loves playing tabletop games with his 3 kids, watching movies and playing MMORPG games.
---
In the Mastermind Round Table:
Matthew Childers (Art Director, Designer, Artist & Comic Creator)
E.N. Ejob (Publisher, Writer)
Bitsy Tandem (Comics & Manga Writer & Artist)
---
More About Our Sponsor:
Hey, have you heard of Comic Impressions yet?
I'm really excited about this comic and graphic novel printer that can service comic orders big and small, digital and off-set.
And because they're located in the United States, they can get most of my listeners their books fast!
While new to comic scene, this printing company has been in the business of expertly putting ink on paper for over 30 years.
Comic Impressions is already printing books for successful Kickstarter creators and direct market publishers like Scout Comics, and they recently knocked the first printing project I sent sent their way for ComixTribe out of the park!
Comic Impressions is one of the few comic printers using the HP Indigo 12000 Digital Press which lets them digitally print comics that nearly indistinguishable from offset print runs at affordable prices, even for smaller runs.
Seriously, I'm a big print quality snob and these are some of the best digitally printed books I've ever flipped through.
But don't take my word for it… what I want you to do is go right now and request a COMPLIMENTARY sample pack from ComicImpressions Team at ComicImpressions.com.
I asked Rich Boye at Comic Impressionsto put together a bunch of FREE sample packs for ComixLaunch listeners showcasing both their digital and offset printing capabilities and ship them at no charge to creators who ask for them… and he said no problem.
I know you're going to be impressed.
And while you're at it, if submit a quote for your next printing project and I think you're going to find there pricing extremely competitive as well.
Plus, if you mention ComixLaunch and you'll get an additional 5% off your next order!
Head over to ComicImpressions.com today.

---
ComixLauncher [260]
Ask a simple question to your audience: "Where are the top three places you hang out online to find more [what you create.]"
---
How to Find Out More About Today's Hot Seat Creator
http://www.mythiccreaturetrainer.com/
https://twitter.com/RenePfitzner
https://www.instagram.com/pfitzydraws/
https://www.facebook.com/pfitzydraws/
Podcast: Play in new window | Download | Embed
Subscribe: Apple Podcasts | RSS