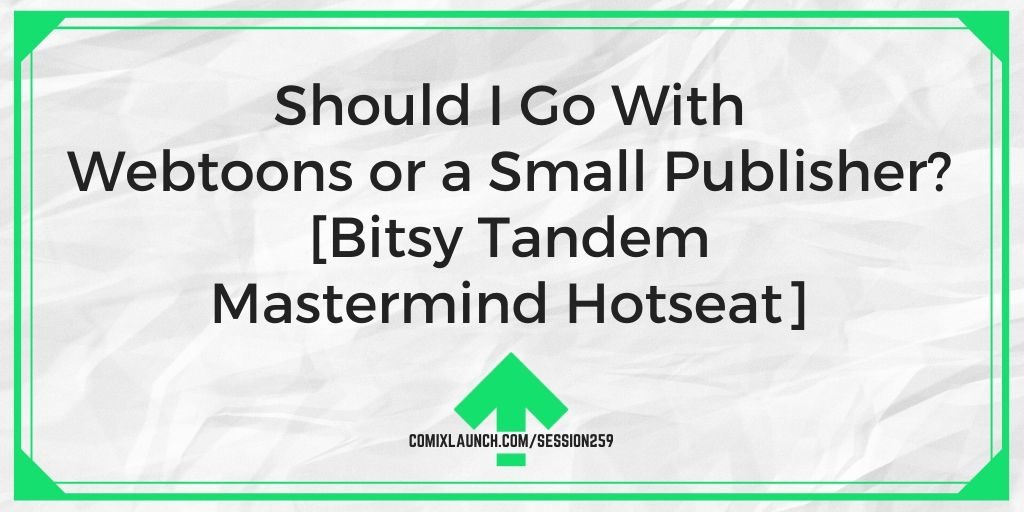 Webcomics creator Bitsy Tandem has a dilemma on her hands… Should she re-launch her webcomic on Webtoons or go with a new small publisher interested in her work. How to decide between launching on Webtoon or going with a small publisher for my next project? Tyler and a mastermind roundtable of creators have advice for Bitsy and share it in this mastermind style session.
---
Highlights of This Session Include:
Pros and cons of launching on Webtoons.
What to look for when it comes to reviewing offers from small publishers.
Key questions to ask yourself before signing any deals.
Plus: A follow-up to Tyler's Fraudulent Customer Issues
---
This Session is Sponsored by:

---
In the Mastermind Hotseat Today:
Bitsy J E Tandem has been fully committed to her calling of becoming a comic book creator since 2012. She's published 5 books bringing the art & stories of her world Eotera into our reality. Her current focus is Maiden in Disguise, a story about a teenage girl living in the shadow of the notorious online alter ego she plays in a world-popular video game series as she navigates the social perils of high school. Just as well, I'm hard at work bring that very same video-game (Luminarion: Legend of Worlds) into this reality for others to play. In the rare moments that you don't find her working on her creations, you can find me riding my tandem bike with my husband through the countryside of Japan.
---
In the Mastermind Round Table:
Matthew Childers (Art Director, Designer, Artist & Comic Creator)
E.N. Ejob (Publisher, Writer)
Rene Pfitzner (Comic Artist, Writer & Animator)
---
More About Our Sponsor:
Are you thinking about starting or upgrading your online shop so you can sell more of your art?
Are you tired wasting time and energy hacking together cheap, limited solutions that aren't serving you or your potential customers very well?
Instead of spinning your wheels only looking at free or dirt-cheap store options, why not grab an affordable full-service online sales platform optimized for sales like Shopify?
With Shopify…
You don't need Design skills. Shopify has dozens of beautiful, fully-customizable, mobile-friendly templates to get a perfectly branded look and an online stop you'll be proud of.
You don't Coding skills. With Shopify, setting up your store is simple, and you'll be selling in no time at all, even if technology hates you.
And you don't even need a Credit Card to get started. With this ComixLaunch offer, you can try Shopify free for 14 days. No risk, and no credit card required.
What you get with Shopify is a…
Fully customizable website, online store, and blog… your store can be your website!
Unlimited products!
Smooth integration to sell on channels like Facebook, Amazon and Pinterest.
24-7 Customer support!
More than 500,000 creative businesses are powered by Shopify, including the CisforCthulhu.com store which I manage… and couldn't be happier with it.
Stop messing around with subpar online shop solutions and try Shopify.
To start your 14-day free trial of Shopify, go to ComixLaunch.com/shopify
---
ComixLauncher [259]
What would you look for in the perfect publisher for you book?
---
How to Find Out More About Our Featured Guest:
https://linktr.ee/bitsytandem_thebitzr

Podcast: Play in new window | Download | Embed
Subscribe: Apple Podcasts | RSS