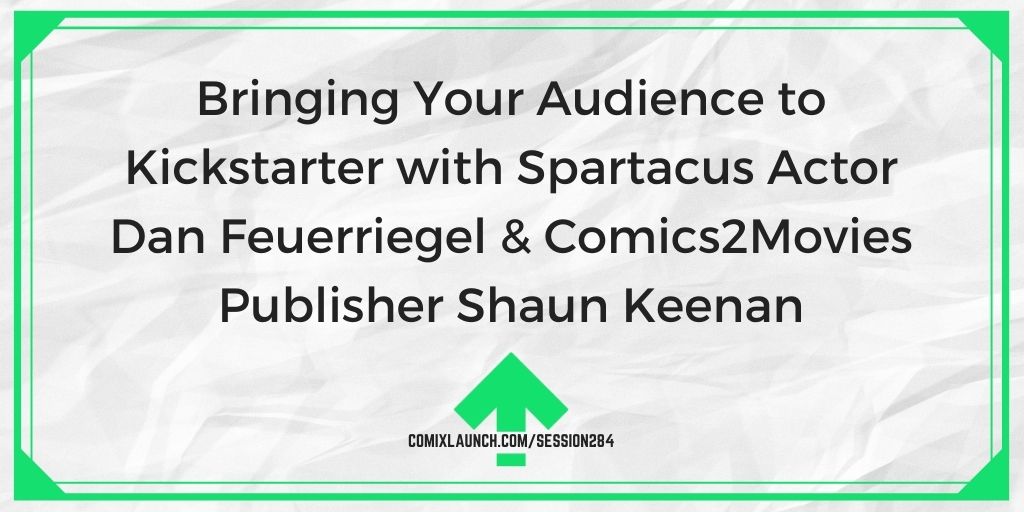 Actor Dan Feuerriegel, best known for roles on Spartacus and Marvel: Agents of Shield, talks about creating and launching his first graphic novel project, Fractured Shards, on Kickstarter with Comics2Movies publisher Shaun Keenan.
---
Highlights of This Session Include:
How Dan & Shaun's connection at an international Spartacus convention lead to their current creative partnership.
An actor's perspective on comics, graphic novels, crowdfunding and the exciting future of creative storytelling.
How Dan and Shaun prepared Dan's current fanbase to help support a new project in a new medium.
Plus: Holiday well wishes from Tyler to you and your family!
---
This Session's Featured Resource is Bluehost:
Go to ComixLaunch.com/bluehost for a special discount on domain registration and website hosting.
---
Today's Featured Guests:
About Dan Feuerriegel
Dan Feuerriegel is an Australian actor, perhaps best known for his portrayal of Agron tv series Spartacus, as well as guest appearances in shows such as Marvel Agents of Shield and film such as Pacific Rim: The Uprising." He studied acting at the Queensland University of Technology Creative Industries and upon graduating the three year course, appeared in several staple Australian television shows, most notably All Saints, McLeod's Daughters and Home & Away. His big break came in 2009, when he landed the role of Agron in Spartacus. After 3 seasons he moved to Los Angeles, California, where he is currently based. Since his move to Hollywood, Dan has appeared in Marvel's Agents of S.H.I.E.L.D. and starred alongside Ed Stoppard in the British Independent feature film Cryptic, as well as Heidi: Queen of the Mountain and Pacific Rim: The Uprising. Dan also hosts a podcast "Romy and Dans High School Reunion" and is now creating his first graphic novel "Fractured Shards" a dystopian cyberpunk detective series.
About Shaun Keenan
Australian publisher of COMICS2MOVIES, writer and creator of Kickstarter funded series Xtreme Champion Tournament, Terralympus & Talos of Sparta. Shaun latest project is working with Dan on his first graphic novel project called "Fractured Shards" which is a dystopian cyberpunk detective series… and we're going to talk all about it, because it's launching in just a couple of days!
---
Links Mentioned in Today's Show:
Fractured Shards Kickstarter https://www.kickstarter.com/projects/2067957354/fractured-shards
---
More About Our Featured Resource:
In a moment, I'm going to give you today's ComixLauncher, but first, we need to thank our sponsor…
Let me ask you a question… are you master of your own domain?
No, this isn't a dated Seinfeld reference… I'm talking about your web domain.
And Bluehost is an all in one web hosting solution that will help you master your domain.
I own the domains for ComixTribe.com, ComixLaunch.com and many more… but I know many of you are trying to save a few pennies a day by NOT paying for domains you're trying to build brands around.
That's a mistake.
Owning your own domain provides better branding
More professional.
More credible.
More memorable.
When you own the dot com for your brand, it'll help you protect it.
If you're building your empire on someone else land, your comic @facebook or @tumblr or remember @myspace God forbid… you don't control those platforms.
Own your own domain…
You can use the ComixLaunch affiliate link to get a special introductory offer and 30-day money back guarantee at Bluehost by going to Comixlaunch.com/bluehost today.
Bluehost powers more than 2 million websites world wide and makes it super simple to get a WordPress hosted website up in just one click.
Master Your Domain, go to ComixLaunch.com/bluehost and lock it in today.
---
ComixLauncher [284]
Who would the ultimate actor/actress celebrity endorser be for your book?
---
How to Find Out More About the Featured Guest:
Facebook – https://www.facebook.com/DanFeuerriegel
Facebook – https://www.facebook.com/fracturedshards
Twitter – https://twitter.com/DgFeuerriegel
Instagram – http://instagram.com/mrdanfury
IMBD – http://www.imdb.com/name/nm2213306/
Facebook – https://www.facebook.com/Comics2movies/
Facebook – https://www.facebook.com/fracturedshards
Twitter – @comics_2_movies
Instagram – @comics2movies
Fractured Shards Kickstarter Link – https://www.kickstarter.com/projects/2067957354/fractured-shards
Podcast: Play in new window | Download | Embed
Subscribe: Apple Podcasts | RSS