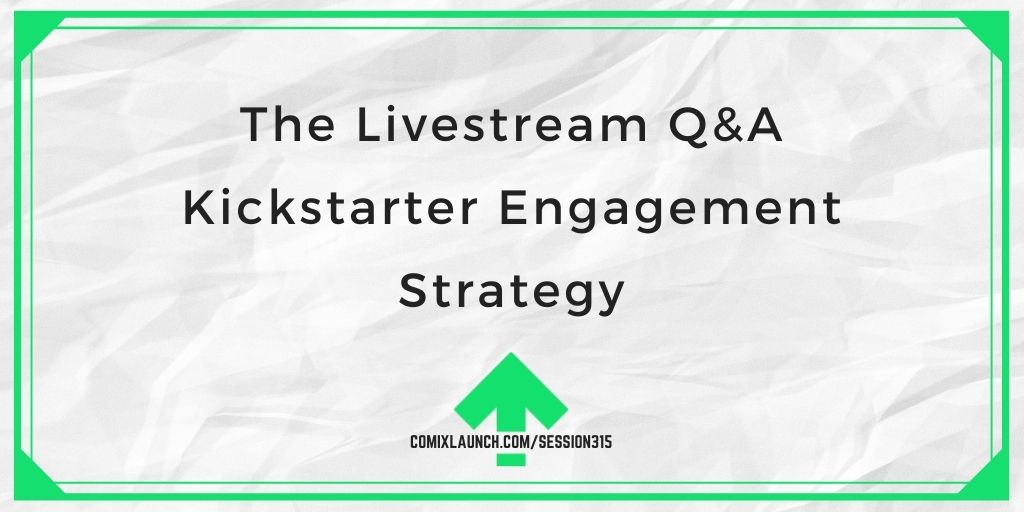 Looking for something to do during your Kickstarter campaign to engage your backers and bring some new ones onboard your campaign? Then look no further than the Livestream Q&A! In this podcast, Tyler will break this strategy down step-by-step!
---
Highlights of This Session Include:
How to easily get backers to send you great questions during your Kickstarter launch?
Squashing the 4 main objections creators have to doing livestream Q&As.
My top livestreaming tool recommendation.
Plus: Realtime update on the progress of Tyler's 23rd Kickstarter campaign!
---
Today's Session is Brought to You By…
Super-Bud, a comedic superhero comic. The campaign for issues 1 through 3 is live on Kickstarter through August 5th… Check them out at superbudcomic.com
---
Links Mentioned in Today's Show:
Happy Hill Kickstarter: happyhill.comixtribe.com
Streamyard – https://streamyard.com?pal=5726515064995840
Super-Bud, a comedic superhero comic. Check them out at superbudcomic.com
---
In a moment, I'm going to give you today's ComixLauncher, but first, we need to thank our sponsor…
Need more stoner super heroes in your life?
Check out the latest release of Super-Bud, a comic book that asks the question, What would happen if marijuana gave you super powers?
This series by creators Mike Dean & Tim Radecki and artist Tim Lattie is full of laughs and loaded with super humans, monsters, evil scientists, drug dealers, and a talking dog.
In the book, a mysterious strain of medical marijuana, stolen from a pharmaceutical lab, spreads throughout the small town of Emerald Oaks, giving those who smoke it super powers.
While most use their new super human abilities for personal gain, Danny, the comic's protagonist and heartbroken unemployed comic nerd, decides to use his powers to be a superhero, like the heroes in the comics he loves.
Will Danny succeed in becoming the hero his town needs, or will it be destroyed by the super-bud?
The kickstarter for issues 1-3 is currently live through August 5th! You can follow along on Facebook and Instagram at @superbudcomic (instagram) or search keyword "super" hyphen "bud" on Kickstarter to check it out!
https://www.kickstarter.com/projects/superbud/super-bud-issues-1-3
---
ComixLauncher [315]
Go execute the livestream Q&A Kickstarter engagement strategy and report back on how it went!
Podcast: Play in new window | Download | Embed
Subscribe: Apple Podcasts | RSS