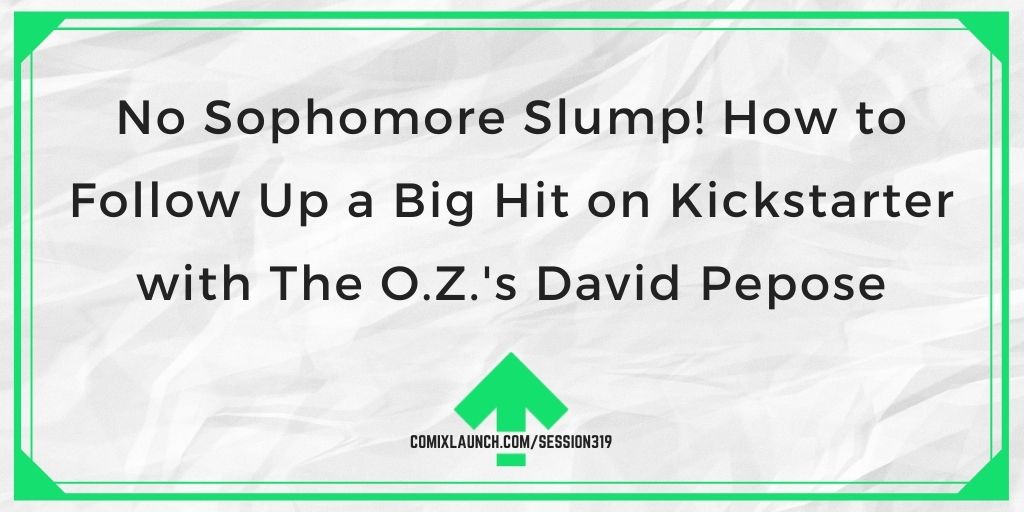 Coming back to the Kickstarter platform after a campaign that performs beyond your wildest expectations brings its own set of challenges. Comic writer David Pepose, creator of The O.Z., returns to the ComixLaunch Podcast to discuss doubling down on the success of his first crowdfunding effort with it's second issue launch!
---
Highlights of This Session Include:
David takes us back to the smash success of his first launch and why he decided to keep the pedal to metal all campaign long!
The realities and lessons learned from a massive comic book fulfillment project.
A "sane" variant cover strategy and approach that works for David and his team!
Plus: Why Tyler is kind of regretting giving a backer a refund.
---
This Session is Sponsored by:

---
Today's Featured Guest:
My guest today is the Ringo Award-nominated writer of SPENCER & LOCKE, GOING TO THE CHAPEL, THE O.Z., SCOUT'S HONOR, the upcoming GRAND THEFT ASTRO, and more.
Got his start in the comics industry in 2008, as an editorial intern at DC Comics as well as serving for a decade as the Reviews Editor at Newsarama. He's worked for CBS, Netflix, and Universal Studios and is back on Kickstarter this month with the highly anticipate second issue of his smash hit THE O.Z. an innovative take on the World of Oz.
---
Links Mentioned in Today's Show:
Check out THE O.Z. #1-2 – A Fantasy Classic Reimagined for Comics on Kickstarter Now: https://www.kickstarter.com/projects/theozcomic/the-oz-2
---
More About Our Sponsor:
Are you thinking about starting or upgrading your online shop so you can sell more of your art?
Are you tired wasting time and energy hacking together cheap, limited solutions that aren't serving you or your potential customers very well?
Instead of spinning your wheels only looking at free or dirt-cheap store options, why not grab an affordable full-service online sales platform optimized for sales like Shopify?
With Shopify…
You don't need Design skills. Shopify has dozens of beautiful, fully-customizable, mobile-friendly templates to get a perfectly branded look and an online stop you'll be proud of.
You don't Coding skills. With Shopify, setting up your store is simple, and you'll be selling in no time at all, even if technology hates you.
And you don't even need a Credit Card to get started. With this ComixLaunch offer, you can try Shopify free for 14 days. No risk, and no credit card required.
What you get with Shopify is a…
Fully customizable website, online store, and blog… your store can be your website!
Unlimited products!
Smooth integration to sell on channels like Facebook, Amazon and Pinterest.
24-7 Customer support!
More than 500,000 creative businesses are powered by Shopify, including the CisforCthulhu.com store which I manage… and couldn't be happier with it.
Stop messing around with subpar online shop solutions and try Shopify.
To start your 14-day free trial of Shopify, go to ComixLaunch.com/shopify
---
---
ComixLauncher [319]
Start your comic book variant cover dream artists list.
---
How to Find Out More About Our Featured Guest:
Podcast: Play in new window | Download | Embed
Subscribe: Apple Podcasts | RSS