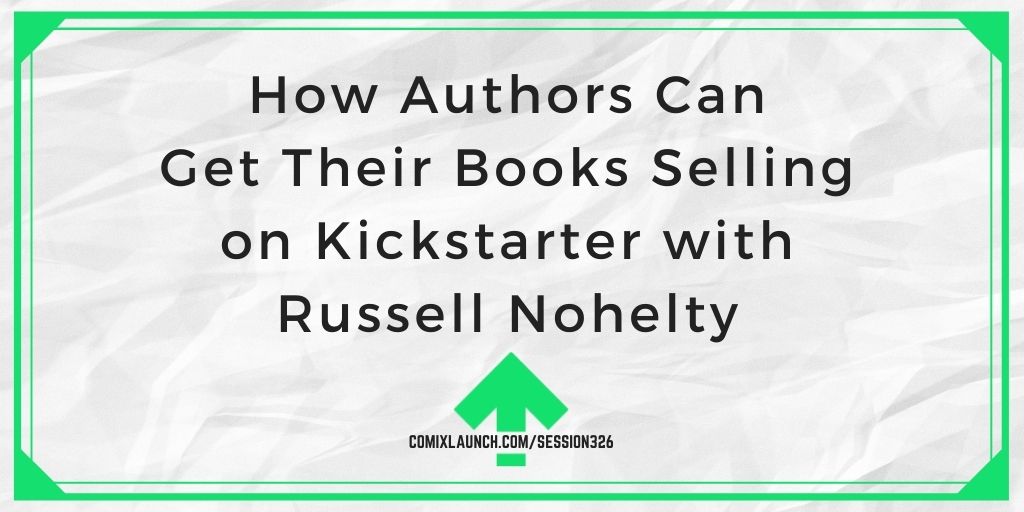 Russell Nohelty has raised over $250K in funding for his books on the Kickstarter platform and credits Kickstarter with saving his career. In this high-level Kickstarter interview, he'll share why Kickstarter is THE must use platform for authors interested in increasing their profit and visibility.
---
Highlights of This Session Include:
Russell's take on why the publishing category lags behind comics in terms of success rate, and what he's trying to do about it!
Opportunities for comic creators to expand their universe through prose launches.
The rich and varied "aftermarket" for authors after the Kickstarter campaign is over.
Plus: A frank discussion about how for some creators now might NOT be the right time to return to comic conventions.
---
This Session's Featured Resource is Bluehost:
Go to ComixLaunch.com/bluehost for a special discount on domain registration and website hosting.
---
Today's Featured Guest:
Russell Nohelty is no stranger to the ComixLaunch podcast… he's a USA Today bestselling author, publisher and speaker. He runs the imprint Wannabe Press, which publishes weird books for weird people. To date, he's raised over $250K on the Kickstarter platform across eighteen projects including prose novels, graphic novels, anthologies and more. His latest project is "Get Your Book Selling on Kickstarter" co-written with Monica Leonelle.
---
Links Mentioned in Today's Show:
https://www.kickstarter.com/projects/lovelightlioness/kickstarter-for-authors
---
More About Our Featured Resource:
In a moment, I'm going to give you today's ComixLauncher, but first, we need to thank our sponsor…
Let me ask you a question… are you master of your own domain?
No, this isn't a dated Seinfeld reference… I'm talking about your web domain.
And Bluehost is an all in one web hosting solution that will help you master your domain.
I own the domains for ComixTribe.com, ComixLaunch.com and many more… but I know many of you are trying to save a few pennies a day by NOT paying for domains you're trying to build brands around.
That's a mistake.
Owning your own domain provides better branding
More professional.
More credible.
More memorable.
When you own the dot com for your brand, it'll help you protect it.
If you're building your empire on someone else land, your comic @facebook or @tumblr or remember @myspace God forbid… you don't control those platforms.
Own your own domain…
You can use the ComixLaunch affiliate link to get a special introductory offer and 30-day money back guarantee at Bluehost by going to Comixlaunch.com/bluehost today.
Bluehost powers more than 2 million websites world wide and makes it super simple to get a WordPress hosted website up in just one click.
Master Your Domain, go to ComixLaunch.com/bluehost and lock it in today.
---
---
ComixLauncher [326]
Go to Russell's Kickstarter page for Get Your Book Selling On Kickstarter and look at the image of books in the How to Get Your Book Selling series and pick one channel you are not currently selling in or would like to be selling better or doing more business in, and then research it.
---
How to Find Out More About Our Featured Guest:
wannabepress.com
russellnohelty.com
Podcast: Play in new window | Download | Embed
Subscribe: Apple Podcasts | RSS