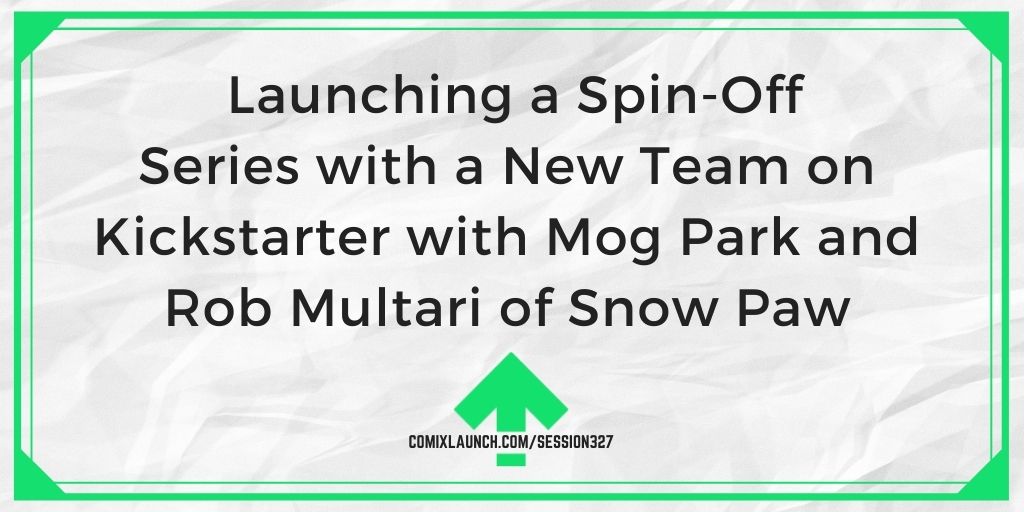 Join artist Mog Park and writer Rob Multari for a discussion about their new 19th Century Scottish female werewolf fantasy comic Snow Paw, funding now on Kickstarter. A spin off series from Rob's popular Night Wolf book, you'll find out how this creative team came together to create something new in an already established world.
---
Highlights of This Session Include:
The fear, excitement and opportunities that launching a spin-off series provides!
Tips for writers on how they can best entice in-demand freelance artists to join their creative team.
Rob's different approaches to bringing back existing fans and reaching out to completely new readers during this launch.
Plus: Rob's top tech tool recommendation for managing multiple concurrent comic book series with different teams.
---
This Session's Featured Resource is Bluehost:
Go to ComixLaunch.com/bluehost for a special discount on domain registration and website hosting.
---
Today's Featured Guests:
Mog Park is a fulltime freelance comic book artist, illustrator, and visual developer. Born and raised in Seoul, Korea before immigrating to the United States and earning her Bachelor of Arts Degree from the Academy of Art University in San Francisco, CA. Her credits include illustration work for the hit HBO series Game of Thrones, and has done comic covers for Big Dog Ink, Source Point Press, and others. And she is the artist and illustrator on the new Snow Paw comic book series funding now on Kickstarter.
Rob Multari is a writer and the founder and publisher of Lone Wolf Comics, best known for the Kickstarter funded ongoing series Night Wolf, and now the new spin-off series Snow Paw. He also works full time as web and graphic designer and has been working in the Digital Marketing Industry for over a decade.
---
Links Mentioned in Today's Show:
Check out Snow Paw #1 on Kickstarter: https://www.kickstarter.com/projects/multari/snow-paw-1-a-19th-century-scottish-female-werewolf-fantasy
---
More About Our Featured Resource:
In a moment, I'm going to give you today's ComixLauncher, but first, we need to thank our sponsor…
Let me ask you a question… are you master of your own domain?
No, this isn't a dated Seinfeld reference… I'm talking about your web domain.
And Bluehost is an all in one web hosting solution that will help you master your domain.
I own the domains for ComixTribe.com, ComixLaunch.com and many more… but I know many of you are trying to save a few pennies a day by NOT paying for domains you're trying to build brands around.
That's a mistake.
Owning your own domain provides better branding
More professional.
More credible.
More memorable.
When you own the dot com for your brand, it'll help you protect it.
If you're building your empire on someone else land, your comic @facebook or @tumblr or remember @myspace God forbid… you don't control those platforms.
Own your own domain…
You can use the ComixLaunch affiliate link to get a special introductory offer and 30-day money back guarantee at Bluehost by going to Comixlaunch.com/bluehost today.
Bluehost powers more than 2 million websites world wide and makes it super simple to get a WordPress hosted website up in just one click.
Master Your Domain, go to ComixLaunch.com/bluehost and lock it in today.
---
ComixLauncher [327]
Jot down a few ideas on what your selling points are for your project or product that you could use to convince a collaborator to what to work with you?
---
How to Find Out More About Our Featured Guests:
https://www.instagram.com/mogpark/
Podcast: Play in new window | Download | Embed
Subscribe: Apple Podcasts | RSS